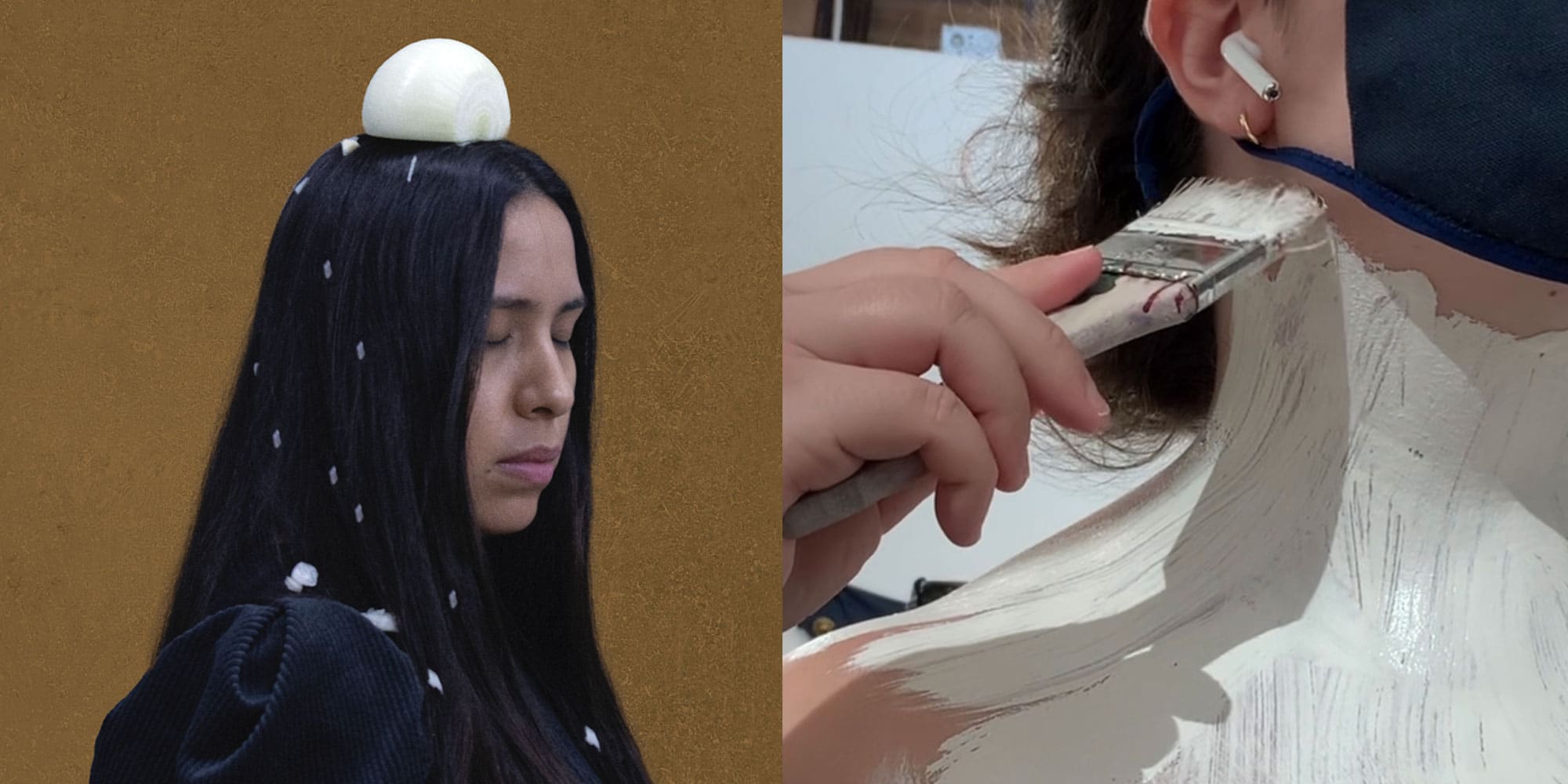 Date
Oct 20 2021
Expired!
Convergence Research Featuring Marley Foster and Verónica Gaona
Wednesday, October 20, 2021
6:30pm—8:30pm
FREE and open to the public
Location
Blaffer Art Museum
Walk-ins are welcome; space is limited. Please reserve tickets for guaranteed entry.

Co-presented by the Blaffer Art Museum and the Cynthia Woods Mitchell Center for the Arts, Convergence Research is a platform for interdisciplinary research, experimentation, improvisation, and performance. This month's performance will feature new work from artists Marley Foster and Verónica Gaona.

Verónica Gaona, in collaboration with Nudo (Joaquin Tenorio and Eric Hernandez), presents The Day I Return Back. This performance examines fragments of everyday experiences within the remittance landscape. By focusing on three recurring scenes: labor in the host country, the longing of a loved one, and repatriations, interdisciplinary artist, Verónica Gaona, and the dynamic sound art group, Nudo, call attention to the social and psychological costs sustained by migrants producing the US city. Place, space, and the material world are brought into discussion to shine light on the ambivalence experienced and migrant's desire to build a better future.

Verónica Gaona (b. 1994, Brownsville, Texas) is an interdisciplinary artist and educator living and working between Texas and Tamaulipas. Through digital media, sculpture, and installation her work looks at the shifting and multiple spaces at the border to better understand the complexities of contradictory forces. In 2019 she traveled to Marfa, Paris and Nantes, France to take part in DUST, a residency working at the intersection of spatial practice, critical theory, and contemporary art. She has been published in Critical Storytelling on/from with(in) [the] Border(s), an anthology published by Brill Sense. In 2021, she will exhibit at the Museum of Contemporary Art of Tamaulipas and Amarillo Museum of Art. Currently, she is an art professor at the University of Houston.

Marley Foster presents Notes on American Style—a video essay series combining filmed footage and both found and recorded audio in the style of a TikTok "For You Page." Foster's work investigates questions relating to feminine, queer reclamation of trendy aesthetics; style and performativity; social media interaction and performance; and self-surveillance.

Marley Foster (she/her) is an artist, designer, and educator from Houston, Texas. In her studio practice, Foster creates sculptures and experimental performative portraits, reconfiguring clothing and domestic objects through a "Zillenial" generational lens in order to subvert whiteness, conservative southernness, and traditional American femininity. She earned BAs in Studio Art and English from Rice University, and recently earned her MFA in Sculpture from the University of Houston. Her work has most recently been featured in Annex Energy at SITE Gallery Houston. Foster currently works as an Adjunct Instructor at the University of Houston and Teaching Artist with various Houston art institutions.

Image: (left) Verónica Gaona. (right) Marley Foster. Courtesy of the artists.