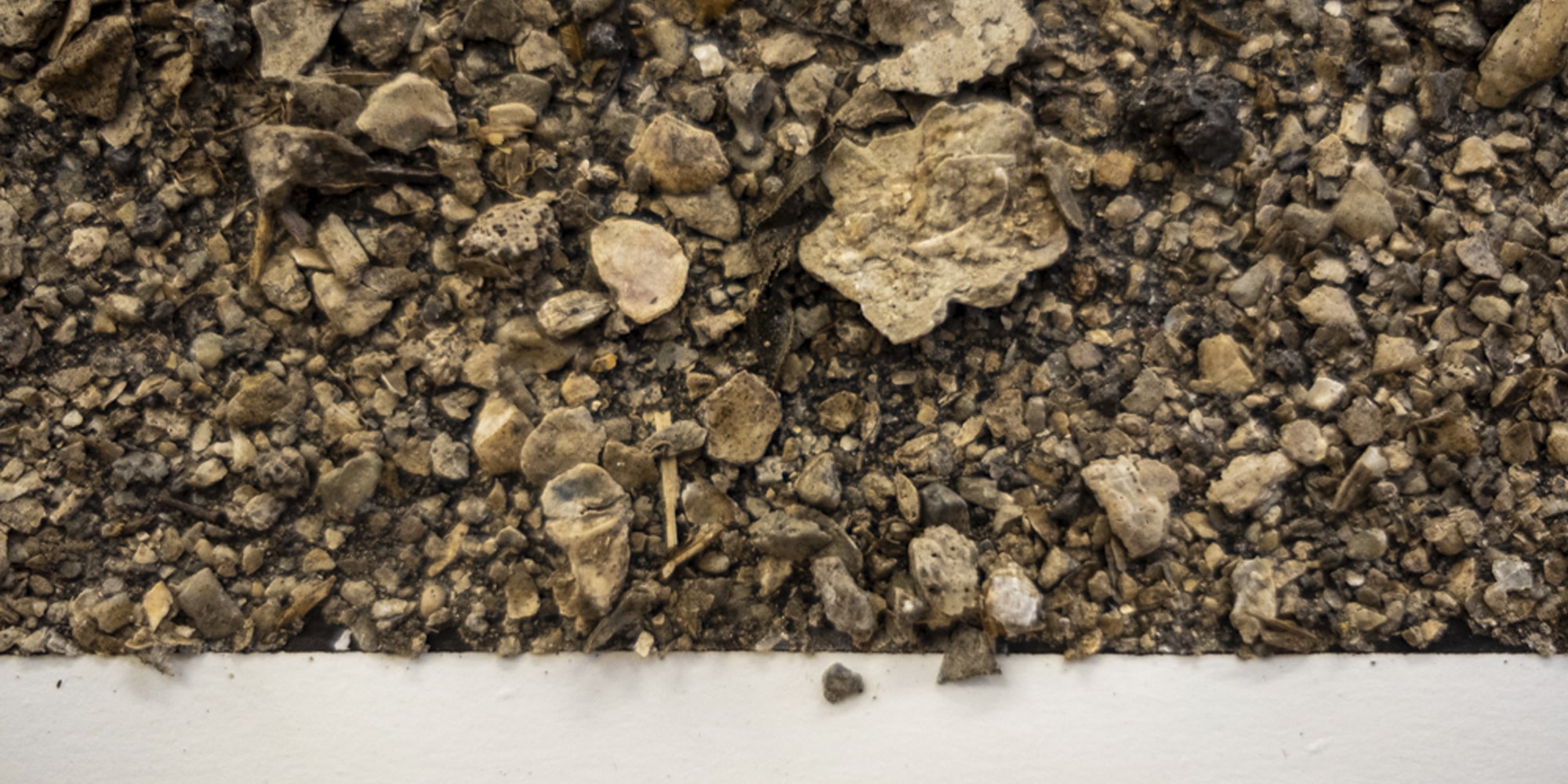 Image Courtesy of the Alan Sonfist. Photo by Jen Bootwala.
Alan Sonfist: Earth of Houston
---
December 8 2022—January 20, 2023
---
The University of Houston's Cynthia Woods Mitchell Center for the Arts hosted pioneering Land artist Alan Sonfist on campus this past October. While in Houston, Sonfist worked closely with UH students in both Art and Earth Sciences to create a series of paintings and works on paper, collectively titled Earth of Houston. In collaboration with UH Earth and Atmospheric Sciences Assistant Professor Emily Beverly and her class, students gathered soil samples from 11 different locales in Houston as raw materials that represent unique qualities of the city's geography. These students joined Sonfist and UH MFA student Michelle Matthews in translating these samples into a series of earth works that highlight both the diversity and evolving dimensions of a city and state whose major sources of industry (and identity) have often been pulled from the earth.
These works will be presented in two locations at the University of Houston: a series of paintings will be presented at the UH Student Center South building on the 2nd floor, highlighting the fruitful collaboration Sonfist orchestrated with UH students across disciplines. A selection of accompanying works on paper will be presented at the Blaffer Art Museum during the same time frame, demonstrating the variegated richness of the materials as well as Sonfist's dexterous handling of soils.
In the process, Earth of Houston becomes the most recent edition of a longstanding series of earth painting that Sonfist began in 1970. Natural resources such as soil, seed, leaves, and branches have long been core components of his work, and they have been incorporated into numerous iconic projects. Such large-scale initiatives are a testament to the artist's unwavering determination to amplify the richness, variety, durability and vitality of natural materials.
To continue his quest for ecological sustainability, Sonfist has proposed to create a time capsule with soils of the world from a variety of locations. He requests people across the globe send samples of soil uncontaminated by human interference from their area, which will be placed in a repository for future generations. The project does not intend to preserve the soils, but rather to memorialize the earth and highlight Sonfist's abiding message that our planet is experiencing an environmental pandemic. In his words, "As in war monuments that record the life and death of soldiers, the life and death of natural phenomena such as rivers, springs, and natural outcroppings needs to be remembered."
---
Special thanks to Melissa Noble, Eve Esch, Michelle Mathews, Emily Beverly and Jonny Wu for their generous help and support in the realization and presentation of this project. Installation photos by Jen Bootwala.
---