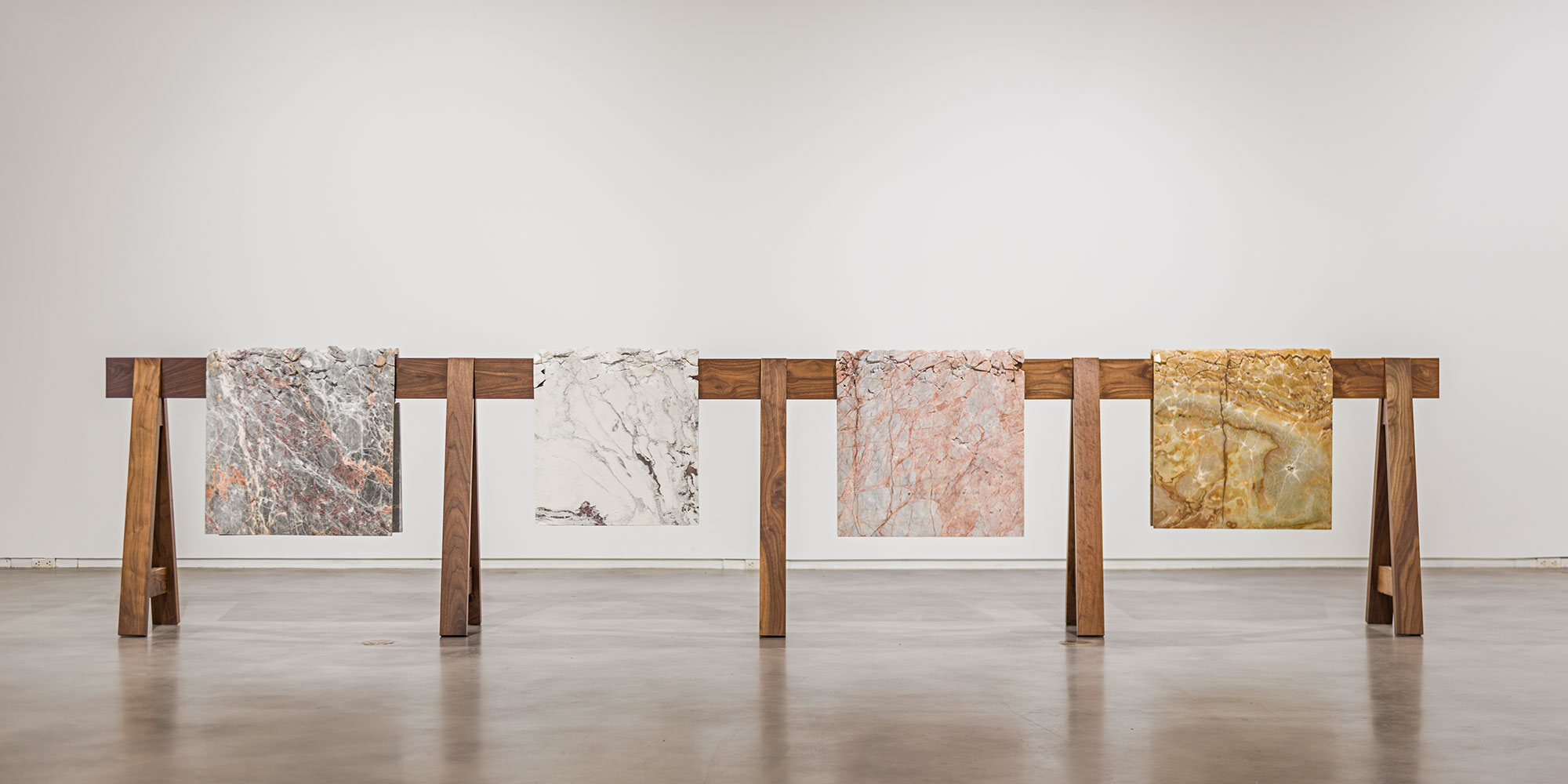 Analia Saban, installation view, Blaffer Art Museum.
---
September 24, 2016—March 18, 2017
---
What constitutes a painting, a sculpture, a drawing or a photograph? What are the material, conceptual, and social conditions of its existence? And how do they affect a work's physical, psychological, and political impact? What is the furthest an idea or object can be pushed, stretched, stressed, or tested before losing its direction and character altogether—or simply becoming something else? Such questions are at the core of the work of Argentinian artist Analia Saban, who assumes a forensic attitude towards media and their traditions and conventions. Surveying art history as if it was a "murder scene," she plumbs the histories of painting, drawing, sculpture, and photography to challenge their limits and capacities by making the constituent parts of each medium the very subject matter of her inquiry. Saban is also committed to showing how every medium is material of this world. Gender, labor, and social context haunt her abstractions, exposing the ideological repercussions of what it means to go deep into the aesthetic properties and possibilities of any medium.
Taking The Painting Ball (48 Abstract, 42 Landscapes, 23 Still Lives, 11 Portraits, 2 Religious, 1 Nude) as a point of departure, this exhibition is Saban's first solo museum survey to consider the artist's expansive scope of work developed over the past ten years. A sphere made of colored strips of fabric torn from a plethora of unraveled paintings, The Painting Ball performs the undoing of painting in its traditional form to mark a tabula rasa moment that inscribes Saban's project firmly into the canonical narrative of painting's many deaths and resurrections.
Stripe Hand Towel, Bag with Canvas, and Fitted Bed Sheet, all 2011, chart her experiments with acrylic paint cast into viscerally affecting simulations of common household objects such as towels, sheets and plastic bags attached to or containing a canvas. In her 2010-12 Decant and the more recent Bulge series (begun 2014), encaustic paint forms swelling bodies that proudly display the pour marks of their creation. Concerns with liquidity and domesticity also mark her work with kitchen and bathroom countertops demarcating sinks or tubs. Directly attached to an otherwise blank canvas, their innate patterns and utilitarian forms unapologetically identified in titles such as Bathroom Sink (2012) or Bathtub (2013), replace paint to delineate abstract compositions inscribed in the realm of home renovation, cooking residues and bodily fluids.
In her Draped Marble series (begun in 2014), marble is broken, glued and fastened to exquisitely crafted wooden sawhorses to evoke folded towels left out to dry. Recalling Saban's earlier works in cast acrylic, these sculptures displace classic associations of material and application within art history and consumer culture. Saban's series Claim humorously embodies art's domestic aspect—in particular that of painting—in tableaux that are equal part furniture and art. And in her most recent series, Marking, the artist transposes material traces lifted from household objects or photographs onto canvas to create hybrid diptychs that present their constituent parts as both material source and pictorial consequence.
Whether it is subjecting paints and inks to sculptural processes such as casting and assemblage or using marble, concrete, porcelain or photographs for painterly purposes, Saban insists on a speculative condition for her work within the context of media-determinacy.
---
Analia Saban
 is organized by Claudia Schmuckli, Curator-in-Charge, Contemporary Art and Programming at the Fine Arts Museums of San Francisco, CA, and former Director and Chief Curator at Blaffer Art Museum, University of Houston.
---
Analia Saban, installation view, Blaffer Art Museum.
---
Introductory educational video on Analia Saban, exhibited at Blaffer Art Museum featuring interviews with the artist as well as the exhibition's curator, Claudia Schmuckli, then Blaffer's Director and Chief Curator.