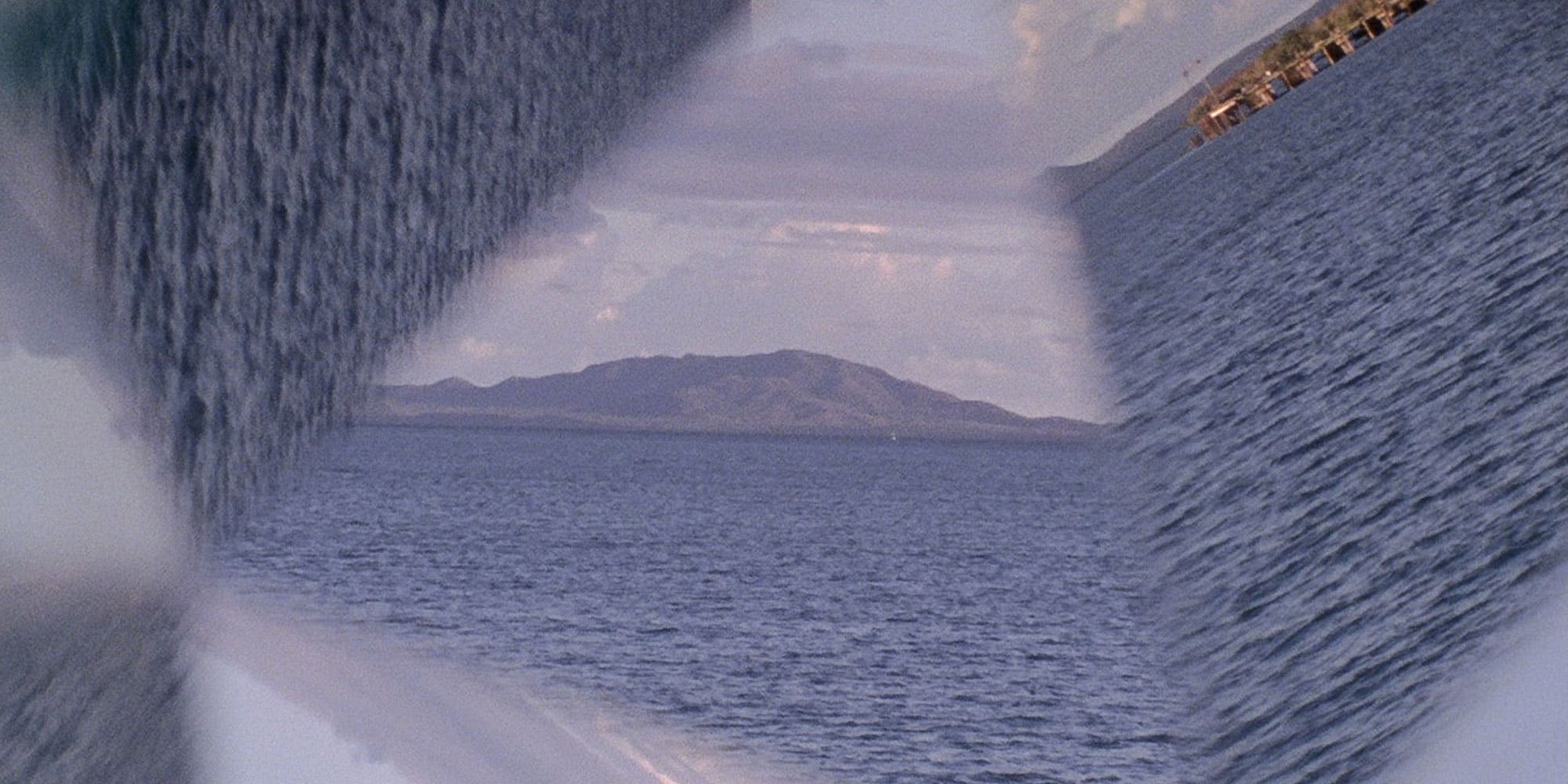 Beatriz Santiago Muñoz, Otros Usos (Other Uses), 2014 (still). 16 mm color film with sound. 7 min.
Courtesy of the artist and Galería Agustina Ferreyra.
Beatriz Santiago Muñoz: Otros Usos
---
February 8—March 16, 2019
---
Beatriz Santiago Muñoz (b. 1972, San Juan) makes films and videos that consider the underlying tensions and lingering complexities of post-colonial conditions in the Caribbean. Her works defy genre, often connecting or complicating traditional modes of documentary, ethnographic, narrative, and experimental film styles.
In Otros Usos (Other Uses), Santiago Muñoz trains her lens on the grounds of Roosevelt Roads, a former U.S. Naval base in Ceiba, Puerto Rico that was a frequent target of local protests against military presence until its ultimate decommission in 2004. The site's docks, still fitted with abandoned military equipment and infrastructure, jut out into the ocean and are now utilized by local fishermen. At varying intervals, the scenic images become unfixed, mirroring or multiplying inversely within the frame. Santiago Muñoz shot the film through reflective glass sculptures of her own making, creating alternating, kaleidoscope-like views of sea, sun, land, sky, and figure. Using her camera as a tool, the artist both distorts and augments our experience of place, thus blurring the borders between historical fact and fiction.
Beatriz Santiago Muñoz is an artist and filmmaker based in San Juan. Her recent exhibitions include presentations at El Museo del Barrio, New York (2017); the Whitney Biennial (2017); New Museum, New York (2016); Pérez Art Museum, Miami (2016); CAPC musée d'art contemporain de Bordeaux, France (2015); TEOR/éTica, San José, Costa Rica (2014); the Solomon R. Guggenheim Museum, New York (2014); Transmission Gallery, Glasgow International (2014); Tate Modern, London (2013); and CCA Wattis Institute for Contemporary Arts, San Francisco (2008). Santiago Muñoz has been awarded the Creative Capital Visual Art Award (2015) and the Louis Comfort Tiffany Foundation Award (2017). She is also a co-founder of Beta-Local, an arts organization in San Juan, Puerto Rico, and Director of Sessions, a series of intensive seminars anchored in the specific geography, emerging art practices, and sociopolitical conditions of Puerto Rico.
---
This exhibition is organized by Tyler Blackwell, Cynthia Woods Mitchell Curatorial Fellow at Blaffer Art Museum. It is presented in the Saleri Studio Gallery on the museum's second floor.