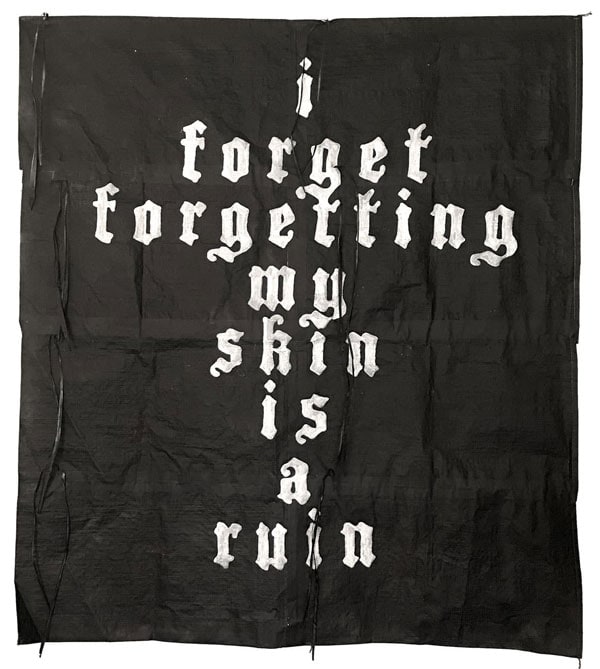 Matt Manalo, I Forget Forgetting My Skin Is A Ruin, 2019. Spray paint, acrylic paint, duct tape on rice bags. Courtesy of the artist.
Carriers: The Body as a Site of Danger and Desire
---
January 27—March 14, 2021
---
In the strangely unnerving and isolating circumstances of a global pandemic, as well as a renewed reckoning over race relations in the U.S., many of us covet the human contact—physically, socially, culturally—that we often take for granted. And yet with the viral, and sometimes violent conditions brought to bear in every corner of the globe, we know that humans are also the primary carriers of a life-threatening disease. At this intersection of anxiety, joy, desire, and resilience, this exhibition simultaneously examines and celebrates the body as a site of comfort, hope, and danger.
To consider this conflicted terrain from an especially immediate perspective, the issues at hand are confronted through the work of fifteen local artists working across a spectrum of media and techniques. From the micro to the macro, Carriers highlights personal narratives and intimate stories—bridging biography with broader themes of representation, health, labor, sexuality, and gender. Several artists forge new storylines or elucidate forgotten histories in Houston in the process, illuminating the tangled socio-political circumstances that affect how we move through the world. Rather than dwelling in the exasperation or fatigue we all feel, Carriers offers a kaleidoscopic lens to consider how our identities and interconnectedness offer a future course via the tenacity of the human spirit.
Artists: Francis Almendárez, j. bilhan, Violette Bule, Michael Ray Charles, Ryan Hawk, Robert Hodge, Matt Manalo, Lovie Olivia, Preetika Rajgariah, Dario Robleto, Gerardo Rosales, Sarah Sudhoff, Vincent Valdez, Nick Vaughan & Jake Margolin, and Jasmine Zelaya
---
This exhibition is co-curated by Tyler Blackwell, Cynthia Woods Mitchell Associate Curator and Steven Matijcio, Jane Dale Owen Director & Chief Curator at the Blaffer Art Museum.
---
Carriers: The Body as a Site of Danger and Desire, installation view, Blaffer Art Museum.