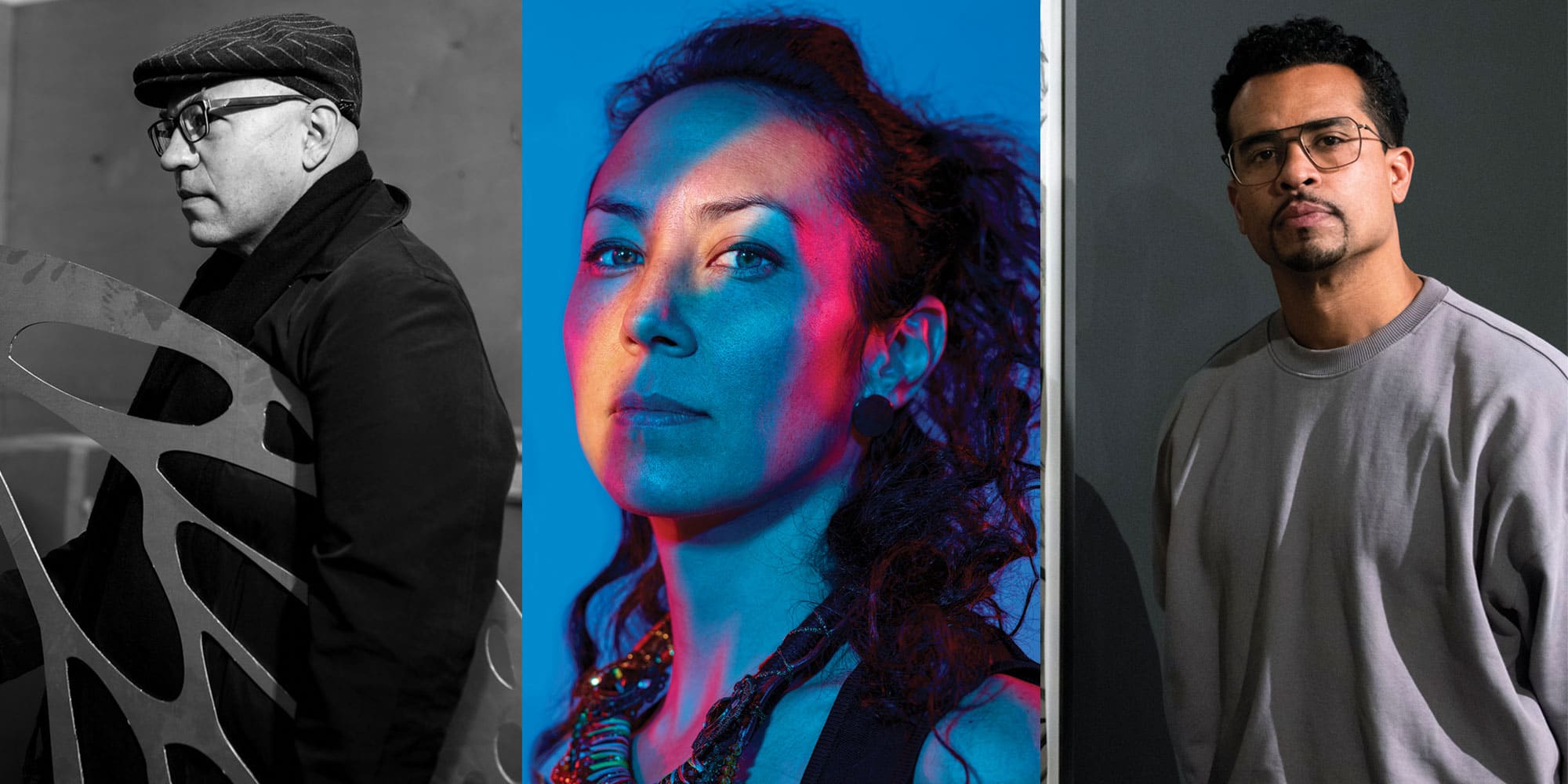 Brandon Ballengée; Marisa Morán Jahn, Photo credit: Jill Greenberg, 2020; Shaun Leonardo. Courtesy of the artists.
Cynthia Woods Mitchell Center for the Arts 2020-2021 Artists-in-Residence Spotlight
---
---
In the tumultuous time of the here and now, as we search for new systems of orientation and sustainability, the Blaffer is pleased to present a reflection, and extension, of the generative work conducted by a trio of artists invited to the University of Houston by the Cynthia Woods Mitchell Center for the Arts. Since its inception in 2005, the CWMCA has welcomed pioneering interdisciplinary artists on a yearly basis to conceive projects that connect signature elements of their research and practice with students, faculty, and community organizations. In the 2020-2021 season, via a combination of virtual conferencing, in-person visits, collaboration, adaptation, and improvisation, artists Brandon Ballengée, Marisa Morán Jahn, and Shaun Leonardo have produced projects that we hope will have a lasting impact on the campus, community, and city.
Ballengée merges art, urbanism, and ecology into a continued study of the social structures and societal habits of animals and insects. Through a combination of what he calls "Eco-Actions," open labs, and an artistic examination of our treatment of nature, Ballengee presents a series of prints that position species as intersections—collecting traces of interaction and larger ecosystems. Turning to the model of healing at the intersection of art, architecture, and social practice, Jahn works with communities of laborers, immigrants, and women of color to survey the landscape of caregiving in this country. In Houston, in collaboration with architect and MIT Associate Professor Rafi Segal, she proposes a model of "care-based co-housing" that balances the needs and desires of both caregivers and care-receivers, reduces social isolation, and dignifies aging. A parallel language of gathering and catharsis informs Leonardo's work which often combines performance and participation to navigate societal expectations of manhood, particularly those surrounding Black and Brown masculinities. For this project his work solicits, collects, and relays a myriad of encounters with law enforcement—pointedly, if anecdotally building a human archive within systemic inequality.
This spotlight exhibition will be accompanied by a series of public programs, panels, and activities that will elaborate all of the aforementioned projects.
We thank the National Domestic Workers Alliance, We Dream in Black, and Fe y Justicia Worker Center for collaborating with artist-in-residence Marisa Morán Jahn to discuss the role of art, architecture, and storytelling in creating new narratives to dignify care and aging. We also extend gratitude to Marvin Pierre, with Eight Million Stories, and Dr. Elwyn Lee of the University of Houston for joining Shaun Leonardo in a conversation about the traumas of the pandemic and ongoing racial injustice against the backdrop of a changing landscape of juvenile justice reform. Support the organizations: National Domestic Workers Alliance; Fe y Justicia Worker Center; 8 Million Stories; We Dream In Black
---
This presentation of
Kidnappers Foil
is Long's first institutional solo exhibition in the United States and the North American debut of the installation, following its premiere at the Kunsthalle Wien in 2014. It is curated by Max Fields and Andrew Hibbard.
(1) Brandon Ballengée, Gluttony, 2020-2021. Unique Giclée print. Courtesy the artist and Ann Connelly Fine Art, Baton Rouge, LA. 
(2) Marisa Morán Jahn, Study for 'sense-activating' mural, Carehaus Baltimore, 2020.
(3) Shaun Leonardo, Mirror/Echo/Tilt - production still. Photo by Melanie Crean.