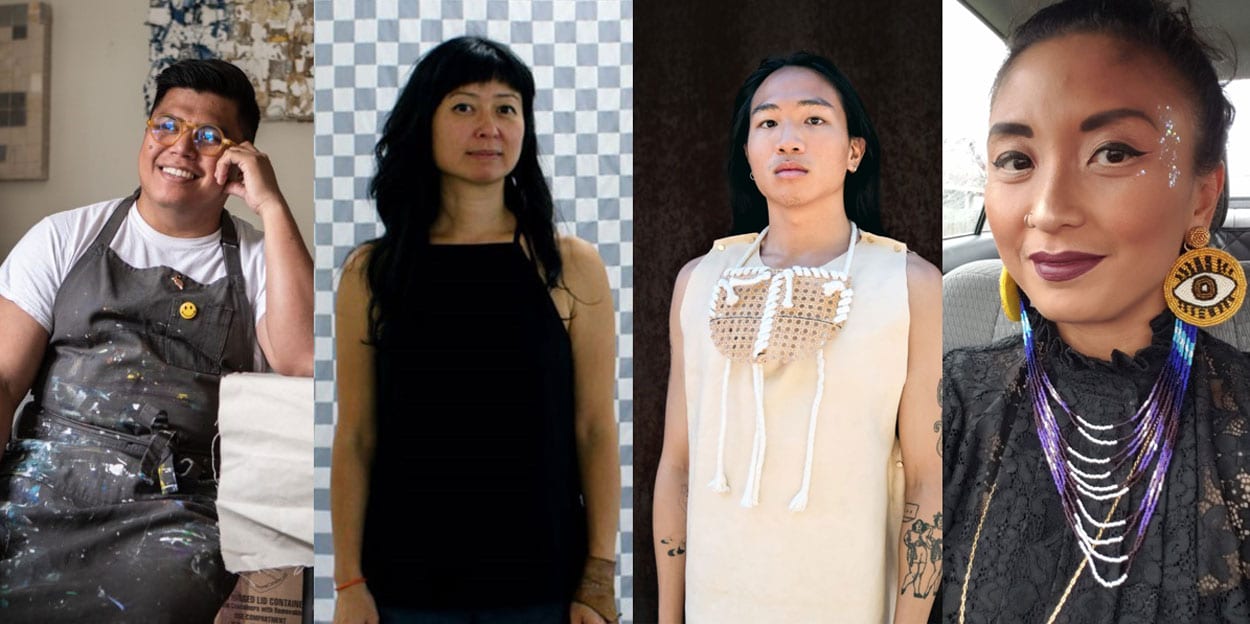 Date
Jan 06 2021
Expired!
Artist Roundtable: Visuality—moderated by Matt Manalo, featuring artists Stephanie Syjuco, Antonius-Tin Bui, and Royal Sumikat
Wednesday, January 6
7:00pm—8:30pm CT
Online event
FREE and open to the public
Stream live on YouTube or Facebook

Join Blaffer Art Museum, Asia Society Texas Center, and Houston Center for Contemporary Craft for an artist roundtable held in conjunction with the exhibition, Stephanie Syjuco: The Visible Invisible, on view at Blaffer Art Museum through January 10, 2021. Moderated by Matt Manalo, the roundtable will feature a discussion by artists Stephanie Syjuco, Antonius-Tin Bui, and Royal Sumikat.

About the Artists:

Stephanie Syjuco
Stephanie Syjuco works in photography, sculpture, and installation, moving from handmade and craft-inspired mediums to digital editing and archive excavations. Her recent work has focused on how photography and image-based processes are implicated in the construction of racialized, exclusionary narratives of history and citizenship.
Syjuco has exhibited her work widely nationally and internationally, including at the Contemporary Art Museum St. Louis, the MoMA/P.S.1, the Whitney Museum of American Art, The San Francisco Museum of Modern Art, The 12th Havana Bienal, The 2015 Asian Art Biennial (Taiwan), among others. Smithsonian Artist Research Fellow at the National Museum of American History in Washington, DC, and is the recipient of numerous accolades including a 2014 Guggenheim Fellowship Award, a 2009 Joan Mitchell Painters and Sculptors Award.

Antonius-Tin Bui
Antonius-Tín Bui (they/them pronouns) is a spontaneous shapeshifter and polydisciplinary artist with roots all over the United States. They proudly identify as a queer, nonbinary, Vietnamese-American Slaysian. Born and raised in Bronx, NY, Bui moved to Houston before pursuing a BFA at the Maryland Institute College of Art (MIC/A). Since graduating in 2016, Bui has garnered fellowships from the Vermont Studio Center, Kala Art Institute, Tulsa Artists Fellowship, Halcyon Arts Lab, Houston Center for Contemporary Craft, Yaddo, Anderson Center at Tower View, The Growlery, and Fine Arts Work Center. Bui has exhibited at various institutional, private, public, and underground venues including the Vietnam Veterans Memorial, Smithsonian National Portrait Gallery, IA&A at Hillyer, Lawndale Art Center, Pennsylvania College of Art & Design, Artscape, Satellite Art Fair Austin, Blaffer Art Museum, Laband Art Gallery, and the Smithsonian Arts & Industries Building.

Royal Sumikat
Born in the Philippines and residing in Houston, multi-city muralist and painter Royal Sumikat is a dynamic human and a futuristic artist. She works with spray paint, gouache, acrylic paints, markers, and most recently, the app Procreate. While the images in her works appear to contradict each other, this is intentional, highlighting contrast in colors, texture, and in ideas.
Sumikat's work is informed by her experiences as an immigrant, community organizer, and priestess—taking inspiration from the spaces afforded by these different identities. Storytelling and mythology are prevalent in her work as she aims to strengthen the connection she has with her ancestors.

Matt Manalo
Matt Manalo is an artist and community organizer. He was born and raised in Manila, Philippines and has called Houston, Texas home since 2004. He received his BFA in Painting at the University of Houston. He runs a community-based alternative art space Alief Art House and founded Filipinx Artists of Houston.
Matt Manalo creates work which involves elements of painting, drawing, sculpture, photography, and printmaking. Being a first generation immigrant, Manalo discusses his experiences navigating around physical and social structures of society while exploring issues like erasure, colorism, and colonial mentality in his work.


Stephanie Syjuco: The Visible Invisible is on view at the Blaffer through January 10, 2021.
Explore the exhibition

This public program is supported by Scott & Judy Nyquist.

Image: Courtesy of the artists.