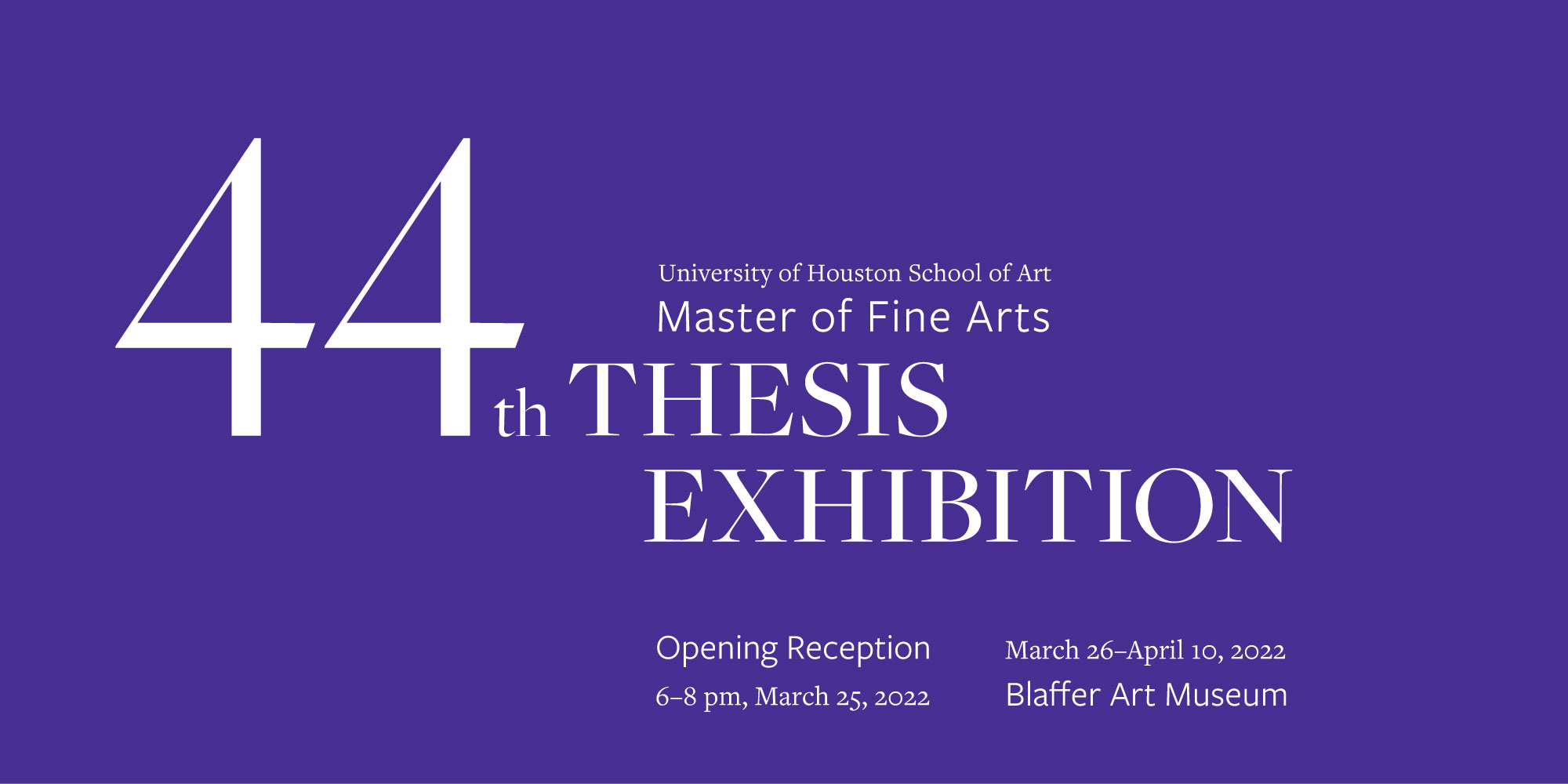 Date
Apr 05 - 07 2022
Expired!
Artist Talks: UH School of Art 44th MFA Thesis Exhibition
Tuesday, April 5
Wednesday, April 6
Thursday, April 7
12:00pm—1:00pm
Location:
Blaffer Art Museum
Livestream: YouTube, UH Streaming Media
Held in-person at the Blaffer, MFA artist talks offer a valuable opportunity to hear from the UH School of Art 44th Masters of Fine Arts Candidates. Join us in the galleries Tuesday, Wednesday, and Thursday, April 5, 6, and 7 at 12pm—this event is free and open to the public.
Each spring the Blaffer Art Museum and the University of Houston School of Art proudly presents the work of the Masters of Fine Arts degree candidates from the school's five studio programs: Graphic Design, Interdisciplinary Practice and Emerging Forms, Painting, Photography/Digital Media, and Sculpture. The exhibition showcases highly developed bodies of work produced in a studio intensive environment over a three-year degree program.
The first session on Tuesday, April 5 will include presentations by Tiffany Nesbit, Doug Welsh, Liz Gates, Haoua Amadou, and Brent Reaney. The second session on Wednesday, April 6 will include presentations by Marcelese Cooper, Isabelle Zimmerman, María Jacinta Majithia, and Noelle Dunahoe. The third session on Thursday, April 7 will include presentations by Sydney Parks, Miriam Donis, Ashita Sawhney, and Jennifer Bootwala.
Learn more: blafferartmuseum.org/44th-mfa-thesis