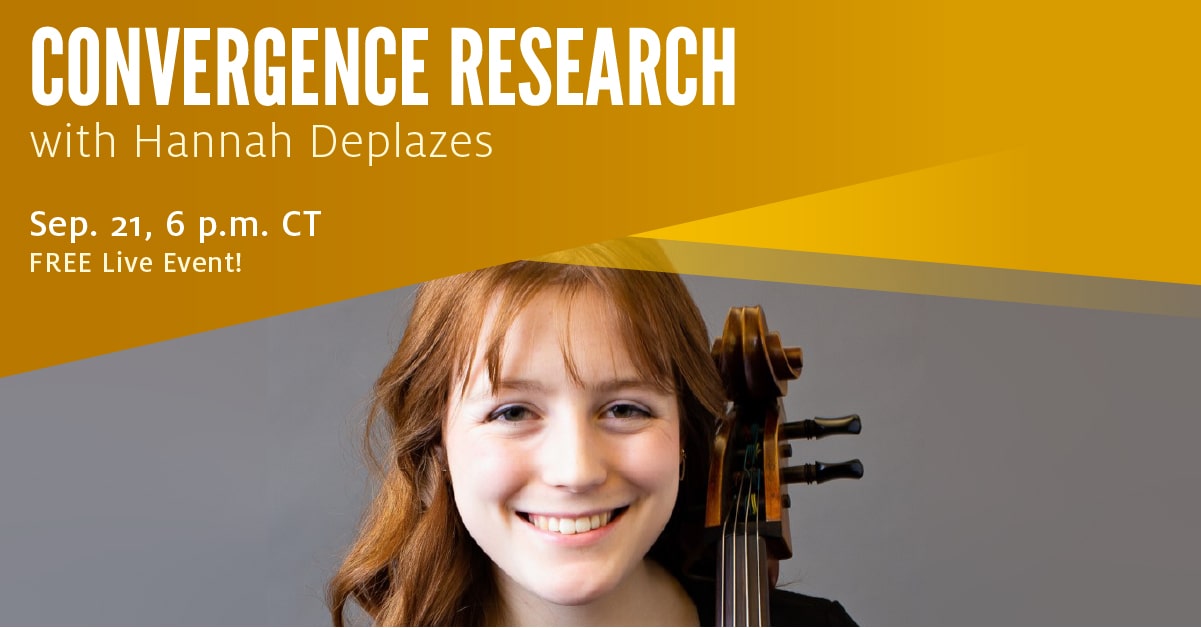 Date
Sep 21 2022
Expired!
Convergence Research: Hannah Deplazes
Convergence Research with Hannah Deplazes, Etchings
Wednesday, September 21, 2022
6 pm-7pm
Location Blaffer Art Museum
FREE and open to the public
Inspired by Nick Vaughan and Jake Margolin: Wayfinding, the artist represents visual elements of art, form, and atmosphere musically. Deplazes chose the Sarabande from Bach's C minor Suite performed with a few modern modifications. To express the dark values depicted in the works, the artist selected Bach's C minor Prelude, conveying living through struggles while finding hope. Alexander Tcherepnin's Suite for Solo Cello is based on pentatonic scales, represented in the performance through following a diagram. In between movements, the artists will move through the galleries incorporating movement and breath to set the mood for the following movement.
Convergence Research is a collaboration between the Cynthia Woods Mitchell Center for the Arts (CWMCA) and the Blaffer Art Museum. A platform for experimentation and research for students and faculty in the McGovern Collage of the Arts, Convergence Research supports interdisciplinary inquiry and techniques to stimulate creative processes. The resulting works are performative, temporary, and in any stage of production.
Parking: Free parking for this event is available via the six complimentary marked lot spots directly in front of the museum entrance and at the Elgin Street Garage parking (4224 Elgin Street). To take advantage of complimentary Elgin Street Garage parking, please first park in the garage, obtain your machine ticket, and bring the museum front desk upon arrival.
About the Artist:Originally from North Dakota, Hannah graduated from Minot State University in 2021 with a degree in Cello Performance. She has studied cello since the age of 8 with multiple teachers in the United States and Germany. Hannah has attended summer festivals including the Eastman Cello Institute, Dakota Chamber Music, University of Utah Chamber Music Workshop, High Peaks Music Festival, and Texas Music Festival: Orchestral Institute. She has also competed in several competitions including MTNA, the national Jugend Musiziert Wettbewerb, and has won two solo competitions which resulted in solo performances with the Minot Symphony Orchestra. Currently, Hannah is studying for her MM in Cello Performance at the University of Houston's Moore's School of Music where she is an active solo performer and a member of the Tomatz String Quartet.
Learn More: https://h6n.short.gy/CRSep22