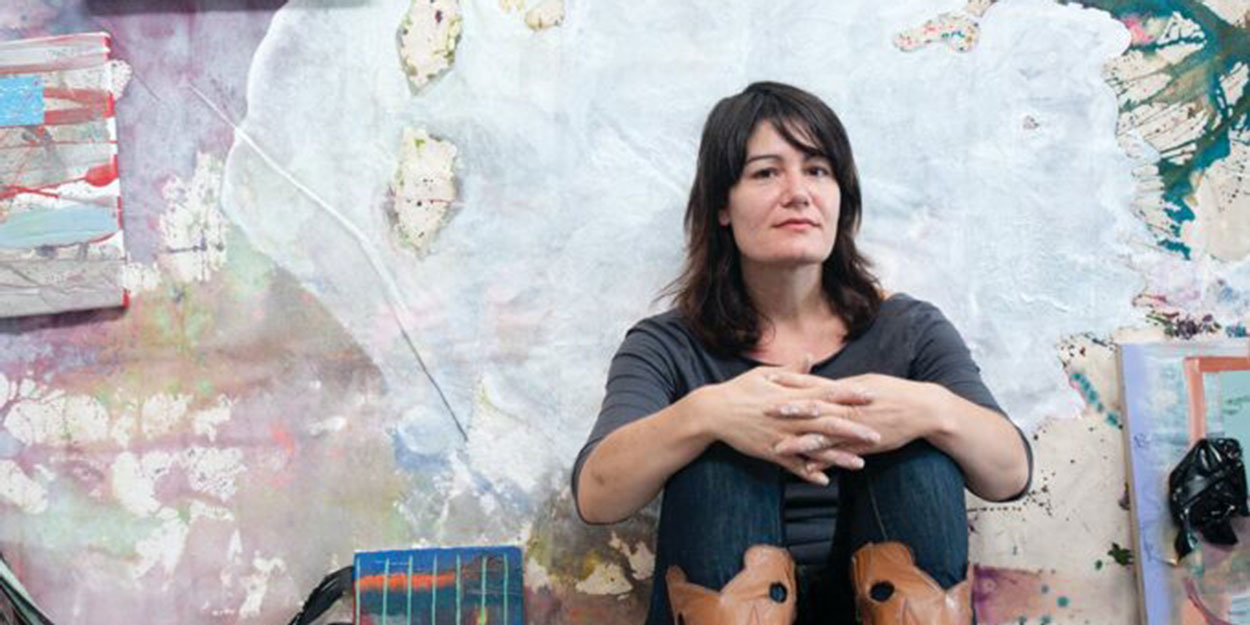 Date
Feb 08 2022
Expired!
Artist Talk: Molly Zuckerman-Hartung
Tuesday, February 8
6:30pm–8:00pm
Location:
Dudley Recital Hall at UH School of Art
Join us in person for a talk by visiting artist Molly Zuckerman-Hartung. Presented on the occasion of her mid-career survey exhibition Comic Relief, currently on view at the Blaffer Art Museum.
Visitor Information: This event is FREE and open to the public. Free parking for this event is available via the six complimentary marked lot spots directly in front of the museum entrance and at the Elgin Street Garage (4224 Elgin Street). To take advantage of complimentary Elgin Street Garage parking, please first park in the garage and obtain your machine ticket and then bring to the museum front desk upon arrival.
In her formative years, Zuckerman-Hartung participated in Riot Grrrl—the 1990s underground punk scene that originated in the Pacific Northwest and exhorted radical female empowerment through collaborative community-building and the rejection of male-dominated power structures. This involvement had a lasting effect on the artist, instilling within her a permanent inclination toward inquiry and critique, as well as a deep-rooted sense of creative resistance to societal boundaries, cultural norms, and conventional aesthetics.
Since the mid-2000s, Zuckerman-Hartung has primarily identified as a painter—often rethinking, performing, or activating aspects of the medium's long history, various visual languages, and critical strategies as a starting place for her own socially-conscious practice. She is a prodigious alchemist, prolific in her output and experimentation, restlessly moving between ideas and materials. The artist's densely-cobbled, largely abstract objects vary in scale and evocatively draw on references to feminist and queer theories, pop culture, literature, psychoanalysis, art history, current events, comedy, and her life. With a slapstick sensibility and radical self-awareness, Zuckerman-Hartung's work creates a unique lexicon for illuminating the motley dimensions of our daily systems and psychosocial landscapes.
Molly Zuckerman-Hartung (b. 1975, Los Gatos, CA) earned a BA from The Evergreen State College and a MFA from the School of the Art Institute of Chicago. The artist has participated in numerous solo and group exhibitions over the years at venues such as the Museum of Contemporary Art, Chicago, IL; the UCR/California Museum of Photography, Riverside, CA; MOCA Cleveland, Cleveland, OH; ReMap4, Athens, Greece; Walker Arts Center, Minneapolis, MN; and the Indianapolis Museum of Contemporary Art, Indianapolis, IN; among many others. Her work was also featured in the 2014 Whitney Biennial.
Her work is in the collections of the DePaul University Art Museum, Chicago, IL; the Museum of Contemporary Art Chicago, Chicago, IL; the Booth School of Business at the University of Chicago, Chicago, IL; and The Walker Art Center, Minneapolis, MN. Zuckerman-Hartung lives and works in Norfolk, CT.