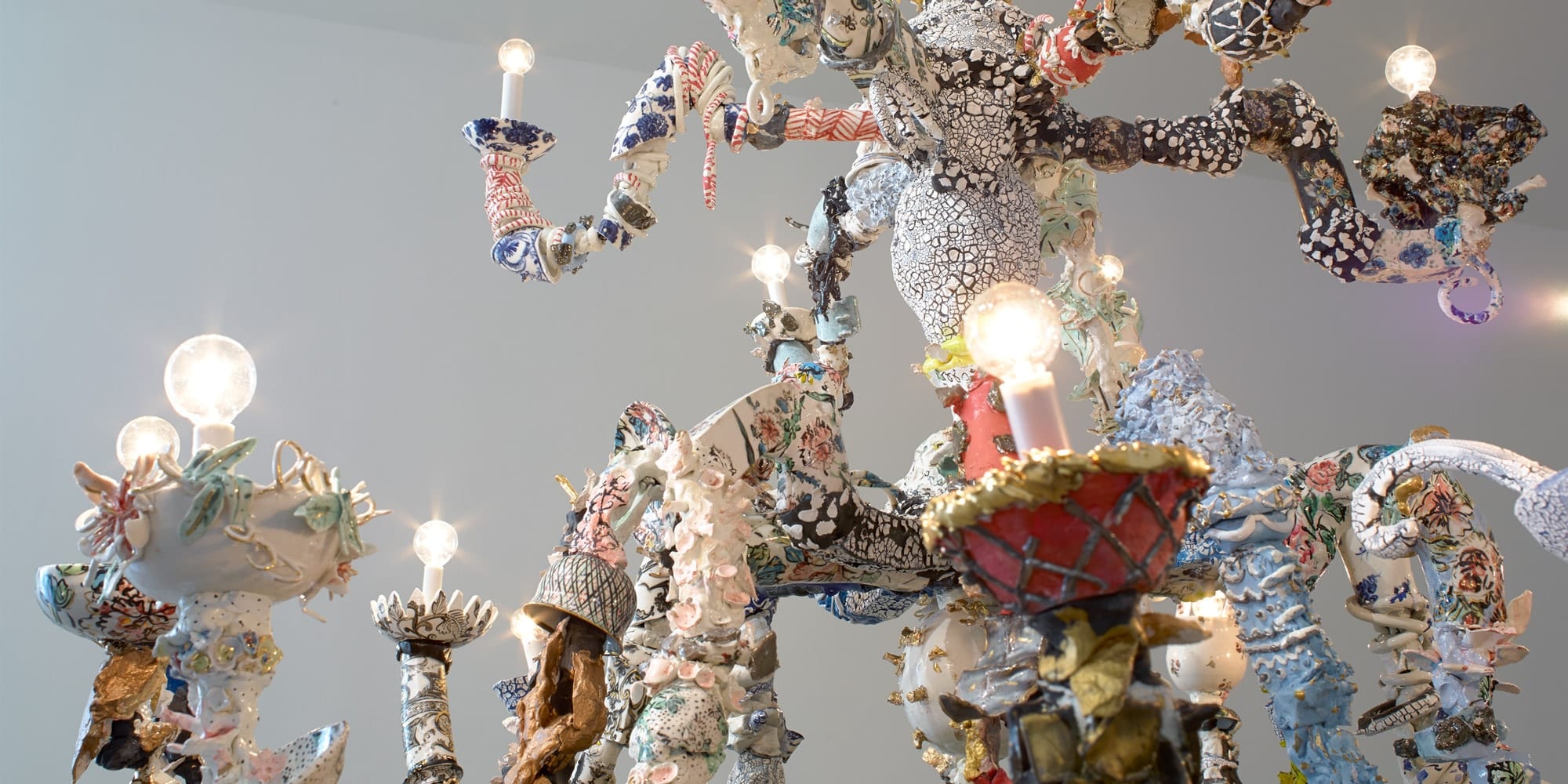 Francesca DiMattio: Chandelabra (detail), 2014. Glaze on porcelain, epoxy, metal and bulbs.
Francesca DiMattio: Housewares
---
---
Francesca DiMattio is part of a generation of artists bent on reinvigorating painting and sculpture through careful consideration of the history of the medium and its traditions of material, genre, style and periodization. Treating her canvases like a stage set, DiMattio creates intricately layered scenes where architecture, furnishings, objects and figures collide in a continually shifting plane. She often compares the rhythm of her painting as akin to weaving in which she uses representational elements made of paint, textiles or plastics  to build abstract paintings where each element is recognizable but does not behave as it should. "The imagery moves between the nameable world that adheres to rules of weight and gravity, and a flat world of pattern and abstraction that follows its own logic. Because everything is fractured, there is a suggestion of motion rather than stillness. Every element is interrupted or broken by another element. Nothing is left whole."
The same is true for her sculpture. DiMattio's earlier work referenced the genres of history painting and landscape, but since 2010 her focus has shifted to the still life and domestic interior. It is in this context that she began making ceramic vessels, or, more precisely, sculptures about vases, and more recently sets of tea cups and pots. Like the paintings, the sculptures fuse together different traditions and techniques, ranging from 17th Century French Chinoiserie to mass-produced kitsch tchotchkes to the molten forms of Peter Voulkos's sculptures. Through material and formal collision her sculptures investigate and challenge ideas of the decorative and its association with femininity. Says DiMattio, "It changes what we think of as feminine and presents the domestic in forms that call for new adjectives."
Born in 1981, DiMattio is based in New York. She received her BFA from Cooper Union in 2003 and her MFA from Columbia University in 2005. Her work has been included in exhibitions at the Zabludowicz Collection and Pippy Houlsworth Gallery, London, Conduits Gallery, Milan, Institute of Contemporary Art, Boston, The National Arts Club, New York, LAXART, Los Angeles, The Saatchi Gallery, London, and Locust Projects, Miami. She is represented by Salon 94 in New York.
---
Francesca DiMattio: Housewares, installation view, Blaffer Art Museum.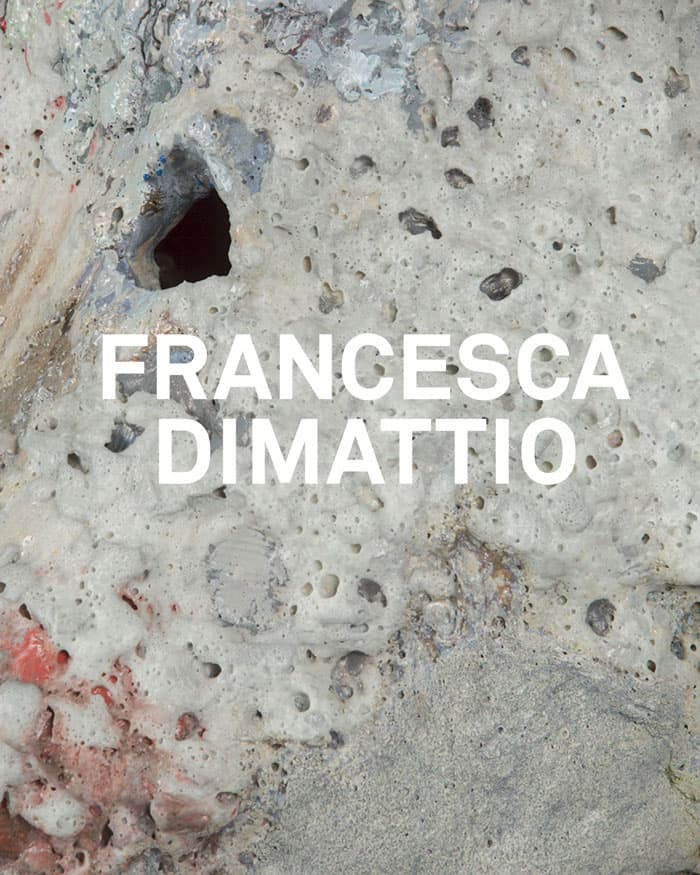 ---
Exhibition Catalog
128 pages, hardcover | $35
Text by Claudia Schmuckli, Jenni Sorkin, Cindi Strauss, and Anne Thompson.
Designed by Miko McGinty; Published by Blaffer Art Museum.
---