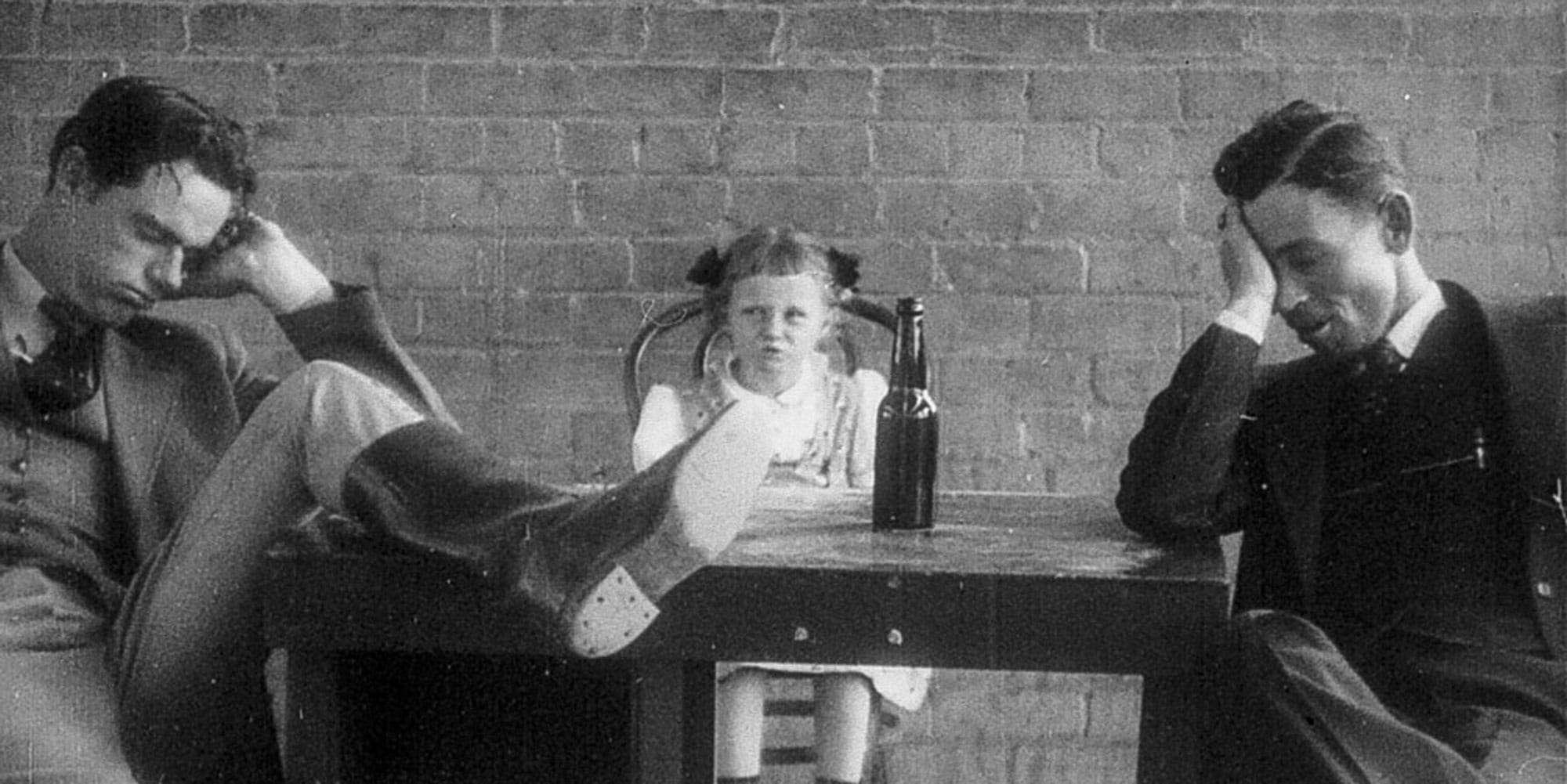 Gareth Long, Childress, Texas version (1936) of The Kidnappers Foil, filmed by Melton Barker. Courtesy of the artist.
Gareth Long: Kidnappers Foil
---
November 16, 2019—March 14, 2020
---
Kidnappers Foil is an immersive moving image installation by Toronto-based artist Gareth Long that explores the social, cultural, and media histories of amateur American filmmaking through the lens of the itinerant Texan filmmaker Melton Barker.
Between 1936 and 1976, Dallas-born Barker traveled from town to town across the American South and Midwest, using a single script to produce hundreds of unique iterations of the same film. Touting his directorial acumen, his eye for talent, and his ability to create Hollywood-style productions in the heartland, Barker made his living convincing local communities to purchase time on the silver screen. Over the course of a week, he would recruit a cast of children, shoot the production, and present the finished film at the local cinema in front of an audience filled with friends and family of the amateur cast. At the conclusion of each screening, Barker would pack up his materials, drive to the next town, and repeat his production process, leaving the finished reels behind—many of which are considered lost forever.
Building from his interest in amateur production and histories of technology and mimesis, Gareth Long's installation considers the surviving prints of Barker's oeuvre as vernacular historical documents. In his installation Kidnappers Foil, Long immerses viewers in an arena of synchronized digital projections of the existing copies of Barker's films. Through Long's framing, he shifts the focus from the singularity of the unique film – positioning each of Barker's works as a cinematic artifact in an unlikely ethnographic archive. The individual films emerge as portals into the place of their making, showing the patina of time and technology as the recordings have migrated through different storage media; celluloid to VHS to digital, and everything in between.
Gareth Long (b. 1979, Toronto, Canada) received his BA from the University of Toronto and his MFA from Yale University. Long has held solo exhibitions at Kunsthalle Wien, Vienna; Kate Werble Gallery, New York; Galerie Bernhard, Zürich; Michael Benevento, Los Angeles; TORRI, Paris; SpazioA, Pistoia; Oakville Galleries, Oakville; the Southern Alberta Art Gallery, Lethbridge; The Apartment, Vancouver; Leo Kamen Gallery, Toronto. His work has been included in exhibitions at MoMA PS1, Long Island City, NY; Museum of Contemporary Art Denver; The Power Plant, Toronto; Musée d'art contemporain de Montréal,; Artists Space, New York; Flat Time House, London; Drawing Room, London; Spike Island, Bristol; Wiels, Brussels; Salzburger Kunstverein, Salzburg; Badischer Kunstverein, Karlsruhe; and Witte de With, Rotterdam.
---
This presentation of
Kidnappers Foil
is Long's first institutional solo exhibition in the United States and the North American debut of the installation, following its premiere at the Kunsthalle Wien in 2014. It is curated by Max Fields and Andrew Hibbard.
---
Gareth Long: Kidnappers Foil, installation view, Blaffer Art Museum.