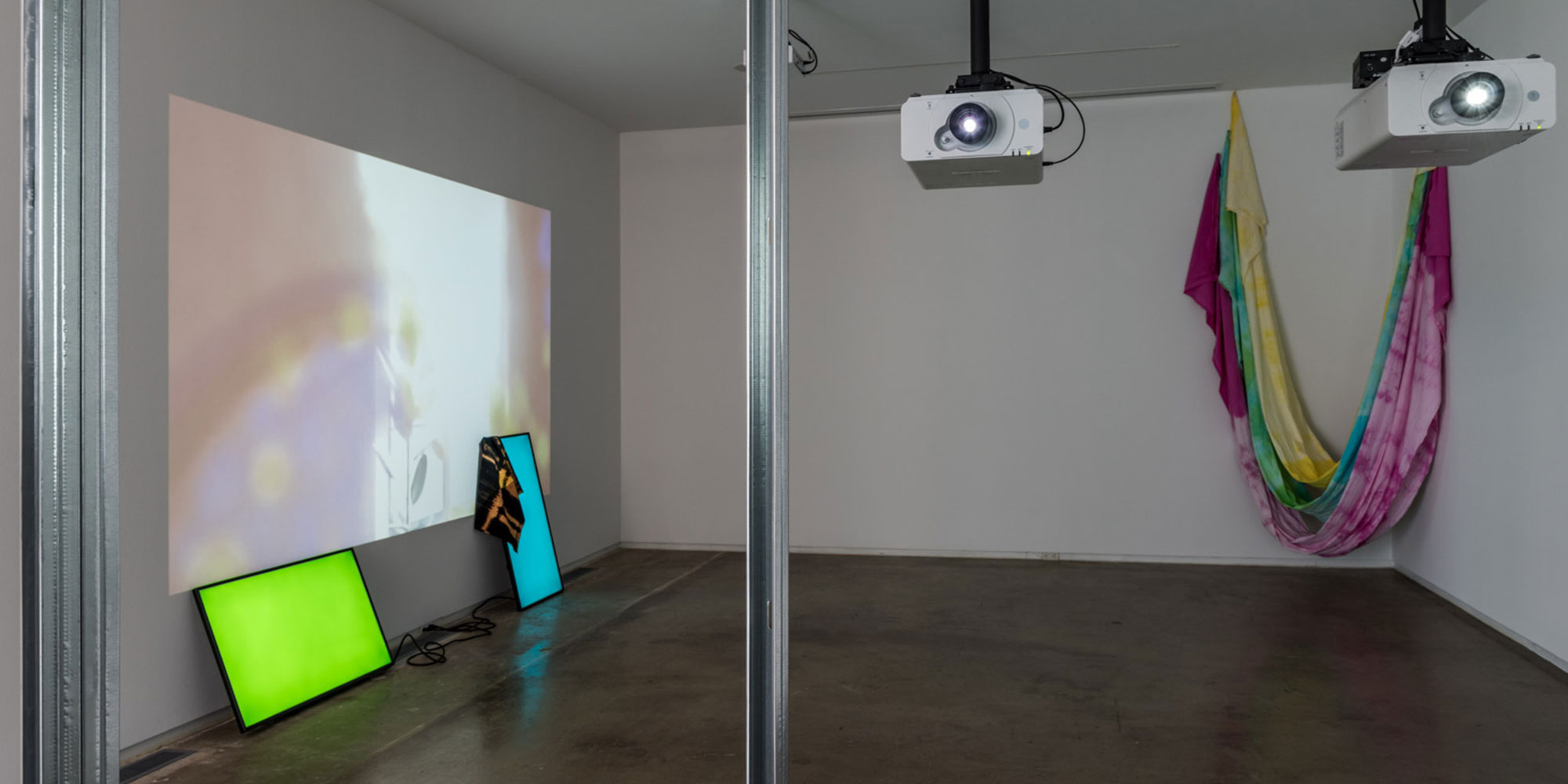 Installation view, Hilary Lloyd at Blaffer Art Museum. Photo by Pete Molick.
---
June 4—September 10, 2016
---
Comprised of various video installations, handcrafted objects, and architectural interventions, Hilary Lloyd's first U.S. solo museum exhibition presents new work created specifically to be experienced in Blaffer Art Museum's upstairs galleries. Swerving between abstract imagery and glimpses of the world, the exhibition explores light as both a medium and subject of digital technologies and draws attention to the possibilities and limits of visual perception.
Populated by human and non-human characters such as a maniacal Easter bunny, a woman with a fake gun, or a wandering cat, Lloyd's videos jolt the viewer between different film genres and scenarios. In the exhibition, everyday vignettes alternate with studio vistas, fashion shoots, and theatrical fictions, in which raw and edited footage is collapsed with digital animation. Playing with recorded glitches, lo-res pixilation, and Photoshop effects like lens flares and pattern stamp tools, Lloyd accentuates the visual textures of electronic media.
Lloyd's videos continue the lineage of experimental film by displaying non-representational imagery and breaking with sequential narrative through the use of long shots, flicker effects, and repetitive variations of visual motifs. Her video installations present virtual worlds while at the same time relating to the physical space of the viewer as she or he moves through the artworks, experiencing them from various angles.
Light glances and shines across surfaces and screens, rendering objects visible or dissolving them in a glowing stream. Making sculptures and installations with and about light, Lloyd's works explore various levels of perception, revealing spaces between bodies and images while underscoring the materials and processes of video, including screens, support structures, and audiovisual equipment.
---
Hilary Lloyd is organized by Javier Sánchez Martínez, Cynthia Woods Mitchell Curatorial Fellow at Blaffer Art Museum, University of Houston.
---
Hilary Lloyd, installation view, Blaffer Art Museum.