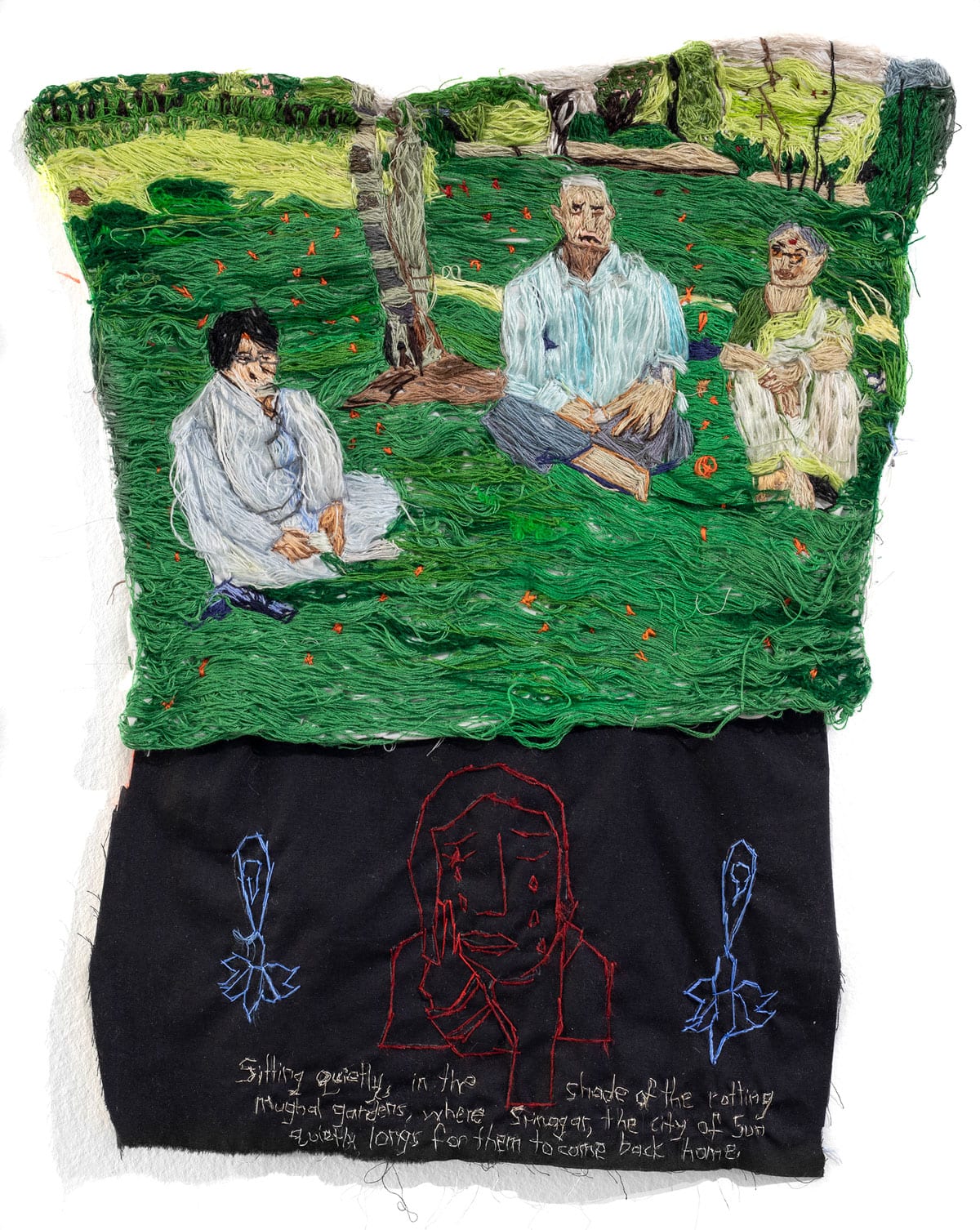 Jagdeep Raina, Garden Minorities, 2021. Embroidered tapestry with Kashmiri sozni, embroidered border on muslin. Courtesy of the Artist and Cooper Cole, Toronto.
---
---
Jagdeep Raina illustrates and reimagines stories and scenes from across the Kashmiri and Punjabi diasporas. Through drawings, writings, paintings, weavings, and videos, Raina examines diverse histories of transnational migration and mobility and their effects on contemporary life. The artist often draws upon anecdotal histories as well as personal and public archives as source material for his figurative works—blending familial narratives with historical accounts to illuminate the socioeconomic and political structures that have shaped South Asian communities in both his native Canada and across the globe. In this process, Raina works to complicate and upend monolithic perceptions of these richly varied diasporas.
The exhibition marks Raina's first solo museum presentation in the United States, featuring a selection of artworks made over the last six years. These objects highlight the artist's distinctive figurative language across media, including lushly rendered works on paper that carefully depict various characters and sites of gathering like neighborhood storefronts, theaters, or domestic spaces. Together, Raina's vivid tableaux—taken from the everyday as well as historical scenes—consider how communities create, sustain, and grow a social framework.
Also included are Raina's recent tapestries and stop-motion animated films, which explore material histories in the context of the Phulkari shawl—a traditional garment woven from hand-spun cotton that is naturally dyed and embroidered with Kashmiri silk. For the artist, engaging the aesthetic and cultural traditions of the Phulkari—which originated in the rural villages of Punjab before being vastly diminished in the aftermath of the violent 1947 Partition of India—serves as a method to reconsider legacies of colonialism and globalization, celebrate rural life, and connect to his heritage.
Jagdeep Raina (b. 1991, Guelph, Ontario, Canada) received his MFA from the Rhode Island School of Design. He has been the subject of solo exhibitions at Grice Bench, Los Angeles; Cooper Cole, Toronto; Midway Contemporary, Minneapolis; and the Art Gallery of Guelph. Raina's work has been included in exhibitions at the National Gallery of Canada, Ottawa; RISD Museum of Art, Providence; and the Rubin Museum of Art, New York. In 2016, he was included in the 11th Shanghai Biennale. Raina is a 2020 recipient of the prestigious Sobey Art Award in Canada.
---
This exhibition is organized by Tyler Blackwell, Cynthia Woods Mitchell Associate Curator at the Blaffer Art Museum.
---
Jagdeep Raina: Bonds, installation view, Blaffer Art Museum.