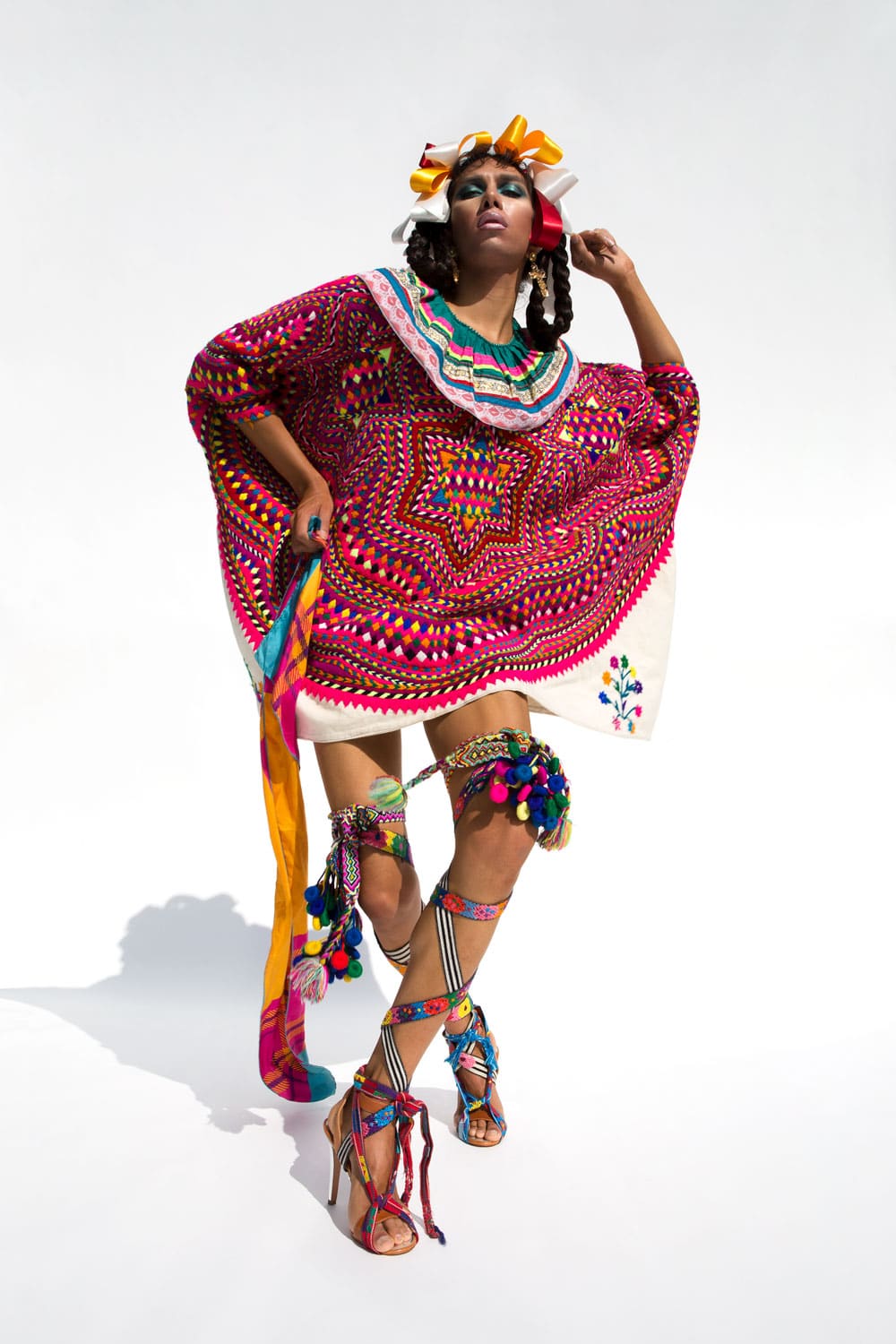 Martine Gutierrez, Neo-Indeo, page 25 from Indigenous Woman, 2018. Courtesy of the Artist and RYAN LEE Gallery, NY.
Martine Gutierrez: Radiant Cut
---
---
Martine Gutierrez is a chameleon-like artist whose photos, performances, and videos deconstruct glittery conventions of fashion, beauty, advertising, and glamour. She instigates a similar reinvention of gender, race, and identity—translating her Mayan heritage and Guatemalan-American ethnicity into an evocative platform to (re)discover, embellish, and amplify bodies "outside of the binary." Inspired by ancient Aztec deities that embody historical models of duality and gender-fluidity, Gutierrez explains, "My authenticity has never been to exist singularly, whether in regard to my gender, my ethnicity, or sexual orientation. My truth thrives in the gray area…" Within this amorphous arena of self-exploration, the artist explores the ways in which sexuality and style are constructed and propagated in popular media—from clothing lines and cosmetics to perfume, haute couture, and music videos.
This micro-survey of her career begins with early series where mannequins and sex dolls are positioned as idealized partners and surrogates—circulating in an uncanny space of mimicry, desire, and plastic intimacy. The artist's kaleidoscopic inventory of looks and personas subsequently flourishes in Gutierrez's most ambitious project to date: the 128-page glossy magazine Indigenous Woman, in which she assumes manifold roles of model, stylist, photographer, art director, advertiser, writer, and editor-in-chief. Echoing Andy Warhol's flashy, celebrity-centric Interview magazine, this magnum opus colorfully swirls fictional marketing campaigns and high fashion with transgressive satire and swelling post-colonial confrontation. The amplitude of interwoven erotica, artificiality, and violence takes on added volume in her most recent works as Gutierrez pushes us to confront the many suggestions of this seductive synthesis. With coquettish invitation and introspective ardor, she explains, "By digging my pretty, painted nails deeply into the dirt of my own image, I am also probing the depths for some understanding of identity as a social construction."


Radiant Cut is organized by Steven Matijcio, Blaffer Art Museum Jane Dale Owen Director & Chief Curator, and is on view until October 24, 2021.
---
Martine Gutierrez: Radiant Cut, installation view, Blaffer Art Museum.