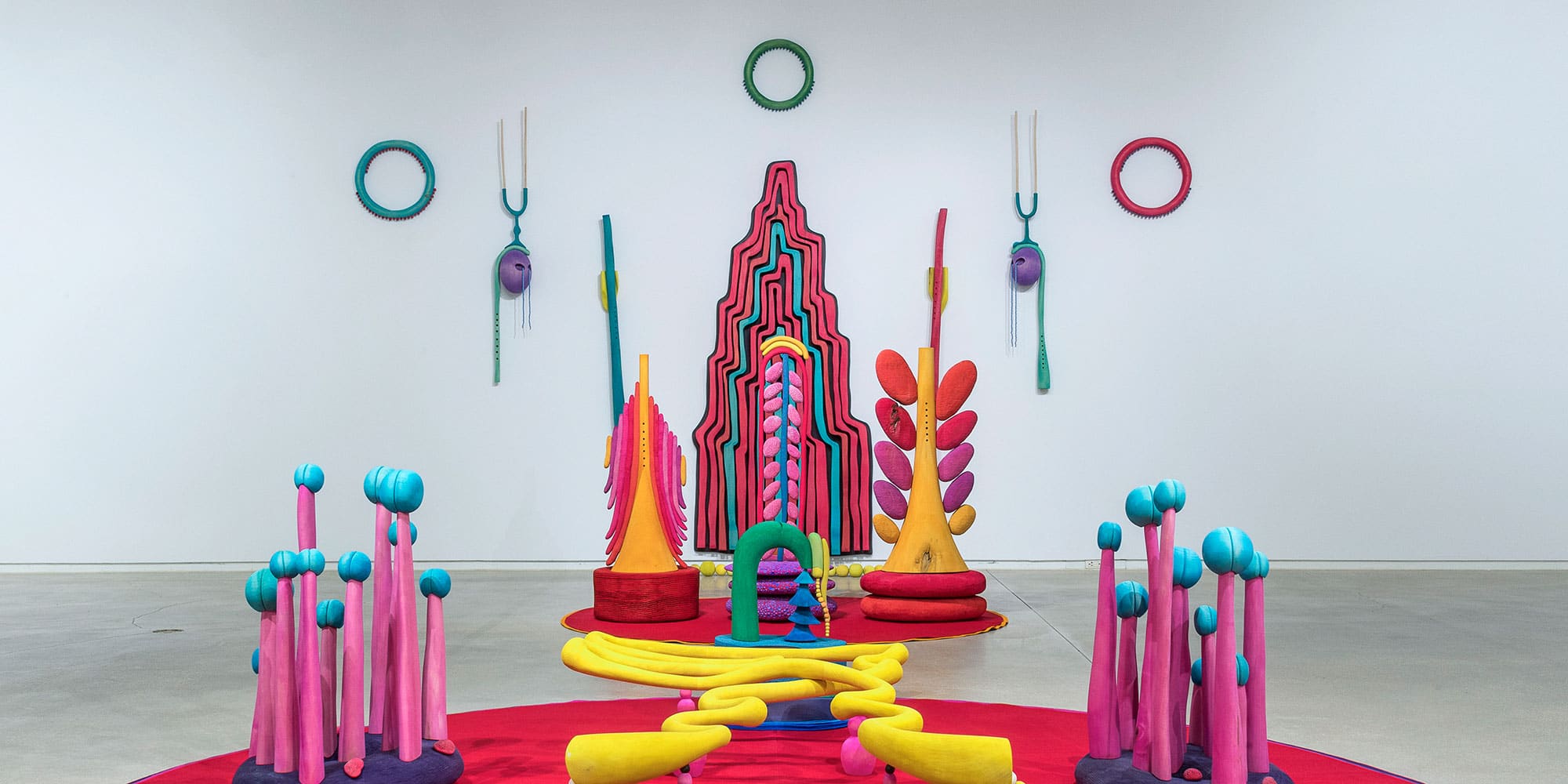 Installation view, Matthew Ronay at Blaffer Art Museum.
This exhibition, the artist's first major museum presentation in the United States, surveys a recent body of meticulously hand-crafted and vibrantly colored sculptures, reliefs and installations that deliver a phantasmagoric vision of physical and psychic processes fueled by visual traditions and conventions in art, science, and popular culture.
Made primarily with basswood, dye, and gouache but often incorporating such materials as steel, plastic and cotton thread, Ronay's sculptures, reliefs and installations formally draw on surrealism, psychedelia, and science fiction. Inspired by a deep appreciation for botany, mycology, and biology—fields that explore parts of the physical world that are often hidden from humans' perception but shape our experiences in ways both subtle and profound—Ronay seeks to create "something that looks as if it's grown, that these aren't objects that were necessarily made by a human, but that they've grown themselves." Their vivid palettes combine hues from across the spectrum that seem to vibrate and hum—an achievement all the more remarkable in light of Ronay's deuteranomaly, a form of colorblindness caused by a shift in the green retinal receptors.
Along with a dozen discrete sculptures and reliefs, the exhibition features two large-scale installations made of groupings of individual sculptures. Organ Organelle (2014), which Ronay likens to a respiratory system, offers a carefully orchestrated arrangement of biomorphic shapes and structures in bright gradient shades of pinks, purples, yellows and the occasional touch of turquoise. Set against red fabric, each sculpture seemingly pulsates with heat and reproductive energy as if grown from a magmatic jungle that is home to exotic plants, fruits and flowers. With the interconnected fabric mats shaped to evoke biological cells or chemical flasks, each of these sculptures assumes a vital role in some form of organic circuit that flows through a portal-like shape mounted against the wall and framed with head-like ovoids, elongated staffs and open circles. With its wall-bound verticality and 90-degree remove, the configuration of portal, mask, staffs and circles introduces a ritualistic element that connects the botanical to a human scenario.
Another major installation, In and Out and In and Out, Again (2013) unfolds against the backdrop of a large wall-bound gouache of downward pointing phallic shapes in blues and turquoises whose flow is interrupted by a singular orange-yellow triangle at its lower center. From its narrow wooden base with green stems running across its expanse extends a blue latex carpet in the shape of an elongated oval upon which six sculptures are placed in linear succession like markers of a somber procession. Closest to it is a narrow elongated platform held up by breast-like shapes and vaginal mounds, upon which rests a creature that appears to be all organs, veins and arteries, its structure and coloration evocative of renderings of the human cardiovascular system with lungs, heart, kidneys, and liver and its circulation of oxygen poor and rich blood identified in red and blue.
Contemplated together, Organ Organelle and In and Out and In and Out, Again read like a diptych, complementary monuments to birth and death centered on the organic nature and functions of the body whose vegetative inevitabilities are reinforced through a ritualistic presentation.
---
Matthew Ronay
 is organized by Claudia Schmuckli, Director and Chief Curator at Blaffer Art Museum, University of Houston.
---
Matthew Ronay, installation view, Blaffer Art Museum.
---
Introductory video for Matthew Ronay featuring interview with artist Matthew Ronay and the exhibition's curator, Claudia Schmuckli, Director and Chief Curator.