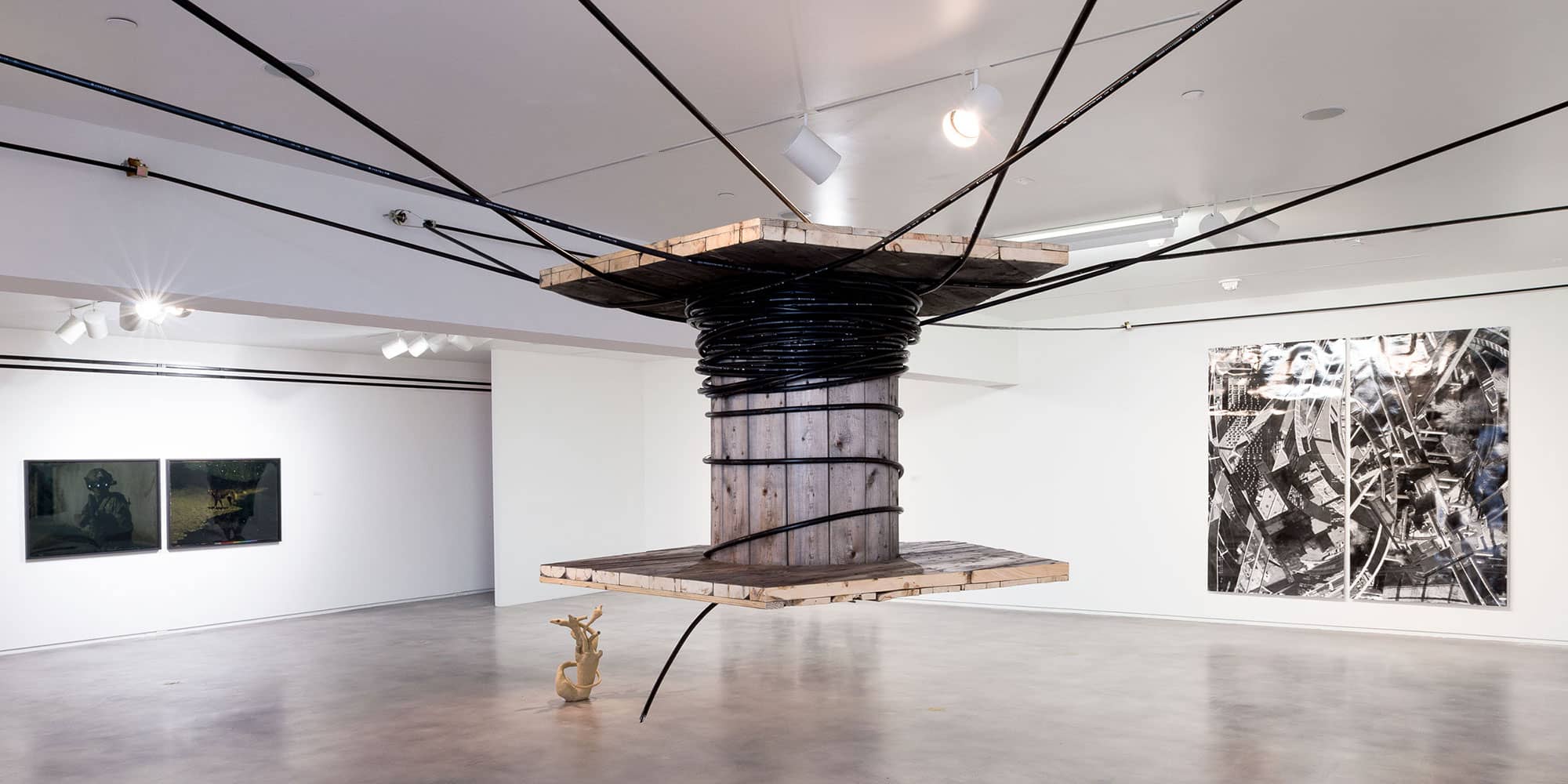 Installation view of Miguel Amat: Dark Pool Knight Vision at Blaffer Art Museum. Photo by Miguel Amat.
Miguel Amat: Dark Pool Knight Vision
---
October 19—December 13, 2014
---
Dark Pool Knight Vision, the first solo museum exhibition dedicated to Venezuelan artist Miguel Amat, unites a series of photographs responding to political repression in his home country with sculptures, collages and a video probing the importance of opacity and hidden liquidity for U.S. military and financial operations.
The video Frontrunners (2014) draws on the financial sector's reliance on military terminology, particularly for high-speed trading algorithms. Amat juxtaposes a sound montage of interviews with traders and investors in so-called "dark pools"—forums for trading securities out of the public eye—with scenes from their favorite movies. Their words and the associated images are thrown into comparative, often comical relief by the recollections of a former Blackwater contractor whose first childhood job on a golf course involved shooting gophers with BB guns.
The series Capitalism and Avant-Garde (2006) draws on the historical coincidence of two Cold War phenomena that marked a critical moment for the incorporation of new ideologies of "defense" and "protection" into U.S. citizens' everyday consciousness: the construction of the interstate highway system and the laying out of the financial sector as we now know it. Formally harking back to Futurism's machinist thrust and belief in "universal dynamism," these décollages consist of carefully superimposed silver-gelatin prints cut from low-resolution satellite captures of the shadows of hedge-fund headquarters and highway interchanges.
In the mixed-media installation Alpha/Underground Movements (2014), fiber-optic cable is unleashed like a lasso from the hand of a replica of Remington's 1885 sculpture Bronco Buster. Running along pulleys and through drywalls from one gallery to the other, the optical cable keeps a wooden pentagon—cut from the very reel used to store and transport it—aloft. Dispersed throughout the installation are small clay Hydras with fiber-optic eyes. While the many-headed creature of Greek mythology has become a classic rhetorical figure for unruly or revolutionary forces, it remains ambiguous what position these Hydras assume in the fiber-optic network connecting political and military interests.
The photographic diptych Geronimo (2013) employs another Remington reproduction, pairing his 1909 painting Moonlight Wolf with a film still from Zero Dark Thirty's rendition of the raid of Osama bin Laden. The title refers both to military code for "mission accomplished" and to the elusiveness of the target who inspired that designation: the legendary Chief Geronimo, who led the Apache resistance against Mexican and U.S. troops and whom Remington sought in vain during his years of covering the Apache Wars as a Harper's Weekly correspondent.
The photographic series Dams (2010) presents uneasy landscapes that speak to the joys and conditions of a populace's leisure. Shot with infrared film and often exposing the presence of armed guards, the Dams imply a regulatory tension imposed on many Venezuelans (the Spanish word for dam is represa). Amat allows the divers and bathers to elude the film's surveillance capabilities through long exposures determined by a deep red filter. By deliberately allowing scanning liquid to leak during the drum-digitization of the 4×5 film, Amat reiterates this sense of elusiveness connecting the production of the image with his subject.
---