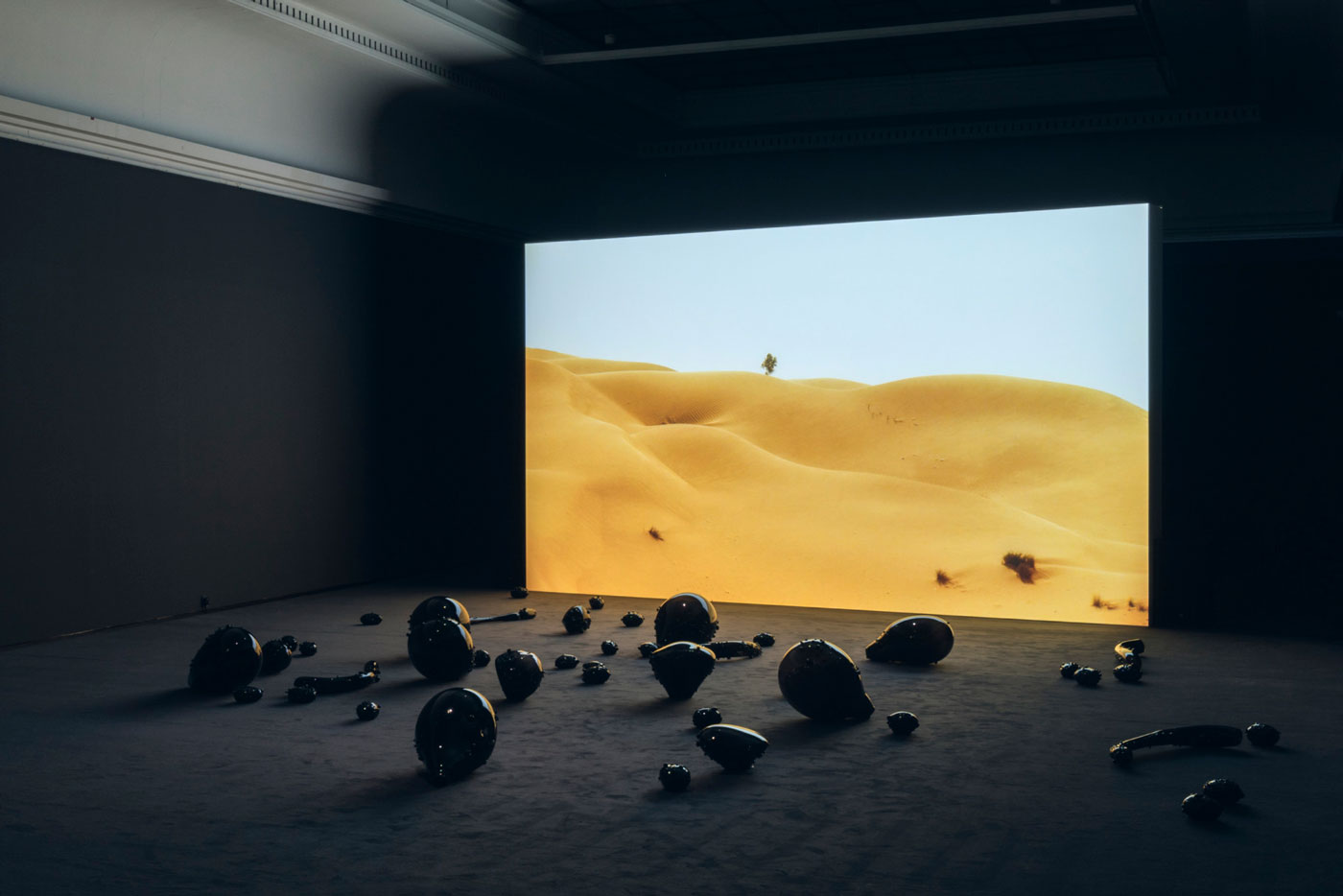 Image: Installation view of Monira Al Qadiri: Holy Quarter at Haus der Kunst, Munich, 2019. Photo by Maximilian Geuter.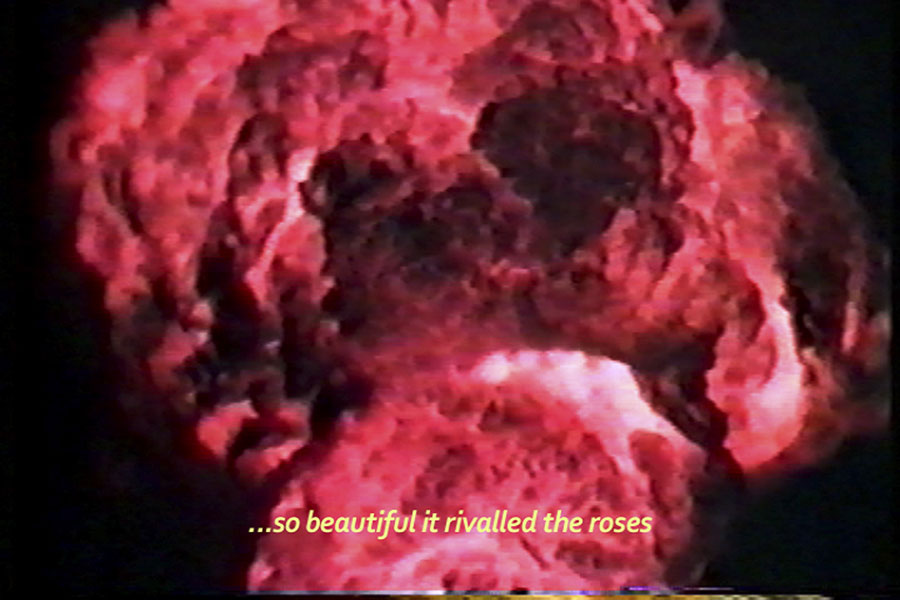 Image: Monira Al Qadiri. Still from Behind the Sun, 2013. Single-channel video. 10 minutes.
September 10, 2022—January 8, 2023
---
The Blaffer Art Museum, in partnership with the Cynthia Woods Mitchell Center for the Arts at the University of Houston, is proud to present the first solo museum exhibition in the United States of the work of Berlin-based artist Monira Al Qadiri.

Considered one of the most important artists to emerge from the Persian Gulf region in recent years, Al Qadiri came of age during the rapid transformation of her childhood home nation of Kuwait—from its status as one of the world's oldest civilizations, through its dominance of the oil industry, to its current role as a battleground in geopolitics. Al Qadiri's work examines petrocultures, and her practice broadly serves as a seismograph for this world, examining the corruption and flux caused by competing ideas of prosperity, religion, and globalization. With support from the Mitchell Center for the Arts, the exhibition will include newly-commissioned immersive video installations and kinetic sculptures.


Monira Al Qadiri (b. 1983) is a Kuwaiti visual artist born in Senegal. In 2010, she received a PhD in intermedia art from Toyko University of the Arts, where her research was focused on the aesthetics of sadness in the Middle East—stemming from histories of poetry, music, art, and religious practices in the region. Al Qadiri's work has been the subject of solo exhibitions around the world, including the Guggenheim Museum Bilbao (2022); Haus der Kunst, Munich, Germany (2020); Gasworks, London, UK (2017); Stroom Den Haag, the Hague, the Netherlands (2017); and the Kunstverein Göttingen, Göttingen, Germany (2019); among others. She has been featured in group exhibitions at venues that include the Guangdong Museum of Art, Guangzhou, China (2021); Palais de Tokyo, Paris, France (2020); MoMA PS1, New York, New York (2019); the Pinchuk Art Center, Kiev, Ukraine (2019); the 6th Athens Biennial (2018); the 9th Asia Pacific Triennial (2018); and the Jameel Arts Center, Dubai, United Arab Emirates (2018); among many others. Her films and videos have also been screened in Ireland, Germany, South Korea, Romania, Egypt, Qatar, Norway, and many more nations across the globe. In 2022, Al Qadiri will be featured in the Venice Biennale's central exhibition The Milk of Dreams.
---
This exhibition is organized for the Blaffer Art Museum by Tyler Blackwell, Cynthia Woods Mitchell Associate Curator.