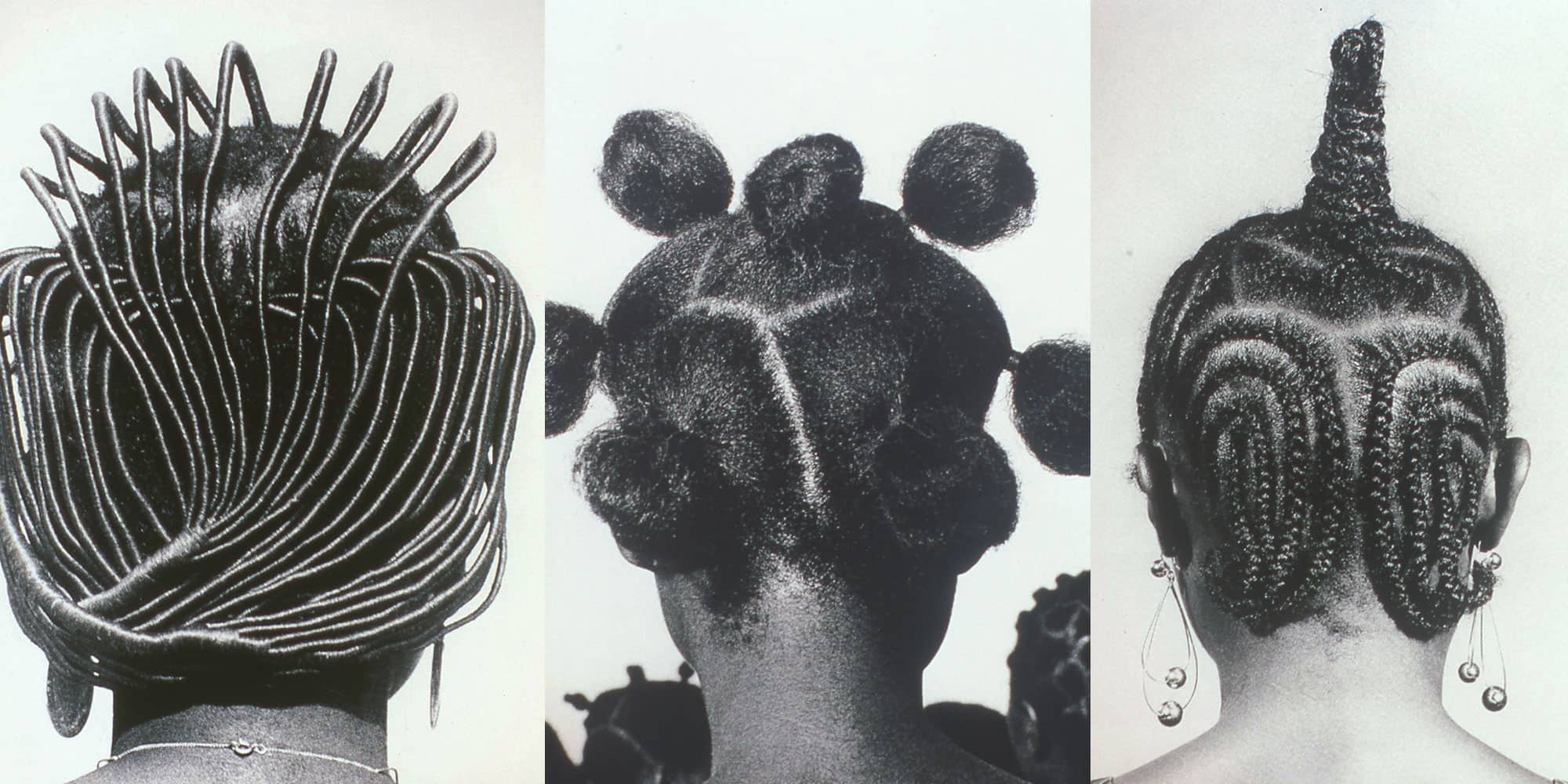 (Left) J.D. 'Okhai Ojeikere, AGARACHA, 1974. Photo, Black & White, 100cm x 100cm. (Center) J.D. 'Okhai Ojeikere, Untitled (Mkpuk Eba), 1974. Photo, Black & White. (Right) J.D. 'Okhai Ojeikere, IFE BRONZE, 1972. Photo, Black & White, 60cm x 50cm.
J.D. 'Okhai Ojeikere: Hairstyles
---
---
J.D. 'Okhai Ojeikere's photographs cross boundaries between traditional and contemporary Nigerian culture and expand our idea of art and its role in everyday life. Taken between 1968 and 1975, the forty photographs in this exhibition illuminate a dynamic culture while exploring issues of aesthetic beauty and abstraction.
Born in a rural community in southwestern Nigeria in 1930, Ojeikere began his artistic career during the tumultuous period in which Nigeria gained independence from Great Britain. Ojeikere experienced the social and cultural changes that liberation brought first hand, working as a darkroom assistant in the British controlled Ministry of Information until becoming a photographer for the first African television station. In 1967 Ojeikere joined the newly created Nigerian Art Council, a position which not only brought him travel and exhibition opportunities, but also taught him to appreciate his country's indigenous culture.
The photographs in this exhibition are part of an exhaustive series of over 20,000 negatives and nearly 1,000 prints intended to document what Ojeikere first believed to be the vanishing art of Nigerian hairstyling, traditionally conveying social structures as well as taste. But as Ojeikere continued to collect photographs, he discovered that Nigerian hairstyling was not vanishing—only evolving. As ethnographic documents, Ojeikere's photographs show how local hair traditions adapted to influences from not only western popular culture, but also African communities outside Nigeria as well as new hairdressing tools such as clippers and shears.
Ojeikere did more than just document traditional hairstyles. He began his artistic process by carefully selecting his models, seeking them in a multitude of places—on city streets and urban parties as well as countryside gatherings and ceremonies. He then carefully framed the image, photographing his subject in daylight, or if possible in his studio. As an artist, Ojeikere emphasized the sculptural forms of Nigerian hair design, and the final photographic product was always a collaboration between stylist, model, and photographer.
---
J.D. 'Okhai Ojeikere: Hairstyles is part of Houston's citywide celebration of contemporary African artists.The Pigozzi Collection on view at Blaffer Gallery, the Art Museum of the University of Houston; Contemporary Arts Museum Houston; The Menil Collection; the Museum of Fine Arts, Houston; Project Row Houses; and The University Museum at Texas Southern University.
This exhibition is organized by the C.A.A.C.–The Pigozzi Collection, Geneva, and Blaffer Gallery, the Art Museum of the University of Houston. Presentation of this exhibition is made possible by Continental Airlines.
J.D. 'Okhai Ojeikere: Hairstyles, installation view, Blaffer Art Museum.