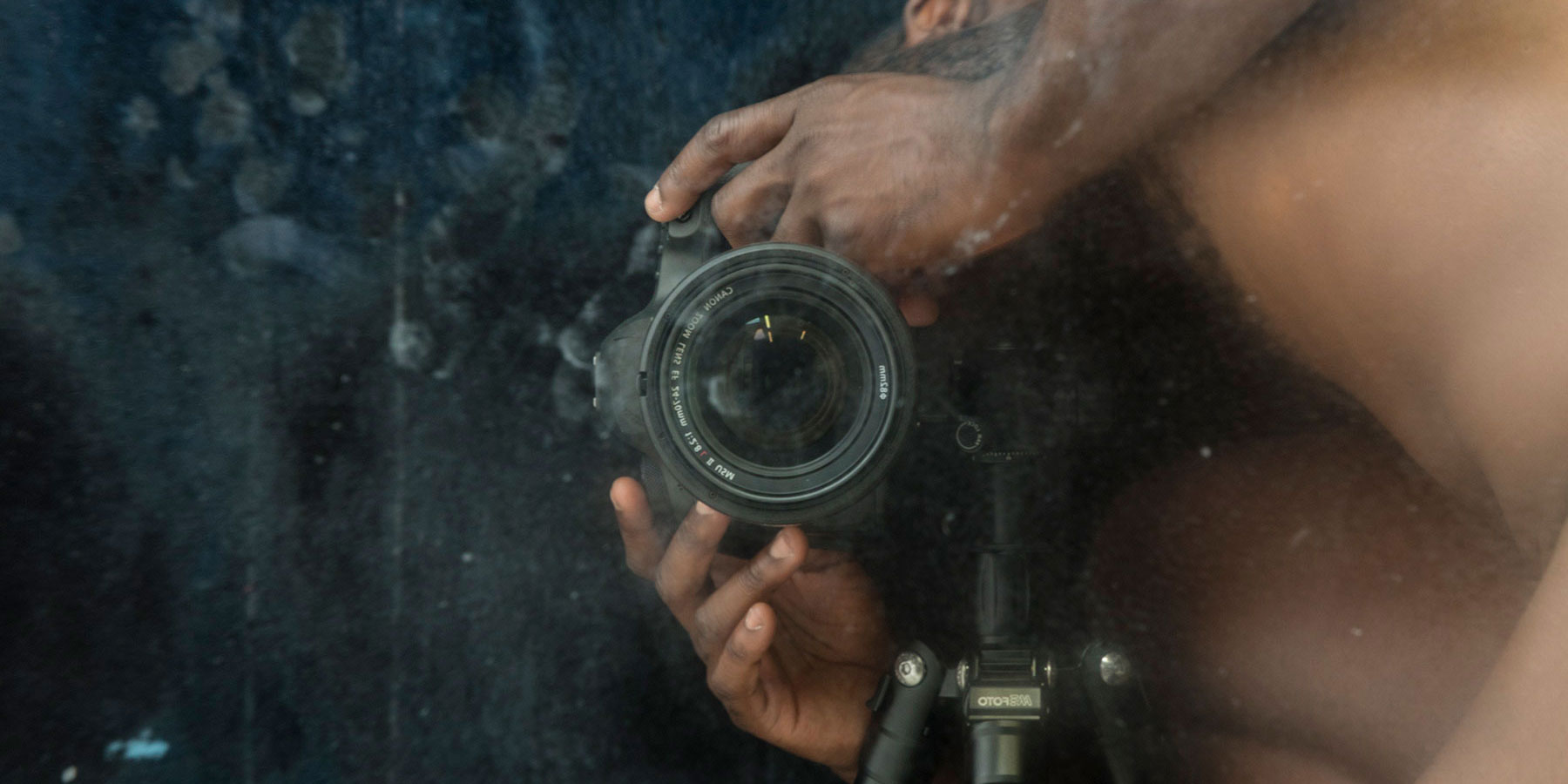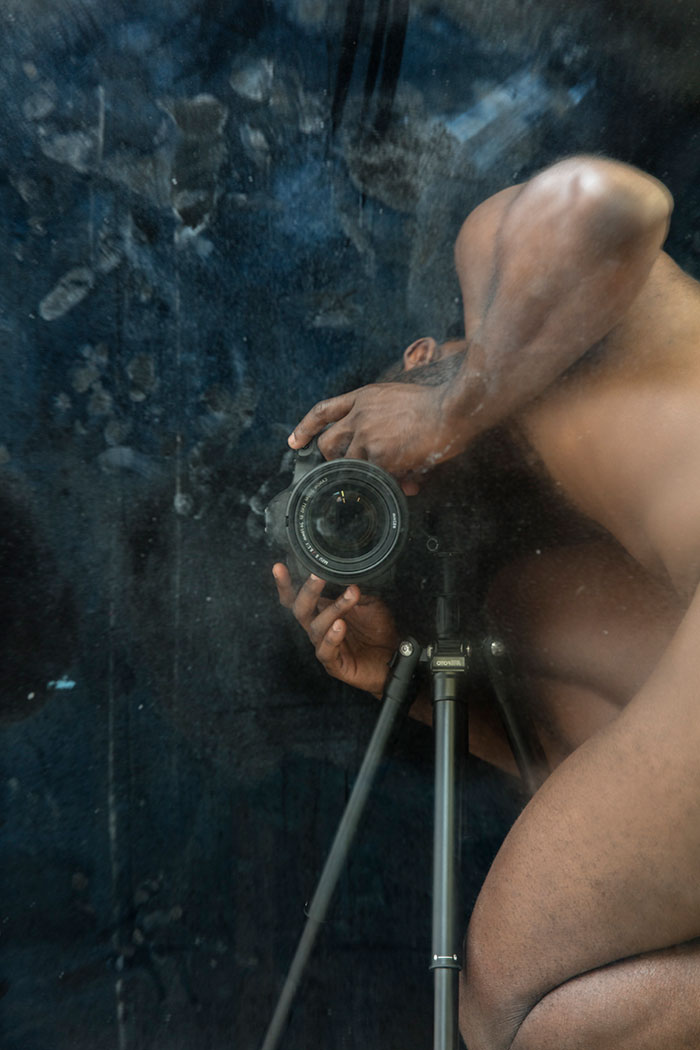 Paul Mpagi Sepuya, Darkroom Mirror Study (0X5A1531), 2017. Archival pigment print, 34 x 51 inches. Courtesy the artist and team (gallery, inc.).
---
October 19, 2019—March 14, 2020
---
Paul Mpagi Sepuya makes photographs of friends, artists, collaborators, and himself that challenge the history of photography and deconstruct traditional portraiture through layering, fragmentation, mirror imagery, and the perspective of the black, queer gaze. This exhibition—the artist's first major museum survey—brings together work Sepuya has made across the last thirteen years, offering viewers the opportunity to trace connections across his life and practice.
Sepuya's photography is grounded in the studio as a site through which people, objects, and experiences are both positioned and displaced. In early works, made in his Brooklyn apartment, photographs depict presence and absence at once. With the artist's move to Los Angeles, the studio becomes a more constant site as his works grow increasingly complex. Sepuya's experiments with mirrors are especially formative, finding that slight optical shifts can radically alter the dynamics of a portrait or a scene. In these images, he allows glimpses of the studio setting and reveals the apparatus of photography, including backdrops, lighting, lenses, and the camera itself. Although little is hidden, much is obscured and fragmented, with narratives left to conjecture. All of these compositions are constructed through analog techniques, with no digital manipulation. In contrast to the slick artifice of traditional or commercial portraiture, Sepuya points to the human element of picture taking—embracing fingerprints, smudges, and the dust on a mirror's surface to make both his images and photography itself more tactile.
Paul Mpagi Sepuya's (b. 1982, San Bernardino) work is held in a number of major museum collections worldwide including the Museum of Modern Art, New York; the Whitney Museum of American Art, New York; the Studio Museum in Harlem, New York; Museum of Contemporary Art, Los Angeles; and the Museum Fine Arts, Houston; among many others. His work has been featured in numerous exhibitions at venues that include the Museum of Contemporary Art, Los Angeles; the Contemporary Art Museum Houston; the Walker Art Center, Minneapolis; the International Center of Photography, New York; the Museum of Contemporary Art, Chicago; the Museum of Modern Art, New York; the Artist's Institute, New York; and the Institute of Contemporary Art, Philadelphia; among others. He was featured in the 2019 Whitney Biennial.
The artist's first monograph published by Contemporary Art Museum St. Louis will accompany the exhibition, featuring contributions by Grace Wales Bonner, fashion designer; Malik Gaines, writer, performer, associate professor and director of undergraduate studies at New York University's Tisch School of the Arts; Lucy Gallun, associate curator of the department of photography at the Museum of Modern Art, New York; Ariel Goldberg, novelist, poet, and essayist; Evan Moffitt, writer, critic, and associate editor of Frieze; and Ikechukwu Onyewuenyi, writer and curatorial assistant at the Hammer Museum, Los Angeles.
---
Paul Mpagi Sepuya was organized for the Contemporary Art Museum St. Louis by Wassan Al-Khudhairi, Chief Curator, with Misa Jeffereis, Assistant Curator. The exhibition and catalog are generously supported by the Robert Mapplethorpe Foundation; DOCUMENT, Chicago; team (gallery, inc.); Vielmetter Los Angeles; Hedy Fischer and Randy Shull; Nancy and Fred Poses; Hunt R. Tackbary; Heiji and Brian Black; and Thomas Lavin.
The Houston presentation is coordinated by Tyler Blackwell, Cynthia Woods Mitchell Curatorial Fellow.
Paul Mpagi Sepuya, installation view, Blaffer Art Museum. Photo: Sean Fleming.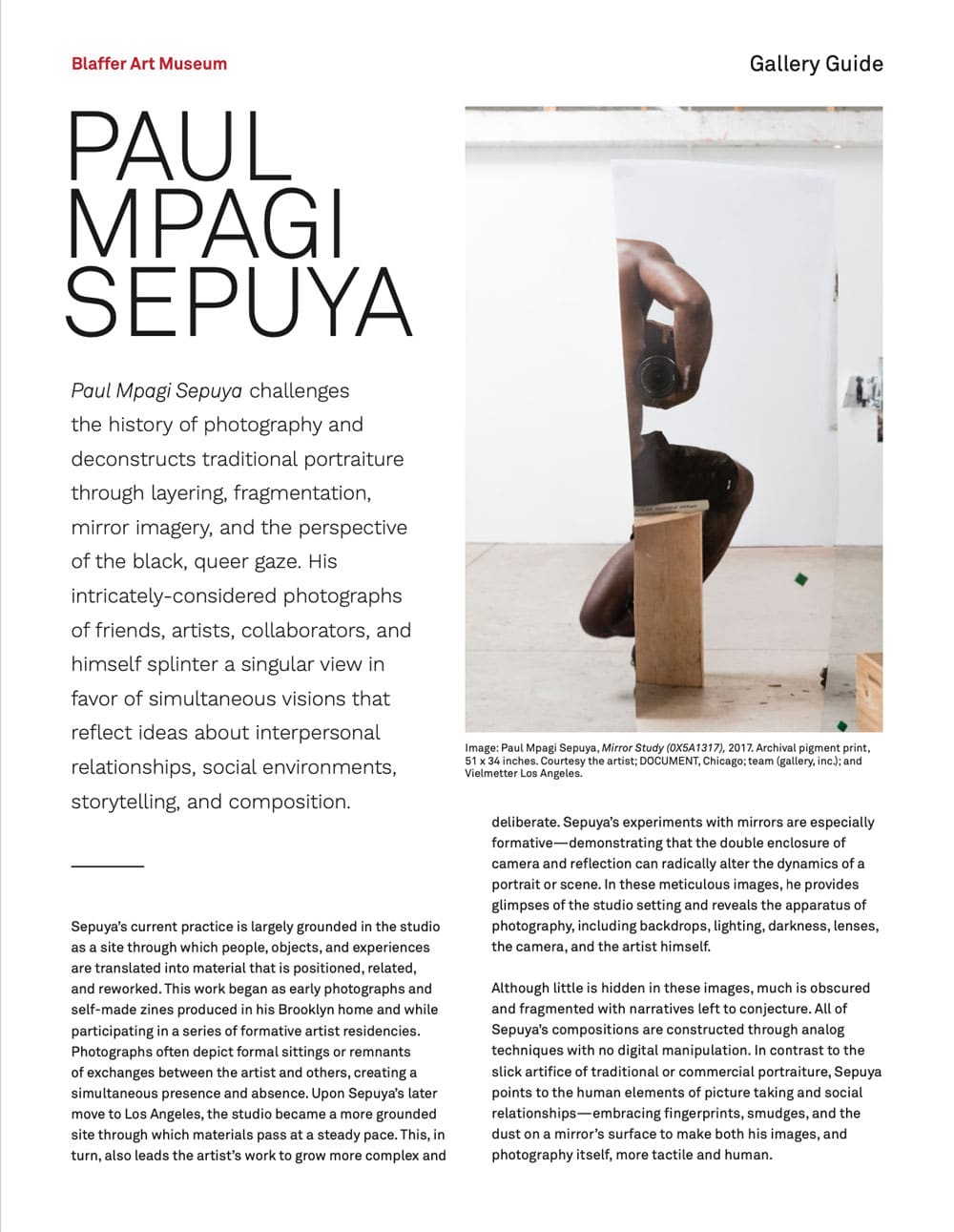 ---
Gallery Guide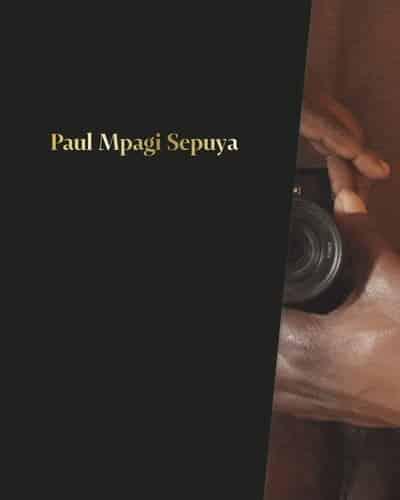 ---
Exhibition Catalog
96 pages, softcover | $35
Interview with the artist by Wassan Al-Khudhairi.
Contributions by Malik Gaines, Lucy Gallun, Ariel Goldberg, Evan Moffitt, and Grace Wales Bonner, Co-published by Aperture and the Contemporary Art Museum St. Louis.