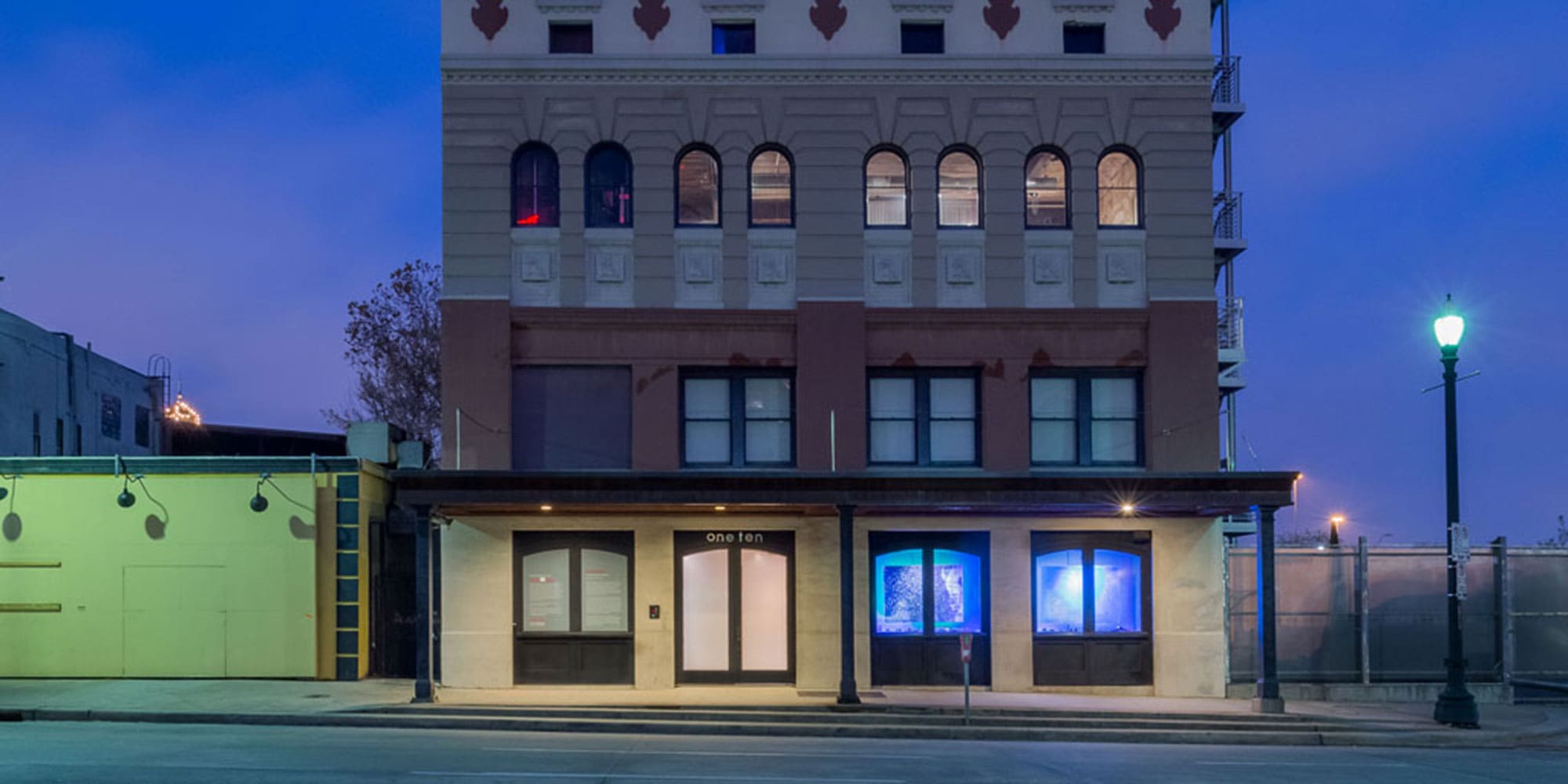 Window into Houston—Bret Shirley: Rising Through the Infinite
Window into Houston—Bret Shirley: Rising Through the Infinite
---
---
Bret Shirley is interested in the metaphorical and practical value of crystals as objects of healing and empowerment that carry within them associations of clairvoyance and wisdom, sexual vitality and mental balance, power and prosperity. Rising Through the Infinite, his installation at downtown Houston's 110 Milam Street for the Blaffer Art Museum exhibition series Window into Houston, plays off what Shirley calls "the intersection of use-value" within crystals as objects that belong both to the realm of the aesthetic (or even decorative) and functional (even if only imagined).
Shirley combines paintings and sculptures made of lab-grown inorganic crystals with resin and fiberglass-reinforced concrete casts of human and hominid bones. The material make-up of the bone casts is called into question by the application of highly reflective and color variable automotive paint. Rather than emphasizing their organic quality or origin, the shiny, shifting metallic and oily surfaces transport them into the realm of the metaphorical or imaginary, connecting their "use-value" with that of the crystals as one located between reality and fiction.
Changing LED lights mounted out of sight imbue the windows with light and color, creating the illusion of paintings and objects floating in space. Absorptive and weightless, Rising Through the Infinite connects ideas of transience (of existence) with ideas of the eternal (of hope) in the hopes to convey a moment of transcendence.
---
Window into Houston is made possible with generous support from Jim Petersen, Jr. Launched in 2011, Window into Houston is a series of site-specific exhibitions commissioned by Blaffer Art Museum that take contemporary art to the street to engage a broad and diverse audience in the creative process. This public setting provides a unique platform for the creation of new work in response to the site and its location in downtown Houston and offers passersby ever new perspectives on the most recent developments in contemporary art made in and about Houston.