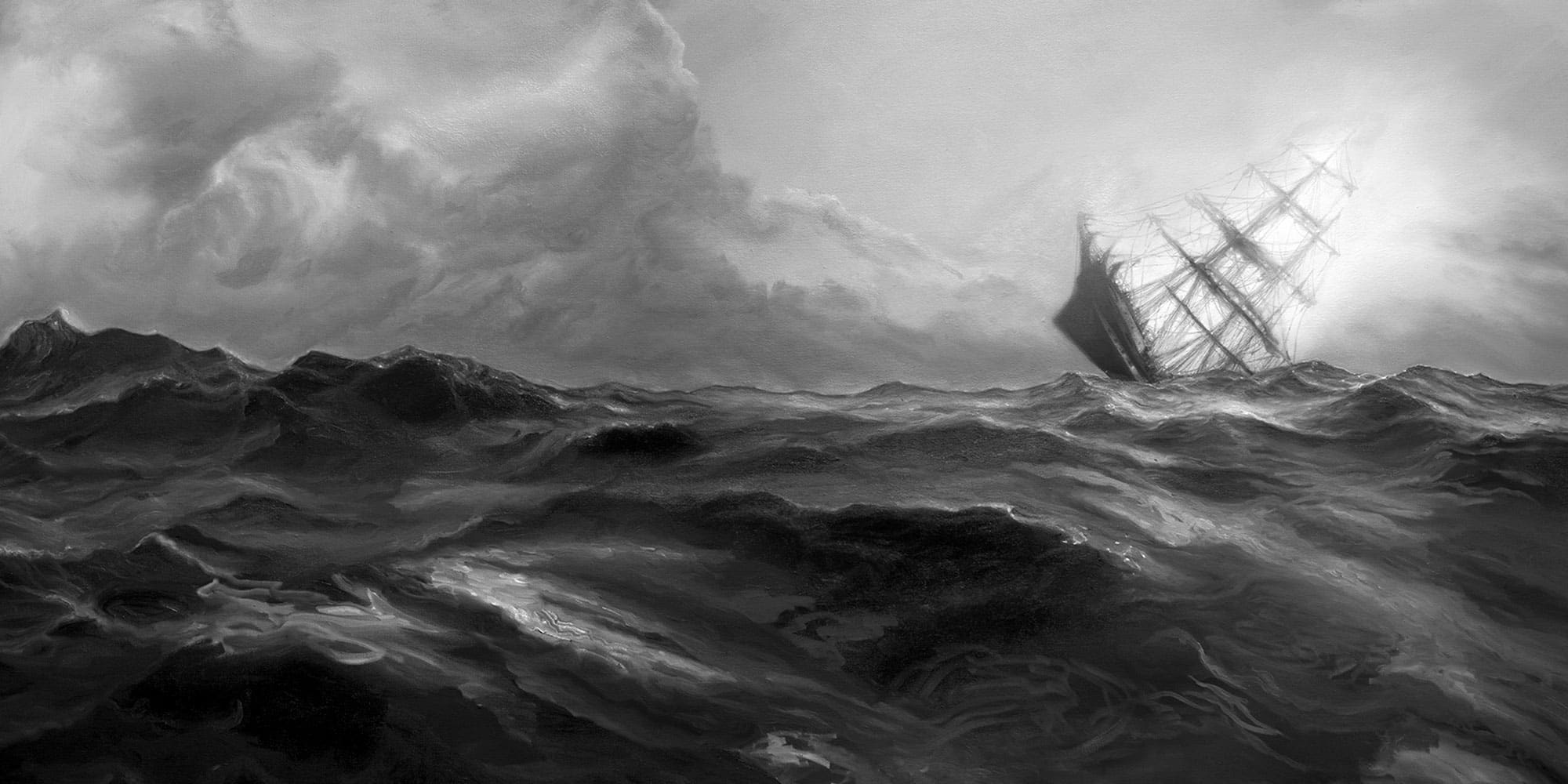 Vincent Vadez, Till Then, 2015. Oil on canvas.
Window into Houston—Darryl Lauster and Vincent Valdez
---
September 16—November 4, 2015
---
Blaffer Art Museum is pleased to present a pair of related solo exhibitions by Dallas-based artist Darryl Lauster and San Antonio-based artist Vincent Valdez for the museum's Window into Houston series. Exploring the construction of modern U.S. history as a form of cultural memory, Darryl Lauster: Glory is the Language of the Poet and Vincent Valdez: Till Then open with a reception from 7:30 to 9:30 p.m. on Wednesday, Sept. 16 and continue through Nov. 4 at Blaffer's satellite downtown Houston location, 110 Milam Street.
Lauster's installation incorporates artifacts from two events that have left indelible marks on recent American history—the Pearl Harbor attack of 1941 and 9/11. A World War II-era Navy pilot's helmet and a New York firefighter's helmet, both cast in sandblasted clear resin, rest against a stark gray background. Lauster positions these iconic objects alongside snarls of razor wire—a type of high-tension wire with sharp-edged blades made from steel tape—and barbed wire against a white background.
"The cast objects are recognitions of sacrifice, death and memory," Lauster says. "The wires are metaphors from their respective systems of division, inclusion, demarcation and boundaries utilized in the aftermath of each event."
Known for his hyperrealist paintings departing from photographic documents, Valdez combines a large-scale reproduction of one of his paintings and a sound installation. The painting depicts a barque, a sailing vessel with three or more masts, descending into troubled waters. The speakers play "Till Then," a 1944 song by the Mills Brothers, in which a man, presumably a soldier, pleas for his lover to wait for his return. For Valdez, the song's "melancholic lyrics present a fascinating and stark contrast between a sentimental upbeat rhythm and an eerie undertone of infinite loss."
Darryl Lauster lives and works in Dallas. He earned his MFA from the University of Houston in 1998. Recent solo exhibitions include: Ought Not No One (2014) at Devin Borden Gallery, Houston; A Magpie and a Rainbow (2014) and Of Thee I Sing (2012) at Barry Whistler Gallery, Dallas; and Chronicle (2011) at Thompson Gallery, Cambridge School, Weston, MA. He is represented in Houston by Devin Borden Gallery.
Vincent Valdez lives and works in San Antonio. He earned his BFA from the Rhode Island School of Design in 2000. Recent solo exhibitions include: The Strangest Fruit at Artpace, San Antonio (2014) and Bell Gallery at Brown University (2013), Providence; and America's Finest: Recent Works by Vincent Valdez (2012-13) at McNay Art Museum, San Antonio. He is represented in Houston by David Shelton Gallery.
---
Window into Houston is made possible with generous support from Jim Petersen, Jr. Launched in 2011, Window into Houston is a series of site-specific exhibitions commissioned by Blaffer Art Museum. Window into Houston takes contemporary art to the street to engage a broad and diverse audience in the creative process. This public setting provides artists hailing from Texas and beyond a unique platform for the creation of new work in response to the site and its location in downtown Houston and offers passersby ever new and fresh perspectives on the most recent developments in contemporary art made in and about Houston.