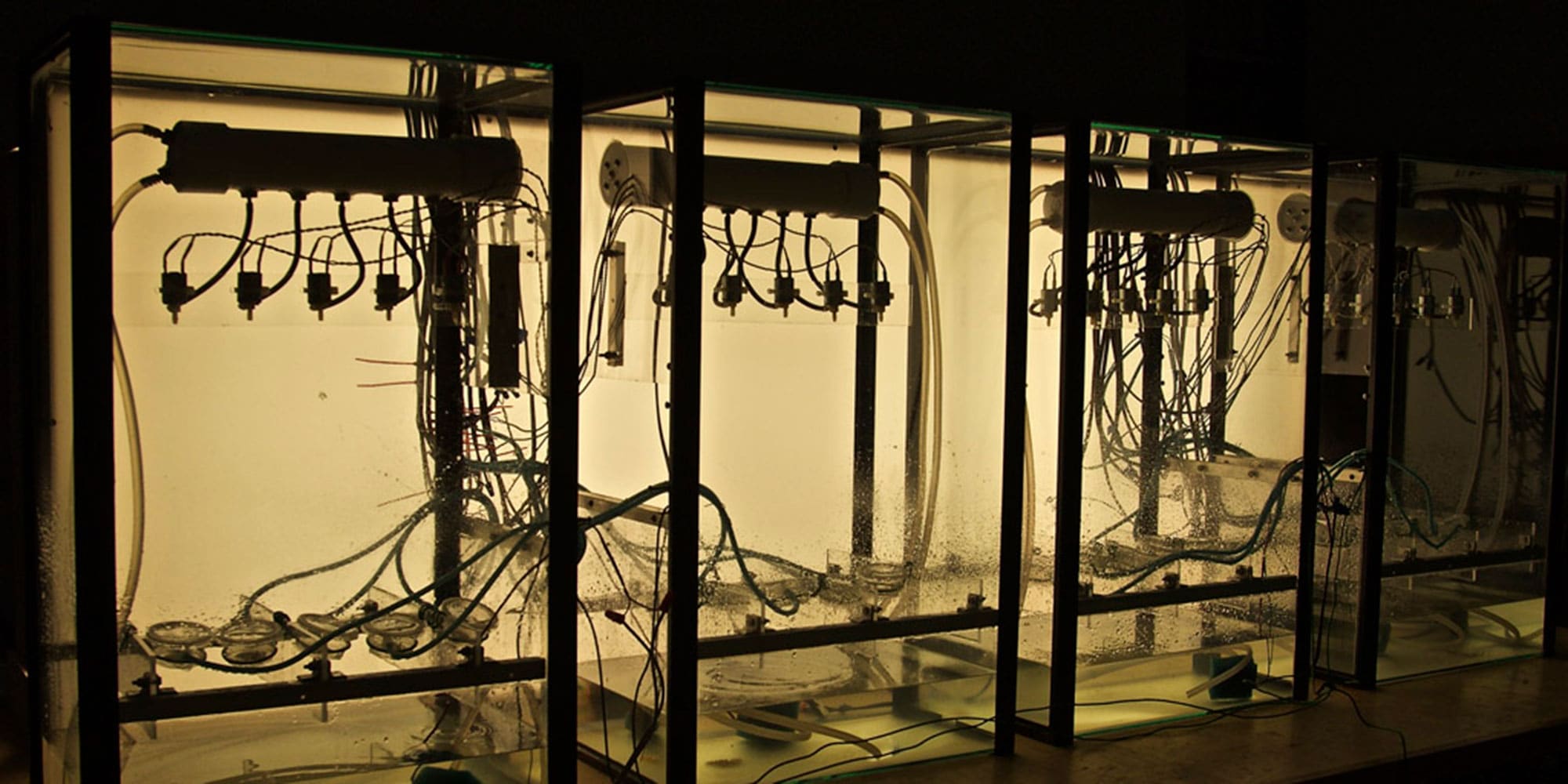 Jeff Shore and Jon Fisher, Drip Machine, 2016. Mixed-media installation, dimensions variable. Courtesy of the artists and McClain Gallery, Houston.
Window into Houston—Jeff Shore and Jon Fisher: Drip Machine
---
February 3—April 27, 2016
---
Blaffer Art Museum is pleased to present Drip Machine by the Texas-based artist duo Jeff Shore and Jon Fisher as the next installment of its Window into Houston series. This site-specific project opens with a reception from 6:30 to 8:30 p.m. on Wednesday, February 3 and continues through April 27 at Blaffer's satellite downtown Houston location, 110 Milam Street.
Drip Machine (2016) is an automated electro-hydraulic system that produces sound. It is composed of four repurposed aquariums, water pumps, electric valves, water sensors, plastic tubing, custom electronics and speakers. Drip Machine is a live, 20-channel, automatic instrument. Each drip hits a corresponding sensor which in turn assigns a sound to be played through a single speaker. Twenty speakers will be mounted outside, under the portico resulting in a continually evolving multi-channel soundscape.
Jeff Shore and Jon Fisher started their collaborative practice in 2002. Trained as a visual artist, Jeff Shore develops the visible sculptures and mechanisms, while Jon Fisher builds the electronics, writes the software and creates the original soundtracks; for this he uses both digital and analog audio sources. The result of their collaboration is a series of kinetic devices and installations that generate live animated video and musical compositions. Similar to cinema storytelling, the movement in the pieces relates to the accompanying soundtrack or animation, and similar to a theater of automata, the pieces create precise and captivating sequential events. Bridging high- and low-tech devices and instruments, the collaborative team creates mechanically activated moments of wonder, explores the relationship between automatism and chance, and comments on the impact of technology interfaces in our lives.
Drip Machine continues the main artistic strategies Jeff Shore and Jon Fisher have employed during the past 15 years of practice, the conflation of DIY aesthetics and visual technologies, the exploration of the relationship between automated and chaotic movement, and the spectator expectations about the cause-effect relation between image and sound, while moving a step forward in complexity by conflating water and electronic equipment as well as the use multiple sensors and channels.
Jeff Shore lives and works in Houston and earned his BFA from the University of North Texas, Denton. Jon Fisher lives and works in Dripping Spring and completed his MM and DM at Northwestern University, Chicago, IL. Recent exhibitions include Trailer (2014) at McClain Gallery, Houston; Cliff Hanger (2013) at the Museum of Contemporary Art in Denver, CO; and Reel to Reel (2009) at the Kemper Museum of Contemporary Art, Kansas, Mo. They are represented by McClain Gallery.
---
Window into Houston is made possible with generous support from Jim Petersen, Jr. Launched in 2011, Window into Houston is a series of site-specific exhibitions commissioned by Blaffer Art Museum that take contemporary art to the street to engage a broad and diverse audience in the creative process. This public setting provides a unique platform for the creation of new work in response to the site and its location in downtown Houston and offers passersby ever new perspectives on the most recent developments in contemporary art made in and about Houston.