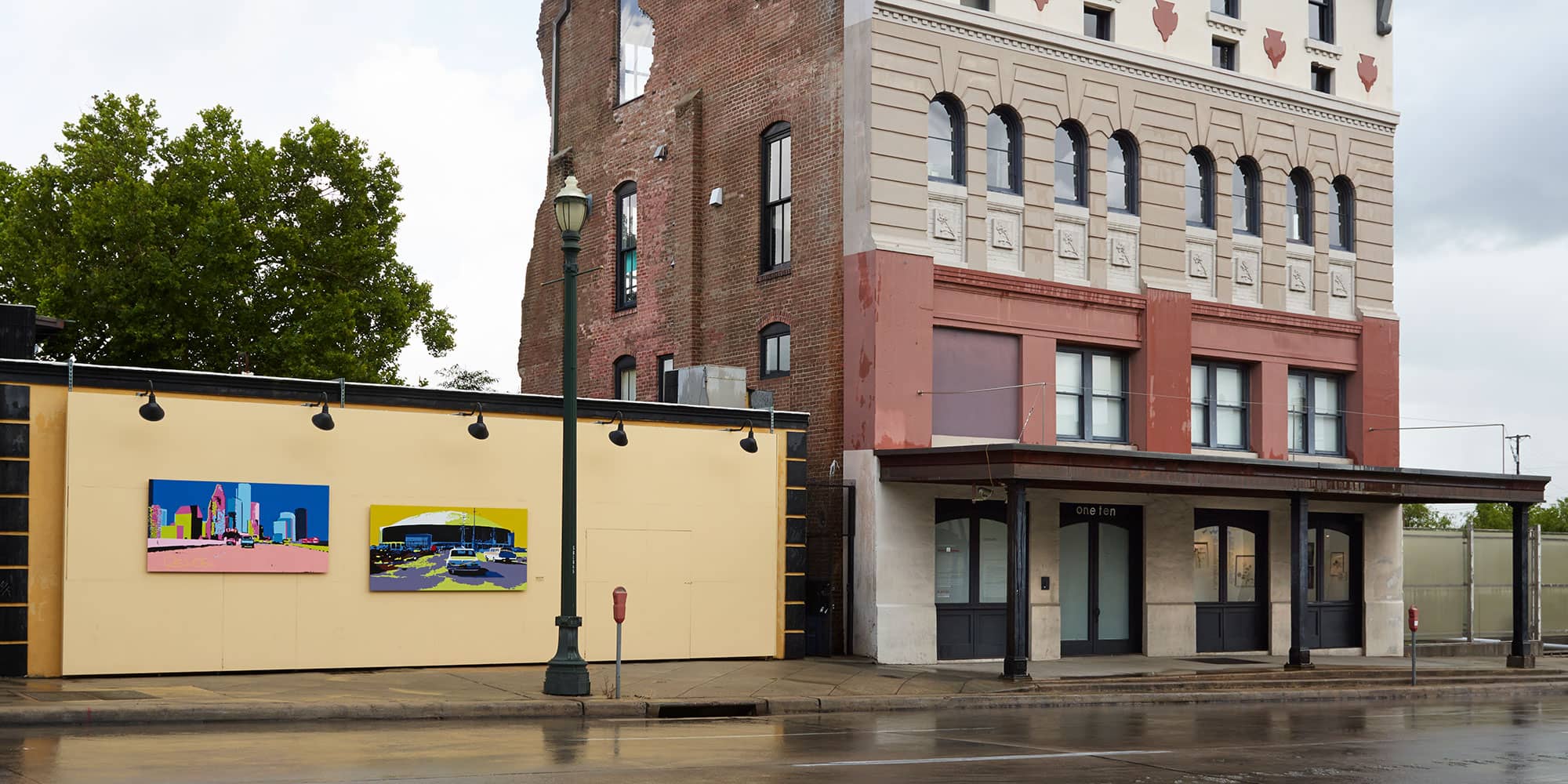 Window into Houston—Laura Lark: Location, Location, Location, installation view, Blaffer Downtown.
Window into Houston— Laura Lark: Location, Location, Location
---
---
"I once heard a native Houstonian describe the city as the "Home of Architectural Amnesia": a place where we hourly witness deconstruction and reinvention of our visual landscape. Even if one can manage a thought over the clattering cacophony of bulldozing, it's somehow remarkably easy to forget what was on the corner before it was banana republic. Several years later, I heard a non-native longtime resident call Houston, with bewildered amusement, "Velcro Central": a place where he never planned to stay but where, for good or ill, he became stuck.
It's a cliché that people these days are constantly changing (jobs), shifting (relationships), progressing (technologically), evolving (maybe…), but what happens to us when our urban environment seems to be doing the same thing?  How does Architectural Amnesia affect personal and collective identity? What is it about Houston that we call home?
For me, a non-native Houstonian who has been Velcro'd in place all of her adult life, the constant double-take involved in wondering what that new row of condominiums down the street replaced disrupts more than the map. It disrupts my story. In an effort to get a grip on the shape-shifting context in which my personal and professional identity has been negotiated, I have been led on a quest for the elusive "Houston Constant" – something present at the level of feeling that has accompanied me in my work and contributed to my own definition of Houston as home.
Location Location Location belongs to this quest and has two quite disparate sources. The first is a collection of found images taken within the city of Houston by an unknown longtime Houston resident, possibly a native, between the years of 1956 and 1989. The second is an ancient building erected in 1890: 110 Milam, the site of the University of Houston's Blaffer Art Museum Windows Project. Using material provided by these locals I never knew personally, I construct visual interpretations of a life lived in Houston that I want to recognize as mine. To complete the project, I asked native Houstonians currently living in the city who have been my actual (in contrast to virtual) friends and guides to the terrain for favorite photos of themselves (and of Houston-dwelling generations before them, if possible), within the city limits. These folks are what I now consider my only true Houston Constant; the real ground under my feet in a city that would otherwise be just a strip mall waiting to happen." —Laura Lark
---