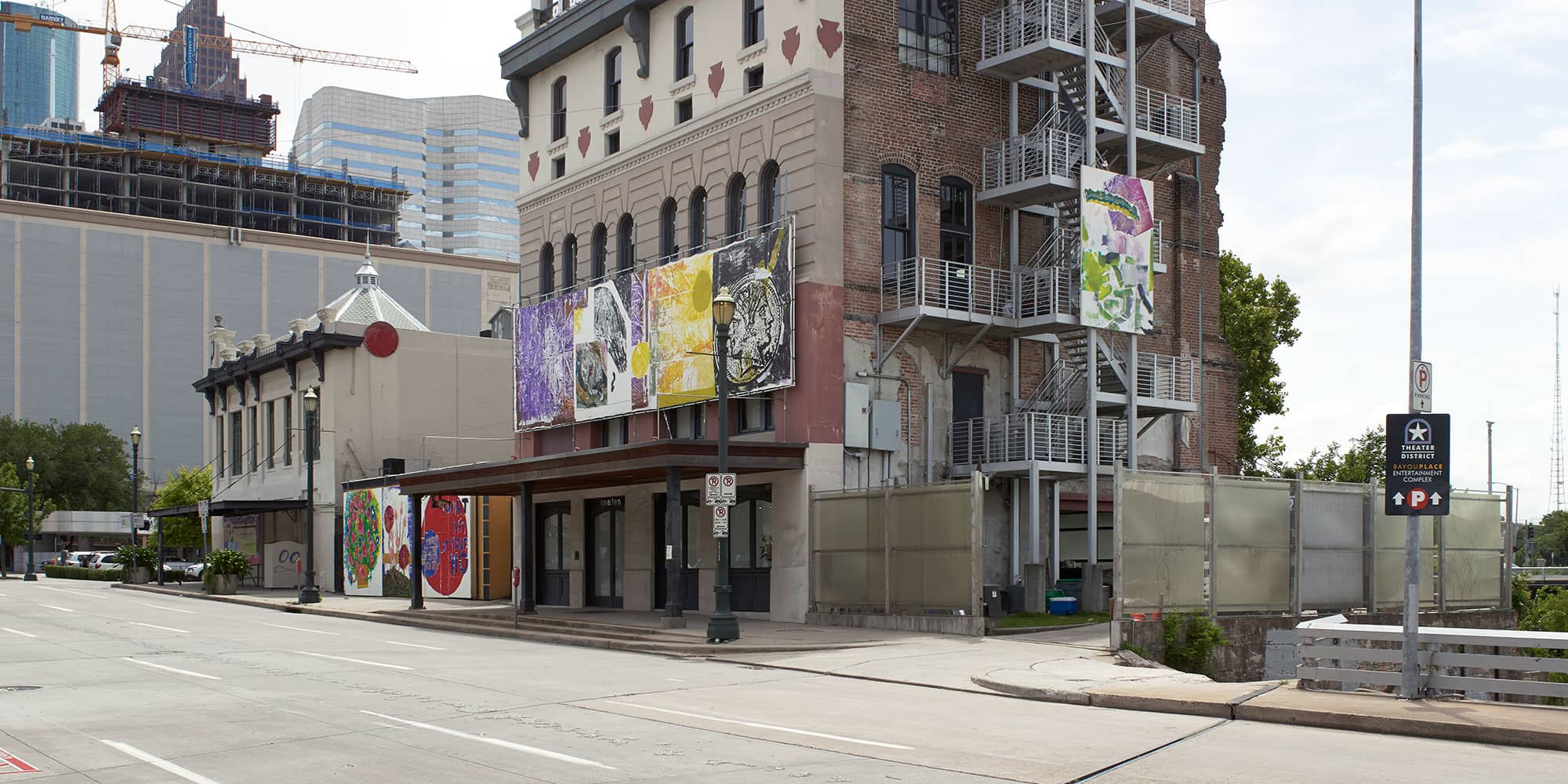 Shane Tolbert, Untitled, 2015. Acrylic on canvas. Installation view at 110 Milam. Photo: Devon Britt-Darby. Courtesy of the artist and McClain Gallery.
Window into Houston—Shane Tolbert: Fine China
---
---
Blaffer Art Museum is pleased to present Shane Tolbert: Fine China, the newest installment of the museum's Window into Houston series at its satellite downtown Houston location, 110 Milam Street. Opening with a reception from 7:30 to 9:30 p.m. on Wednesday, May 20, the exhibition continues through July 29.
Tolbert's installation of three site-specific mural-length paintings marks an expansive departure from previous Window into Houston commissions. For the first time, the works will be displayed outside, exposed to the elements along the facades of both 110 Milam and 112 Milam.
Fine china, the colloquial name for porcelain, stands for refinement and exquisiteness, connoting delicacy and care in the making. In urban slang, fine china refers both to female genitalia and to heroin in its purest form. Tolbert's Fine China delves into the conflicting undertones of the term as he explores painting's pleasures and sensuousness.
The project is rooted in Tolbert's studies of flower arrangements made over several months. Known for testing the boundaries between abstraction and representation, here too Tolbert subjects the motif to a collapse of image and field. Abstract marks such as drips or pours intertwine within constructed elements, blurring their contours and limits. One of the paintings also includes a textual diagram—with the letters reversed—referring to personal enjoyment and satisfaction, with "things that turn me on" being delineated by a vastly larger section of the canvas than "things that I will admit turn me on."
Based on the transfer of acrylic paint from plastic to canvas, Tolbert's process is at once additive and subtractive as he merges mechanical and expressionist approaches to painting. Through repetition of the transfer process, the canvases accumulate layers of painterly traces that are neither figure nor ground but instead generate an atmospheric effect.
The expansive scale of Tolbert's paintings, coupled with the antagonism of his vibrant yet sour color palette—lush contrasts of pink, yellow and green coexist uneasily with light ochers and dark purples—gives Fine China its affective momentum. This palette of color suggests an undercurrent of decay below the exuberance of the motif in line with the tradition of the vanitas. However, Tolbert's paintings offer no moral instruction, but simply a celebration and mourning of present time.
---
Window into Houston is made possible with generous support from Jim Petersen, Jr. Launched in 2011, Window into Houston is a series of site-specific exhibitions commissioned by Blaffer Art Museum that take contemporary art to the street to engage a broad and diverse audience in the creative process. This public setting provides a unique platform for the creation of new work in response to the site and its location in downtown Houston and offers passersby ever new perspectives on the most recent developments in contemporary art made in and about Houston.