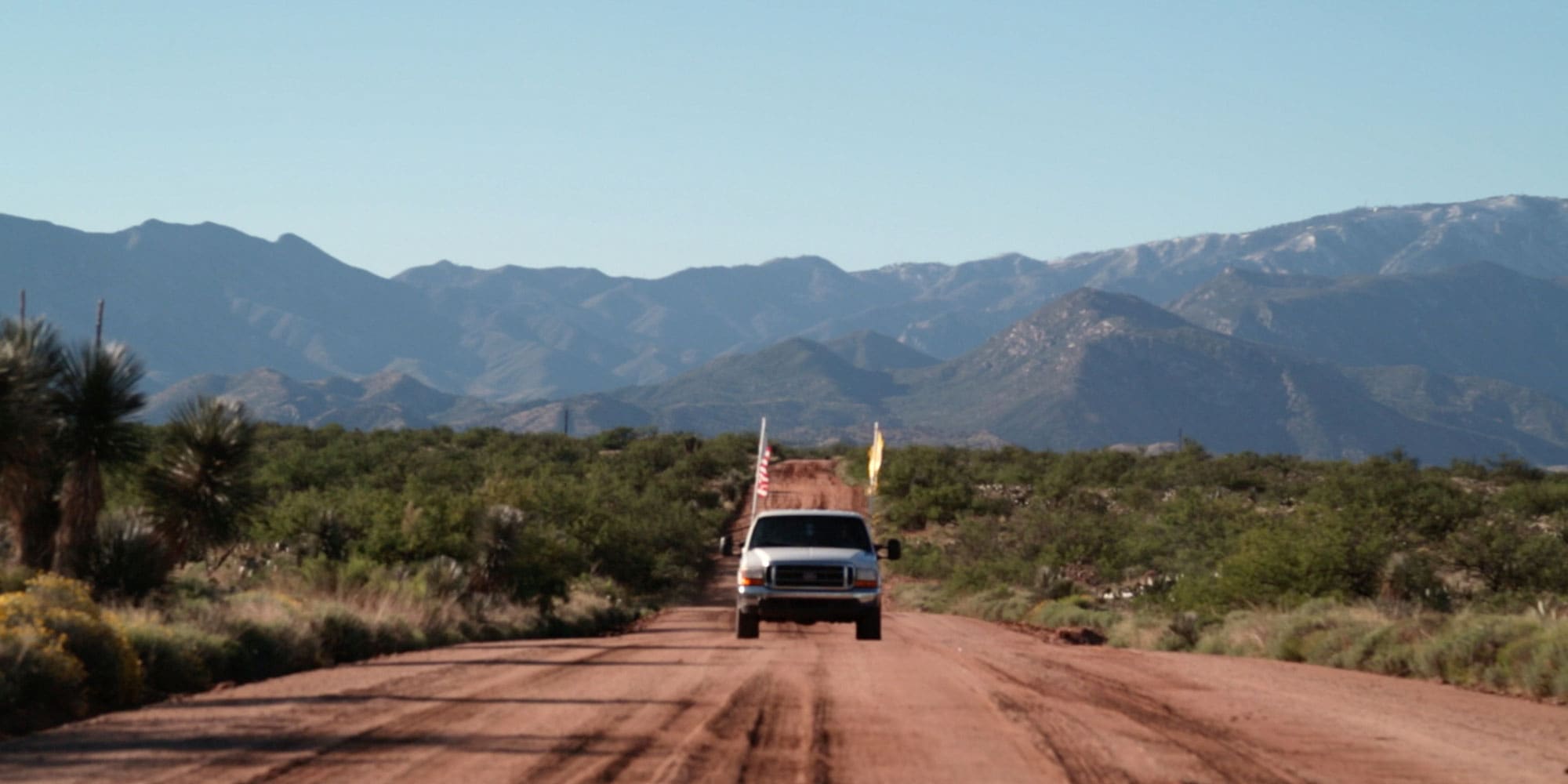 Yoshua Okón, Oracle, 2015 (still). Two-channel video installation with sound and vinyl logo. 12:07 min. Courtesy of the artist.
---
February 8—March 16, 2019
---
Yoshua Okón's (b. 1970, Mexico City) works often blend staged environments with reality and history to raise questions of authenticity, commerce, politics, and cultural exchange. Filmed in Oracle, Arizona, Okón's Oracle depicts members of the militia group Arizona Border Defenders. In 2014, the town—located within a region that was once home to ancient Hohokam populations—became the forum for a widely publicized anti-immigration protest (and counter-protest) led by the militia and other community members against the entrance of unaccompanied children from nations in Central America, including regions often affected by U.S. foreign policy interests.
To produce this work, Okón asked the paramilitary group's organizers to create a live reenactment of their 2014 demonstrations and to stage scenes that reflect their nationalist ideologies. The resulting footage, which includes images of group members clad in patriotic garb, firing semi-automatic guns, brandishing protest signage, and driving pickup trucks in circles, reveals a microcosm of complex issues of geopolitical commerce, border histories, and immigration. The work's title also refers the Oracle Corporation, a transnational technology company known to have ties to the CIA and the U.S. government. This duality further implicates an ongoing disconnect and imbalance between corporate/capitalist/governmental interests and the human faces of the immigration debate.
Yoshua Okón lives and works in Mexico City. Recent solo exhibitions include Colby College Museum of Art, Waterville, ME; MUAC, Mexico City; Ghebaly Gallery, Los Angeles; El Paso Museum of Art; Kaufmann Repetto, Milan; Mor Charpentier, Paris; Hammer Museum, Los Angeles; and Städtische Kunsthalle, Munich. His group exhibitions include: Manifesta 11, Zurich; Istanbul Biennale, Istanbul; Gwangju Biennale, Korea; MUAC, Mexico City; Modern Art Museum of Fort Worth, Texas; Musèe Cantonal des Beux-Arts, Lausanne; Palais des Beaux Arts, Brussels; Mercosur Biennial, Porto Alegre; CCA Wattis, San Francisco; Hayward Gallery, London; New Museum, NY; MoMA PS1, and Kunstwerke, Berlin. Okón's work is included in the collections of the Tate Modern, Hammer Museum, Los Angeles County Museum of Art, Colección Jumex, Blanton Museum of Art, and the Modern Art Museum of Fort Worth.
---
This exhibition is organized by Tyler Blackwell, Cynthia Woods Mitchell Curatorial Fellow at Blaffer Art Museum. It is presented in the Film, Video, and New Media Gallery on the museum's second floor.