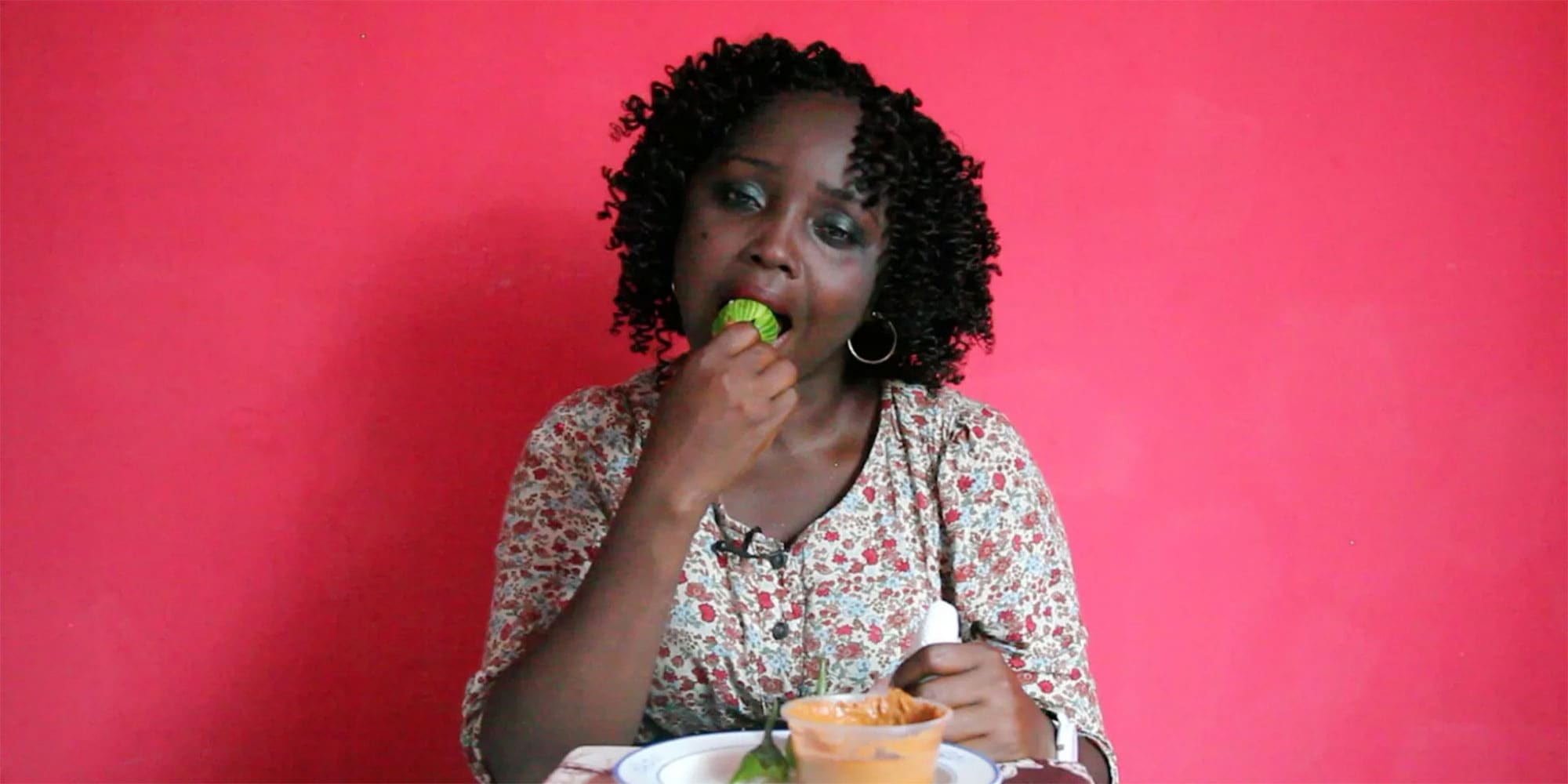 Zina Saro-Wiwa, Table Manners (Season 1) (video still), 2014-2016. © Zina Saro-Wiwa.
Zina Saro-Wiwa: Did You Know We Taught Them How to Dance?
---
September 26, 2015—March 16, 2016
---
Did You Know We Taught Them How to Dance? is the first solo museum presentation of works by British-Nigerian video artist and filmmaker Zina Saro-Wiwa. Featuring video installations, photographs, and a sound installation produced in the Niger Delta region of southeastern Nigeria from 2013 to 2015, the exhibition uses folklore, masquerade traditions, religious practices, food and Nigerian popular aesthetics to test art's capacity to transform and to envision new concepts of environment and environmentalism. Did You Know We Taught Them How to Dance? will be on view through March 16 at Blaffer before traveling to Krannert Art Museum, University of Illinois at Urbana-Champaign.Engaging Niger Delta residents both as subjects and collaborators, Zina Saro-Wiwa cultivates strategies of psychic survival and performance, underscoring the complex and expressive ways in which people live in an area historically fraught with the politics of energy, labor and land. Known for decades for corruption and environmental degradation, the Niger Delta is also a verdant place, an abundant food producer as well as provider of crude oil and natural gas to the entire globe. The United States has until recent years been the largest importer of Nigeria's oil, while Europe and India are now the top destinations. Saro-Wiwa returned to this contested region—the place of her birth—to tell new stories that reimagine and challenge Western concepts of environmentalism and of the Niger Delta.
"Environment for me is not just about oil pollution," Saro-Wiwa says. "It is vital to consider emotional, social and spiritual ecosystems in order to transcend the status quo." Insinuating herself in the Niger Delta as a transformative force, Saro-Wiwa ingests and disgorges the stuff of tradition and of psycho-social dynamics to produce new origin narratives, making visible the cultural, spiritual and emotional powers propelling the region.
Fully inscribed within the Niger Delta while addressing the global circulation of energy capital, Saro-Wiwa develops narrative devices that render environmental and emotional ecosystems inseparable. Her video and photographic works in the exhibition deal with charismatic Christian prayer warriors; folktales concerning Kuru, an intelligent yet treacherous tortoise; karikpo (antelope) masquerade figures asserting playful gymnastic parkour-like performances around decommissioned pipelines or areas where pipelines once existed; and the color red, which represents birth in the artist's native Ogoniland and symbolizes her own rebirth there.
The exhibition's title conjures dynamic movement and self-reliance. Referring to a private conversation between the artist and her father, the late writer and human rights activist Ken Saro-Wiwa, Did You Know We Taught Them How to Dance?emphasizes one's own bodily and emotional resources when faced with seemingly insurmountable challenges to self-determination.
For more than twenty years, Saro-Wiwa's family name has stood for environmentalism and protest due to Ken Saro-Wiwa's outspoken activism. Recognizing these as contestable terms, the artist locates spirit, emotion and culture at the center of the conversation. Drawing upon social-sculpture practice where other strategies have failed, Saro-Wiwa advances different ways of knowing about the Niger Delta and its global implications while prompting a reconsideration of the parameters of contemporary "Afropolitan" identities—a term coined in 2005 by writer Taiye Selasi to describe the transnational experience of a new generation of globally mobile Africans."To this conversation Saro-Wiwa adds new insight: first relocating 'the rural' from the discourse of NGOs and aid to the ambit of spiritual self-determination; and second relocating the identity development project from 'the urban' to the village—what she terms 'the psycho-spiritual core' of African life," Selasi writes in the exhibition catalog.
A sound installation incorporates the artist's own voice describing the forces that threatened the production of this body of work: "This is what happened to me one night. I felt that I had to kill the apprehension inside me and the spiritual dread…and that is the night I killed my ancestors in order to make anything happen at all. I had to go to the center of my idea of Ogoni, my idea of my people, my idea of myself to kill them all and reinvent."
The exhibition is accompanied by a full color catalog with essays by writer Taiye Selasi, Niger Delta historian Ebiegberi Joe Alagoa, environmental cultural studies scholar Stephanie LeMenager, exhibition curator Amy L. Powell, an interview with the artist by Princeton art historian Chika Okeke-Agulu. The book also features recipes created by Saro-Wiwa.
Zina Saro-Wiwa is a video artist and filmmaker. Her award-winning documentary This Is My Africa, which featured interviewees Lupita Nyong'o, Chiwetel Ejiofor, Colin Firth, John Akomfrah and Yinka Shonibare MBE, among others, was shown on HBO and screened at Michael Stevenson Gallery in Cape Town, October Gallery in London, the Newark Museum, the Brooklyn Museum and many international film festivals. In 2010, for Location One Gallery in New York, Saro-Wiwa produced and co-curated the group exhibition Sharon Stone in Abuja, which explored the narrative and visual conventions of the Nigerian "Nollywood" video-film industry through Saro-Wiwa's video installations and works by Wangechi Mutu, Mickalene Thomas, Andrew Esiebo and Pieter Hugo. She has realized commissions for The Menil Collection, Seattle Art Museum and The New York Times, and her works have been shown at the Pulitzer Foundation, Moderna Museet, Stevenson Gallery and Goodman Gallery, among other institutions. Saro-Wiwa's work is in the collections of Krannert Art Museum at the University of Illinois at Urbana-Champaign, Wheaton College in Norton, Massachusetts, and the Houston Museum of African American Culture, as well as private collections in the U.S., U.K. and the Caribbean. In 2013, Saro-Wiwa founded Boys' Quarters Project Space, a contemporary art gallery in Port Harcourt, Nigeria, which she used as a home base while developing the works in Did You Know We Taught Them How to Dance?
---
Zina Saro-Wiwa: Did You Know We Taught Them How to Dance?
 is curated by Amy L. Powell, curator of modern and contemporary art at Krannert Art Museum, University of Illinois at Urbana Champaign, and co-organized with Blaffer Art Museum at the University of Houston, where the project originated. 
---
Zina Saro-Wiwa: Did You Know We Taught Them How to Dance?, installation view, Blaffer Art Museum.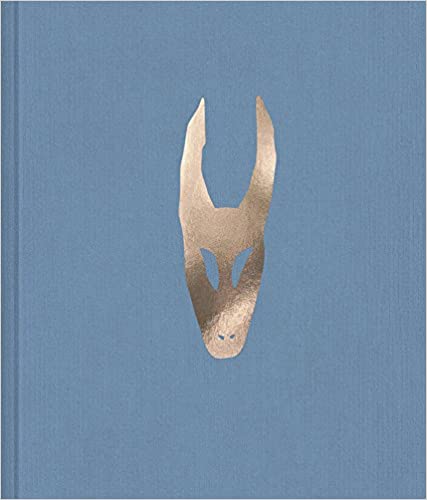 Exhibition Catalog
116 pages, hardcover | $35
---
Co-published by Blaffer Art Museum and Krannert Art Museum and Kinkead Pavilion.
---