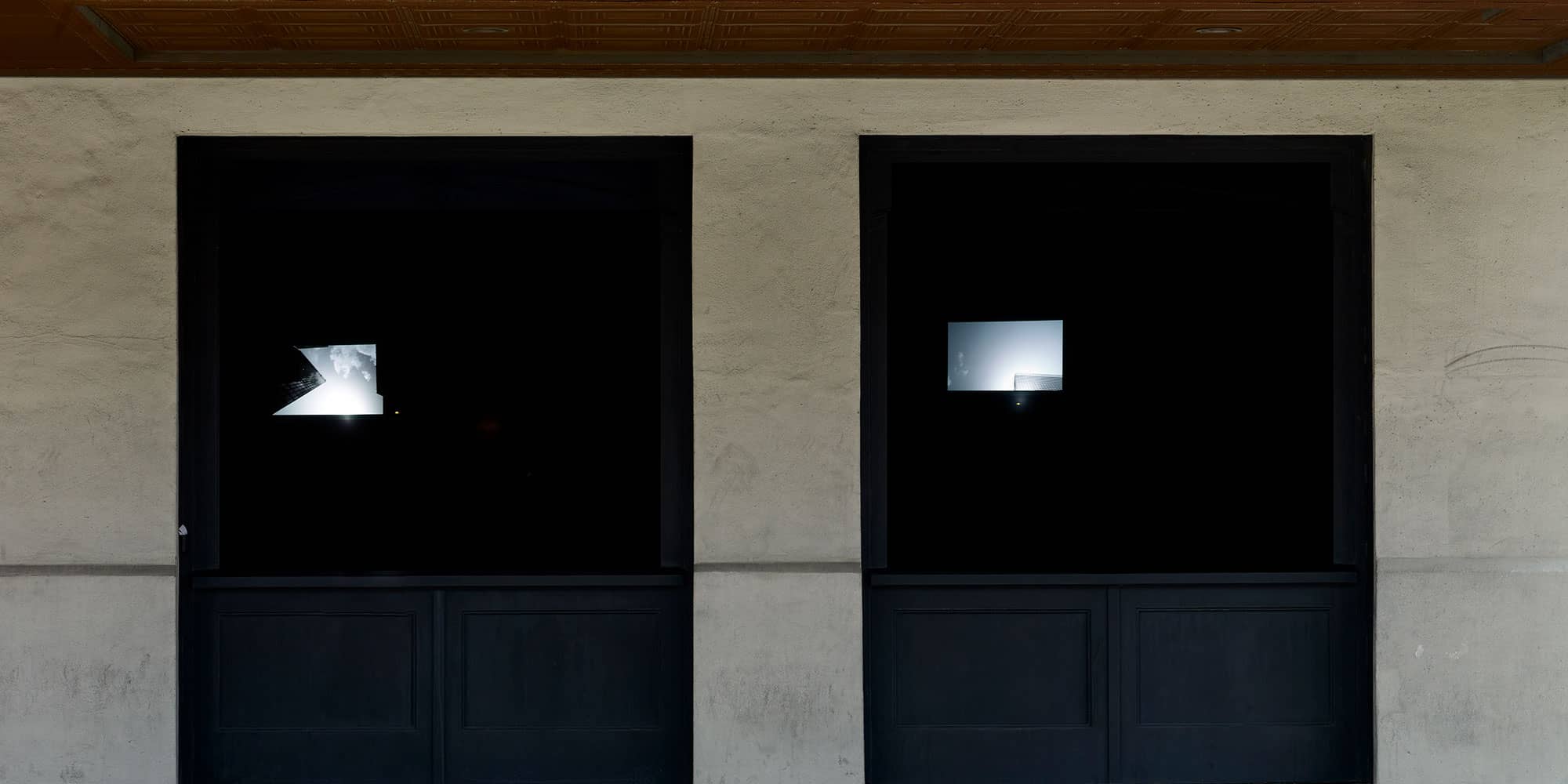 Installation view of Abinadi Meza: Air, Condition.
Abinadi Meza: Air, Condition
---
---
A two-part installation at 110 Milam Street and Blaffer Art Museum in conjunction with the exhibition Buildering: Misbehaving the City.
Abinadi Meza's Air, Condition is a sound and video installation constructed from the invisible but omnipresent transmissions swarming in Houston's atmosphere. Composed of field recordings collected throughout the city, the sound captures the dynamic energy of signals and particles—both technological and ecological—which surround us and encompass the movement of business transactions, air pollution, traffic, street sounds, and other palpable evidence of an industrialized port city. Paired with a video looking towards the Houston sky, Air, Condition explores the uncontainable sources and receptors of this soundscape as political matter, for even the air is not neutral.
Meza's sonic treatment includes not only recording and play-back but also surreptitious re-insertion into the city's wavelengths. Navigating downtown Houston with a vehicle outfitted for clandestine radio transmission, Meza bombarded the airwaves with previously recorded sound. A video camera pointed at the sky "documented" this interruption of signals that affected anyone listening to a radio nearby. Instead of their favorite singer or newscaster, people would suddenly hear excerpts from Air, Condition without ever knowing what occurred.  By capturing elements of the environment which we know of and experience but do not see, and broadcasting them out to unsuspecting listeners, Meza deployed a creative misuse of radio to activate shared public spaces and uncover Houston as an air-transforming and transmitting entity.
Air, Condition builds upon a previous work by Meza for the Maryland Institute College of Art in Baltimore, titled Ghost Station and borrows its title from German philosopher Peter Sloterdijk's text Terror from the Air (2009), which posited that the twentieth-century began when governments manipulated the air for the purposes of war. Throughout Meza's practice are the haunting phantasmic qualities of radio, which, when redeployed as aesthetic and political medium, can convey the social and atmospheric forces shaping American cities.
The commission exists at two sites. At 110 Milam Street as part of the exhibition series Window into Houston, video and sound components reinforce the work's uncanny aspects, as the black and white aesthetics of the video offer both a sense of timelessness and surveillance. Installed in the historic former storefront in downtown Houston, the work brings the city's sonic life to street level. At Blaffer Art Museum, Air, Condition takes the form of a sound installation resonating through vibrating glass and inscribed into the building's architecturally distinctive front entrance to achieve a physical presence. Meza transforms both sites into evocative sound transmitters hailing one another from their respective locations in the city, underscoring what makes the air in Houston—charged, monetized, and conditioned.
Abinadi Meza is a sound artist and filmmaker based in Houston, where he is Assistant Professor of Interdisciplinary Practice and Emerging Forms in the University of Houston's School of Art. His work has been exhibited at numerous international venues and film festivals, including the Minneapolis Institute of Arts, the Walker Art Center, the Irish Museum of Modern Art, the Sonorities Festival in Belfast, the Maryland Institute College of Art, the Third Lisbon Architecture Triennial, the Deep Wireless Festival of Radio and Transmission Art in Toronto, the Texas Biennial in San Antonio, and Aurora Picture Show and Hermann Park in Houston. He has forthcoming exhibitions at the Museum of Contemporary Art, Santa Barbara and Fondazione Memmo, Rome. Most recently, he is a recipient of the 2014-2015 Rome Prize in Visual Arts from the American Academy in Rome. He received an MFA from the University of Minnesota and a Masters of Architecture from the Southern California Institute of Architecture (SCI-Arc).
---