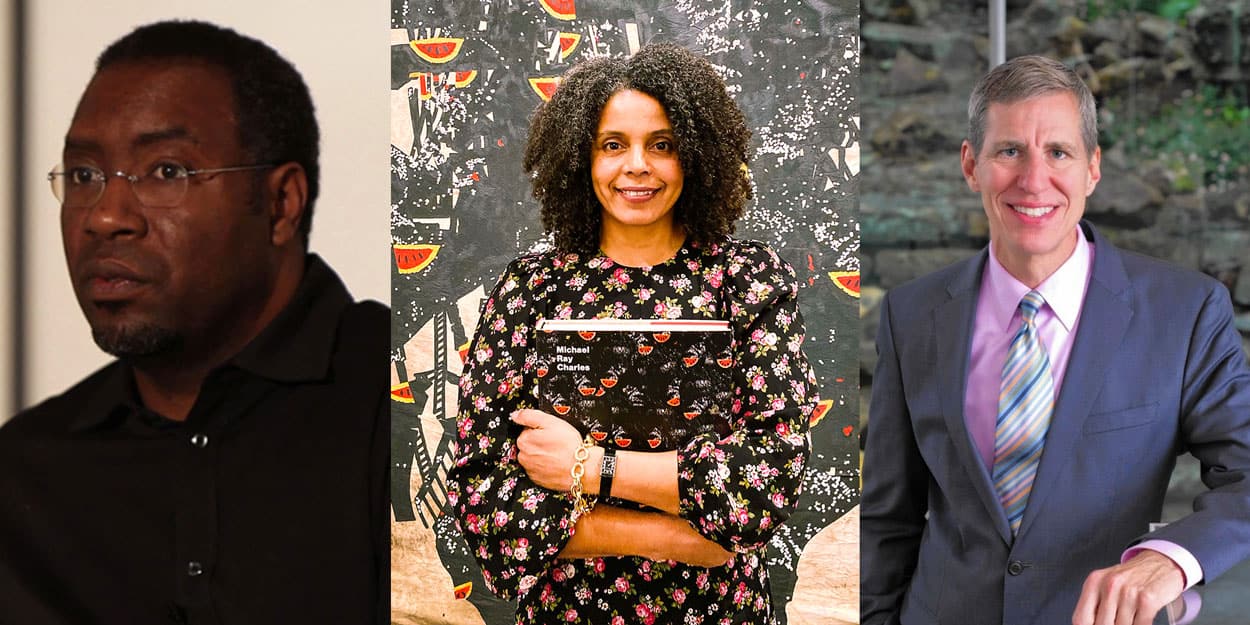 Date
Feb 03 2021
Expired!
POSTPONED—Conversation on the Work of Michael Ray Charles, Then and Now
Wednesday, February 3
6:00pm—7:00pm CT
Online event
Free and open to the public
Streaming Options:
Join the Zoom meeting—register for meeting info
Stream Live on YouTube
**POSTPONED—We are sorry to announce that the Blaffer Art Museum will postpone tonight's discussion between Michael Ray Charles, Dr. Cherise Smith, and Don Bacigalupi due to an unforeseen emergency. We are grateful for your interest and registration for this event, and we hope that you will join us when the event is re-scheduled. Please check back soon on the Blaffer's website and social media for further details.**
Join Blaffer Art Museum for a conversation between Cherise Smith, Professor of African & African Diaspora Studies and Art History at the University of Texas at Austin; and Don Bacigalupi, former Director of the Blaffer Art Museum, with artist Michael Ray Charles, Cullen Distinguished Professor of Painting at the University of Houston, School of Art. The panel will discuss Charles's work and career, as well as the recently released retrospective monograph, Michael Ray Charles (2020).
The art of Michael Ray Charles addresses issues of identity that concern postmodern art and society. His paintings ridicule the "romance" of antebellum America and the creation of black subservience. By situating viewers in a historical continuum, Charles emphasizes the nature of 19th-century stereotypes, producing a sense of dissonance as viewers find themselves both repulsed and fascinated by the imagery.
Charles has held one-person exhibitions in numerous countries, including the United States, France, Spain, Germany, and Belgium. He has served as panelist and juror on The National Endowment for the Arts, The Bush Artist Fellowship, St. Paul, MN, among many creative cultural entities. He is among the first group of artists featured in the award-winning PBS series Art 21: Art in the 21st Century along with Matthew Barney, Mel Chin, and Andrea Zittel and was acknowledged as an important young African-American scholar in academia by Black Issues In Higher Education.
His work, the subject of newspapers and magazine articles, is also well documented in art history books and documentaries. Segments on PBS, Canadian, German television, and collaborations with the distinguished director Spike Lee have highlighted Charles's work and ideas. Charles's work is also held in many prominent public and private collections worldwide.
Charles, who is the Cullen Distinguished Professor of Painting at the University of Houston School of Art and recipient of the American Academy Rome Prize, concluded a recent exhibition at The Umlauf Sculpture Garden & Museum in Austin, Texas.

Dr. Cherise Smith is Chair of African and African Diaspora Studies Department and Professor of African & African Diaspora Studies and Art History at the University of Texas at Austin.  She specializes in American art after 1945, especially as it intersects with the politics of identity, race, and gender. Smith joined UT in 2005, after finishing the PhD at Stanford University.    
Her research centers on African American art, the history of photography, performance, and contemporary art.  Her book Michael Ray Charles (University of Texas Press, 2020) places the artist's work in the context of the 1990s, the rise in collecting of Black "memorabilia," and Pop art among other historical trends. Her book, Enacting Others: Politics of Identity in Eleanor Antin, Nikki S. Lee, Adrian Piper, and Anna Deavere Smith (Duke University Press, 2011), examines how identity is negotiated in performance art in which women artists take-on the characteristics and manners of a racial, ethnic, and gender "other." She has published essays in Art Journal, American Art, and exposure among other venues.    
Currently, she is Executive Director of the Art Galleries at Black Studies at UT Austin, where she spearheads Black Studies' Art and Archive Initiative which seeks to expand UT's holdings of art and material collections relating to people of African descent and increase its exhibition spaces.  Under its auspices, she created two exhibition spaces—the Idea Lab and the Christian-Green Gallery—, and she has shepherded in donations of art by Norman Lewis, Romare Bearden, and Charles White among others.  
Her research has been supported by the Getty Foundation Postdoctoral Fellowship, the Ford Foundation Diversity Postdoctoral Fellowship, and a Research Fellowship at W.E.B. Du Bois Institute for African American Research at Harvard University.  She has worked in the curatorial departments of the Art Institute of Chicago, the Metropolitan Museum of Art, and the Saint Louis Art Museum among other institutions.

Don Bacigalupi is a visionary leader in the development and creation of major art collections  and institutions in the United States. With more than 25 years' experience of innovative museum management, collection and exhibition development, and inspired educational programming, Bacigalupi has created pioneering institutions in the collection, presentation and exploration of art.   
Most recently, Bacigalupi served as Founding President for the Lucas Museum of Narrative Art, currently under construction in Los Angeles.  Previously he was President and Executive Director of Crystal Bridges Museum of American Art, where he led all aspects of the museum's planning, development and construction, leading to its opening in 2011. Earlier, Bacigalupi served as President, Director and CEO of the Toledo Museum of Art, where he oversaw the construction and opening of its world-renowned Glass Pavilion. He previously served as the Executive Director of the San Diego Museum of Art and Blaffer Art Museum at the University of Houston.   
Bacigalupi earned his MA and PhD degrees in art history from the University of Texas at Austin. He has served on the boards of numerous organizations, including the Association of Art Museum Directors and the National Committee of the International Council of Museums. A respected scholar and seasoned lecturer both domestically and abroad, he has been the recipient of numerous honors and awards and was a 1996 fellow at the Getty Trust.  
He founded Don Bacigalupi Art Counsel, Inc. in 2019, and is based in Los Angeles. 

Take a look at the Blaffer's presentation of Michael Ray Charles, 1989-1997: An American Artist's Work.
Carriers: The Body as a Site of Danger and Desire is on view at the Blaffer through March 14.
Explore the exhibition
Images: Courtesy of Michael Ray Charles, Cherise Smith, and Don Bacigalupi.