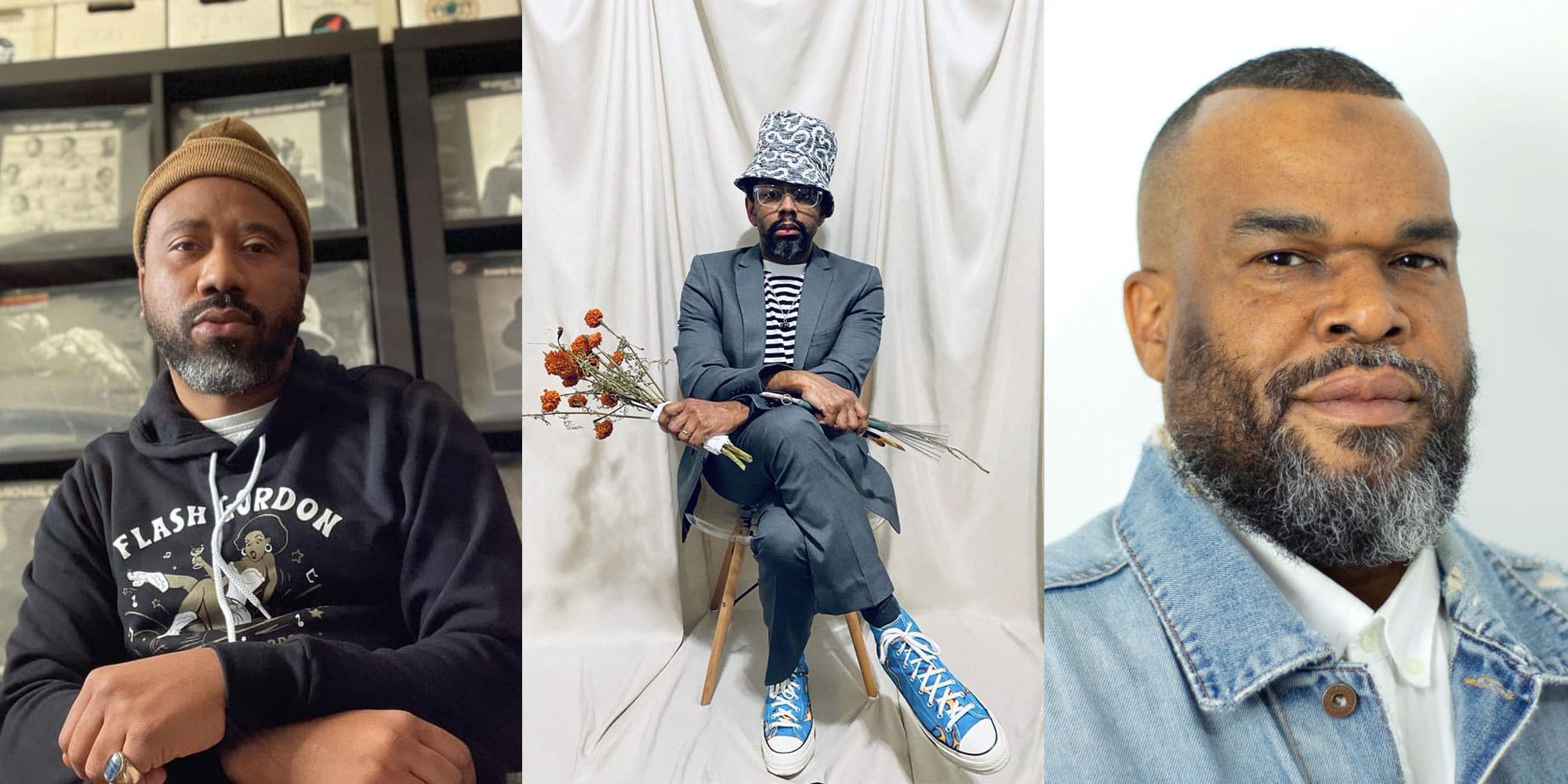 Date
Jul 21 2021
Expired!
Sound Collage and Conversation with Jamal Cyrus, Jamire Williams, and DJ Flash Gordon Parks
Wednesday, July 21, 2021
6:00pm—8:00pm
FREE and open to the public
Location
Blaffer Art Museum
Walk-ins are welcome; space is limited. Please reserve tickets to guarantee entry. 
Join us at the Blaffer for Stairway To Heaven: A Sound Collage, performance by Jamire Williams—an experimental live set intertwining vinyl exploration on turntables with traditional and modern percussion. This presentation aims to take listeners on a journey rooted in black and sacred music. Following the performance will be a conversation between Jamire Williams, DJ Flash Gordon Parks, and Jamal Cyrus about the influence of black religious expression on American popular culture. This event is held in conjunction with current exhibition Jamal Cyrus: The End of My Beginning, on view through September 19.
Jamire Williams is a multidisciplinary artist who functions in the medium of music performance, performance art, composition and still life sculptures. His practice concentrates on faith, spirituality, roots and the evidence of those things which are not seen. His list of collaborators is high in prestige, including Solange Knowles, Kara Walker, Jason Moran, Dev Hynes, Robert Glasper, Julie Mehretu, Moses Sumney, Kahlil Joseph, Jamal Cyrus, Ari Marcopoulos, Christian Scott, and Chassol. Jamire has a deep resume as a recording artist, and has distinguished himself across avant-garde, jazz, and indie music genres seamlessly. His 2016 lead-artist effort ///// EFFECTUAL (Leaving Records) is a powerful solo percussion statement that established his affinity for minimalism, his approach of the drum kit as a canvas for "painting," and his embrace of abstraction as a holistic practice in sound. He has been a touring drummer for Blood Orange since 2018. He was a featured performer at The Whitney Museum of American Art for Jason Moran's exhibition Jazz On A High Floor In The Afternoon. Jamire was a key contributor and producer on Solange's critically-acclaimed 2019 album When I Get Home, a direct expression of her appreciation for her roots in Houston, Texas (the city where Jamire was born, raised, and currently resides, as well). Recently it was announced that Williams has been selected for the Lawndale Art Center 2021/22 Artist Studio Program where he will further his practice in their focused residency.
Jason Woods aka Flash Gordon Parks is an ethnomusicologist from the city of Houston, TX. He earned a Bachelor's Degree in Photography at Sam Houston State University in 2001. In 2005 Flash Gordon Parks published a book of photography and poetry called The Beautiful Side of Ugly with Eric Blaylock. TBSOU combined the poetic words of Blaylock with the striking images of FGP to document the beauty of urban areas of Houston, Texas. He's also maintained several DJ residencies which range from Blues to Jazz to Soul/Funk to Hip Hop since 2004. As a DJ, he strives to educate the audience through carefully thought out selections. Flash Gordon Parks often collects, documents and lectures on the importance of Houston's Rich Music History. He has lectured at such institutions as Contemporary Arts Museum Houston, Rice University, Art League Houston and more. In 2015 Flash Gordon Parks directed the documentary "This Thing We Do Houston DJ Culture Revealed" which is an introduction to the world of Deejaying in the City of Houston. In 2019 Flash Gordon Parks directed the documentary "Archie Bell" celebrating the achievements of Soul Music Icon Mr. Tighten Up (Archie Bell). Most notable events include Motown On Mondays Houston and A Fistful Of Soul.
Jamal Cyrus (born 1973, Houston, TX) received his BFA from the University of Houston in 2004 and his MFA from the University of Pennsylvania in 2008. Cyrus has won several awards, most recently the Driskell Prize, awarded by the High Museum of Art, Atlanta, GA (2020). He has participated in numerous national and international exhibitions, including Slowed and Throwed: Records of the City Through Mutated Lenses, Contemporary Arts Museum, Houston (2020); Front International: Cleveland Triennial for Contemporary Art, Akron Art Museum, Akron, OH (2018); Direct Message: Art, Language and Power, the Museum of Contemporary Art, Chicago, IL (2019); and The Freedom Principle: Experiments in Art and Music, 1965 – Now, Museum of Contemporary Art Chicago, Chicago, IL (2016). Cyrus was also a member of the artist collective Otabenga Jones and Associates. As a member of the collective, he exhibited at the High Museum of Art, Atlanta (2008); the Smithsonian National Museum of African American History and Culture, Washington, DC (2008); the Menil Collection, Houston (2007); and the 2006 Whitney Biennial. Jamal Cyrus lives and works in Houston, TX.