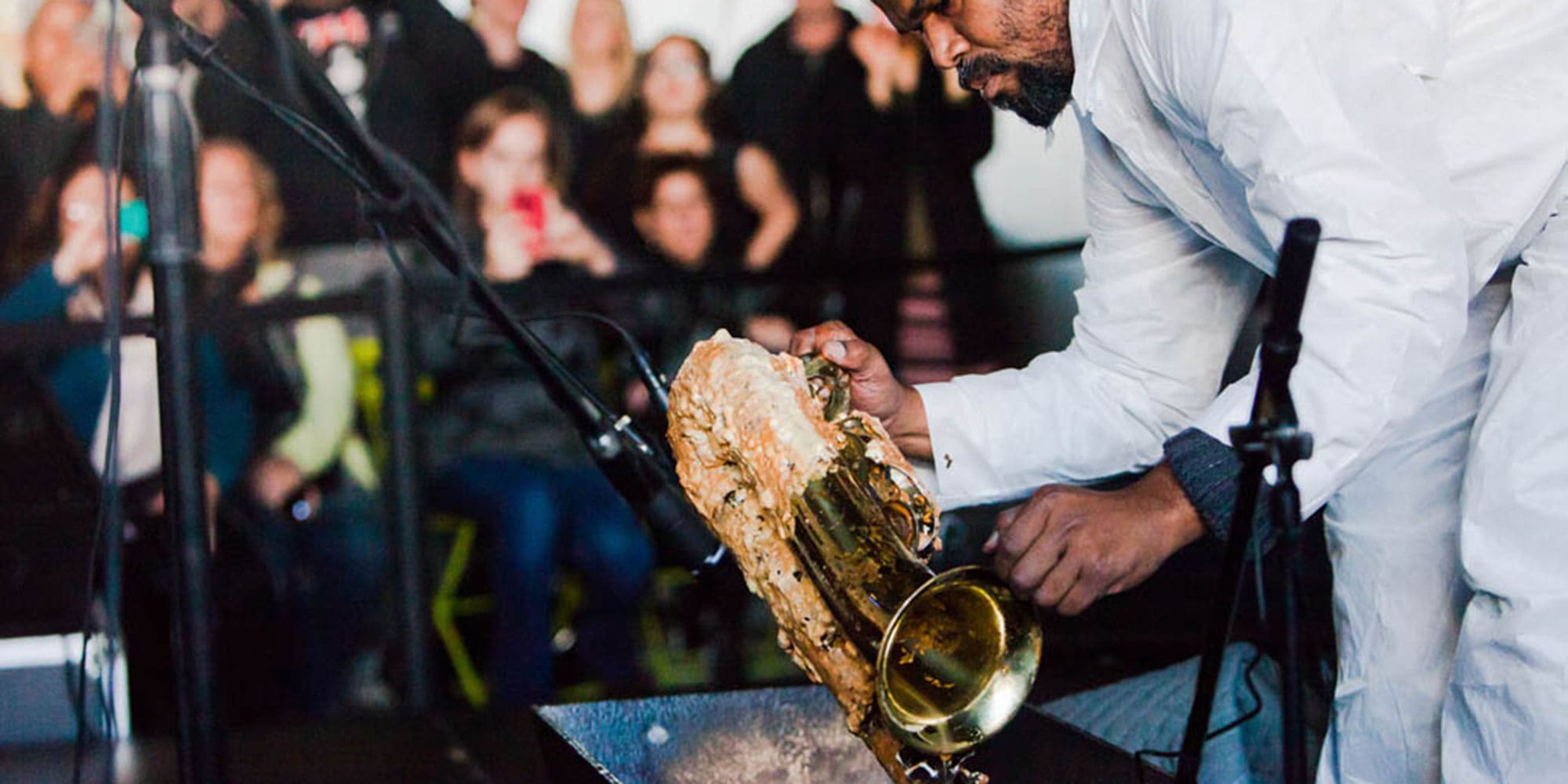 Jamal Cyrus—Texas Fried Tenor Performance
Saturday, September 18, 2021
6:30pm—8:30pm
Location
Blaffer Art Museum Courtyard
Please check in at the Blaffer front entrance
Visitor Information
This event is FREE and open to the public
Occupant capacity is limited; register for guaranteed entry
Parking Information
Avoid UH game-day parking fees; FREE parking is available for Blaffer guests exclusively in Lot 19E, located opposite the Elgin Street Garage. View on Google Maps / See detailed directions
Join us for a live performance by Jamal Cyrus in conjunction with the artist's survey exhibition, The End of My Beginning, on view at Blaffer Art Museum through September 26.
This performance of Texas Fried Tenor creates a dynamic, sensorial, and unpredictable soundscape as Cyrus deep-fries a saxophone accompaniment by Jamire Williams on the drums. Though the symphony of the sizzling brass instrument mimics the improvisatory nature of blues and jazz music, the sound produced (and magnified through microphones) is quite alien. Cyrus' choice to deep-fry the instrument also recalls his father's past work as a short-order cook, as well as the stereotype of a southern cuisine characterized by fried foods.
This performance is part of a larger series by Cyrus, Learning to Work the Saxophone, which takes its name from the refrain of the Steely Dan song "Deacon Blues." After listening to the song 1000 times on a road trip from Philadelphia to Houston, Cyrus became interested in the importance of the saxophone in American music–especially blues and jazz–which are celebrated as one of this country's defining musical forms. In so doing, the saxophone is not only an instrument of artistic expression, but also one of cultural and political significance.

Learn more about Jamal Cyrus: The End of My Beginning.
Image: Jamal Cyrus, Texas Fried Tenor, High Line, 2013; Photo by Liz Ligon.