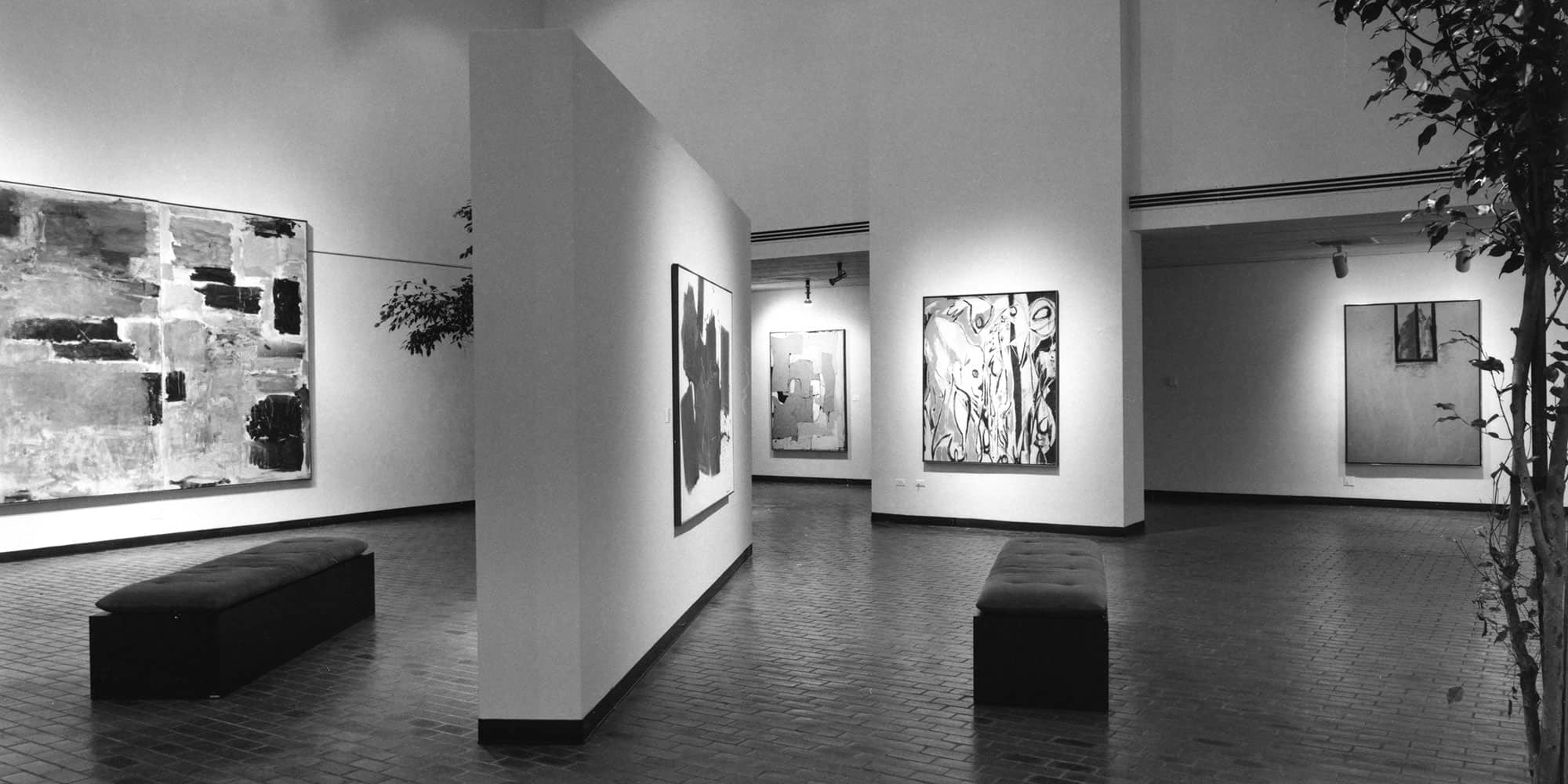 Installation view, The American Abstract Expressionist Collection of the Sarah Campbell Blaffer Foundation at Blaffer Gallery, the Art Museum of the University of Houston, 1976.
Since its founding in 1973, Blaffer Art Museum at the University of Houston has presented a wide range of thought-provoking exhibitions, performances, programs, and installations. Please check back regularly to see newly-updated archival exhibition content as we continue to update our website and mine our exhibition files.

For research requests or to learn more information about a specific past exhibition, please feel free to contact us at infoblaffer@uh.edu.
---
Zineb Sedira: Lighthouse in the Sea of Time
Feast: Radical Hospitality in Contemporary Art
Window into Houston — Jim Nolan: shifting SCALE
Pamela Fraser: The Fourth Dimension was Ha-Ha, in Other Words, That it is Laughter
andy coolquitt: attainable excellence
Window into Houston — Clarissa Tossin: Blind Spot
UH School of Art Annual Student Exhibition
35th Master of Fine Arts Thesis Exhibition
Window into Houston — Anna Campbell: Under Water Into the Sunset
---
Window into Houston — Debra Barrera: Drive Me There and Back Again
Window into Houston — Linda Post and Robert Appleton: Igvonne
Lynne McCabe: Room to be (Ms.)understood: A Social Sculpture Workshop
Tony Feher
Window into Houston — Gabriel Martinez: Recognition
34th Master of Fine Arts Thesis Exhibition
Window into Houston — Nathan Carter: ALWAYS VOCAL ON THE INTERBORO CROSSTOWN LOCAL
---
Dennis Harper: Born in the Bayou
Portable On Demand Art (P.O.D.A) Project
WORK architecture company: all cultural
Window into Houston — Patrick Renner
Window into Houston — Elaine Bradford: The Sidereel
Museum of Broken Relationships
Love Is a Many Splintered Thing
33rd Master of Fine Arts Thesis Exhibition
Johan Grimonprez: It's a Poor Sort of Memory that Only Works Backwards
First Take: Okay Mountain
---
Amy Patton
Gabriel Kuri: Nobody needs to know the price of your Saab
Tomás Saraceno: Lighter than Air
First Take: Jacco Olivier
32nd Master of Fine Arts Thesis Exhibition
2010 School of Art Student Exhibition
---
Josephine Meckseper
Jon Pylypchuk
Existed: Leonardo Drew
31st Master of Fine Arts Thesis Exhibition
Center for Land Use Interpretation: Texas Oil — Landscape of an Industry
Electric Mud
---
2008 School of Art Student Exhibition
Andy Warhol: Celebutants, Groupies, and Friends
Damaged Romanticism: A Mirror of Modern Emotion
Houston Area Exhibition
Charles "Teenie" Harris: Rhapsody in Black and White
30th Master of Fine Arts Thesis Exhibition
Chantal Akerman: Moving through Time and Space
---
2007 School of Art Annual Student Exhibition
Amy Sillman: Suitors & Strangers
Jean-Luc Mylayne
Katrina Moorhead: A Thing Called Early Blur
Miguel Angel Rios: Aqui
29th Master of Fine Arts Thesis Exhibition
One Way or Another: Asian American Art Now
---
2006 School of Art Annual Student Exhibition
A Fiction of Authenticity: Contemporary Africa Abroad
Tam Van Tran: Psychonaut
Urs Fischer: Mary Poppins
28th Master of Fine Arts Thesis Exhibition
Girls Night Out
---
2005 Annual Student Exhibition
James Surls: The Spendora Years, 1977-1997
POPulence
Alain Bublex: Plug-in City
Terry Allen: Dugout
27th Master of Fine Arts Thesis Exhibition
Jane and Louise Wilson: Erewhon
Ant Farm 1968-78
J.D. 'Okhai Ojeikere: Hairstyles
---
2004 Annual Student Exhibition
Jessica Stockholder: Kissing the Wall, 1988-2003
2004 Houston Area Exhibition
Margo Sawyer: Contemplative Spaces
Daniela Rossell: Ricas y Famosas
26th Master of Fine Arts Thesis Exhibition
Atopia Projects/Fraser Stables and Gavin Morrison: Inset
Fraser Stables: Solo Shoot
TRESPASSING: Houses X Artists
---
2003 Annual Student Exhibition
Chuck Close Prints: Process and Collaboration
Robert Knox: Non-Fiction Paintings
Fred Wilson: Objects & Installations, 1979-2000
Single Channel: Collaborating with the Moving Image
25th Master of Fine Arts Thesis Exhibition
Angela Grauerholz: Reading Room for the Working Artist and Privation
Mads Gamdrup: Renunciation
---
2002 Winter Student Exhibition
Jane Hammond: The John Ashbery Collaboration, 1993-2001
Radcliffe Bailey: Tides
Michael Byron: The Amitin Notebook Project
Seeing and Believing: The Art of Nancy Burson
Trembling: An Installation by Francisco Ruiz de Infante
24th Master of Fine Arts Thesis Exhibition
Here & There/Aquí y Allá: Six Artists from San Juan
Jeremy Blake: All Mod Cons
---
My Favorite Things and Other Rent Party Songs: New and Classic Works by Tierney Malone
Spirits of the Cloth: Contemporary Quilts by African American Artists
Radcliffe Bailey: The Magic City 22.5
2001 Master of Fine Arts Thesis Exhibition
Eugenio Dittborn: La Cuisine et Laguerra
2001 Student Exhibition
Donald Lipski: A Brief History of Twine
---
Poster Exhibition: Loud and Clear
Deborah Kass: The Warhol Project
Zelda by Herself: The Art of Zelda Fitzgerald
2000 Houston Area Exhibition
2000 Master of Fine Arts Thesis Exhibition
Bill Jacobson: Portraits, Songs, Thoughts
Lucian Freud: Etchings from the PaineWebber Art Collection
---
Hospice: A Photographic Inquiry
1999 MFA Thesis Exhibition (at Lawndale)
1999 YAAP: Shaping Reality
Luis Jiménez Working Class Heroes: Images from the Popular Culture


---
Francisco Mora: Works on Paper
Elizabeth Catlett Sculpture: A Fifty-Year Retrospective
Spirited Journeys: Twentieth Century Self-Taught Artists in Texas
Putt-Modernism: Eighteen Hole Miniature Golf Course and Exhibition
1998 Master of Fine Arts Thesis Exhibition
1998 Student Exhibition
Yishai Jusidman: Pictorial InVEstigations


---
Contemporary Art from Japan: Clayworks, painting, and Sculpture
Sol LeWitt Prints 1970-1995
Asia/America: Identities in Contemporary Asian American Art
1996 Master of Fine Arts Thesis Exhibition
1996 Student Exhibition
1996 Houston Area Exhibition
---
The Paintings of Sylvia Plimack Mangold
Metamorphoses: Photography in the Electronic Age
1995 Master of Fine Arts Thesis Exhibition
1995 Student Exhibition
Critiques of Pure Abstraction


---
Robert Helm: 1980-1993
Poison Amor: A Collaborative Installation by Terry Allen and James Drake
Susan Crile: The Fires of War
1994 Master of Fine Arts Thesis Exhibition
1994 Student Exhibition
I Remember...Images of the Civil Rights Movement, 1963-1993
---
George Bunker: Landscapes 1949-1989
James Rosenquist: Time Dust, The Complete Graphics 1962-1992
Doris Cross: ReWorks 1968-1993
1993 Master of Fine Arts Thesis Exhibition
1993 Student Exhibition
Darkness + Light: Twentieth-Century Works from Texas Collections
---
This Sporting Life, 1878-1991
The Art of Private Devotion: Retablo Painting of Mexico
Ansel Adams: American Icons
1992 Master of Fine Arts Thesis Exhibition
1992 Student Exhibition
1992 Houston Area Exhibition